Oman
part two -

Clear seas, bays and beaches, cliffs rocks and desert
Arriving to Oman you usually get out at Muscat airport. In case you are lucky you get a very fency taxi for the drive to the city.
The airport is friendly and spacy, everything gets done in its time and finally you get out to a modern, proper and well setup mountain desert and arid land with most modern streets lanes, highways, not always that busy as they would look like to be made for.
In about 2 hours from Musact you get to Dubai. Iwas very lucky allready onway fom airportt to city downtown with Mattra Bazar, as the taxi driver told me and offeredme a coffee onway to the city. I was allready satisfacted from the flight before and saturated also, and as I did not want ot make a mass in the supermodern taxi with leaderseats in cremecolor I shook off the friendly offer from the driver.
It must have been somewhen during december over New Year so when there is icecold winter in the mideuropean lands.
Muscat
is a friendly well organized city which lays n between some rockdesert mountains and hills. You can split it into 4 main parts from the outer regions which covers the area near the shore with beaches, then following up the highway closer to downtown passing some suburbs and new made private houses, the reaching the cenetr areas with the Bazar, not far from the harbour with the fishmarcet onway, in sight and good walking distanec the tower with the variations of old cannons. The visit of the tower free of pay. Following the street behind the center you get out to the area with the museum, park and children playgrounds and sport courts.
The Bazar
in the citycenter is quite a jewel set within narrow streets and hidden corners, many shops for all kind of goods from spices, arts, many gold and jewel sellers, fuits, veg, weaponery fr souvenirs, knifes, shishas, lamps, with mostly friendly to funny shopkeepers. Many of them from India as also in other parts of the land you can meet many Indians who work in Oman, made most of the many new buildings, institutions, tourist ressorts, bungalows and tourist villages, of which you can find quite a few along the rocky coast. They built the highways and like the well setup green strips with palms in between.
As I had to get out of the city with its more or less busy life I passed some fishermen villages, set in between the cliffs and rocks, partly with a fency ressort her and there and the breakfast for 40 euro if you were not a ressort resident but a bagpacker onway down from the rocks after the night in the dry hills.
Nobody made a problem in between all the empty seats, umbrellas and well designed woodart beachclublike ambiente and proper designed holiday furniture. The waiters were correct but only the price hitting for a breakfast. The decision was clear and I headed on as nobody was looking like to get out for the sea and beach, maybe half naked beside me having breakfast, which got quit so. The waiters liked it all anyway, allday calm, well setup and mostly save. Here and there a small bus bringing new crew or workers after the first shift ended.
Once during night, after having passed Indians and locals doing Picknicks beside the roads, I reached an artifical village with holiday ressorts of similar formats, connected with another artifical village by a tunnel. Some gates and areas looked like as you would need a special passport to get in to the lobby or pool areas. It was all well setup.
But do not think that all is artificial and modern in Oman. No there are many normal old villages from old times and often with new houses in the vicinity, in dry basins and open lands, where Bonnelies eagles are soaring high during noon termics. One time I have even seen them hunting along highways from the pinewoods set along. Imressing when such an eagly is suddenly crossing over an highway on the hunt.
Birdwatchers could get puzzled as these eagles live there not far from Muscatcity itself, where rockdesert mountains and slopes are close, often with vadis in between coming down straight to the coast with green ares and some small swamps.
Where the long stretch of beach is ending on the side to Muscat in the bay with a ressort on top is the place where Vasco once took fresh water, not far the cliffs in the sea where Vasco lost one of his three ships Esmeralda once on voyage and exploration tour to India.
The Sultan was always most respected be the people as he seemed to have been a wise man, some of his ships and yachts can be seen in Muscat harbour, and I was wandering why two of such big 5 floors motor yachts when ministers and the Sultan himself could only sleep in one boat in one night.
That where my simple thougts by magic views and observations, seeing all that costly stuff out there on the sea from a good restaurant or the marinedrive itself. Not far many tourists going for one of the many ABC mixes and shakes or a knife for souvenir.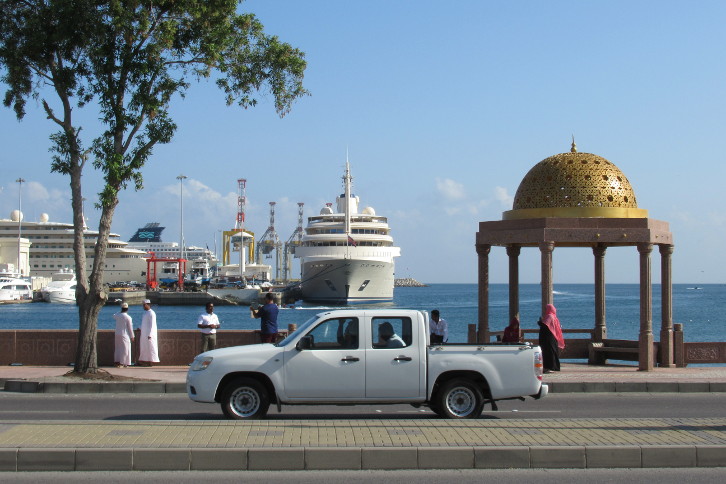 Then me heading for the fishmarcet to inspect the goodfish lacking some followers to eat that fish later with them or have it prepared in a restaurant later.
It was all great and well setup, even Garmin has its office there not far, which I knew from my yearlong aeroplane hobby and inspect, it was amazing indeed.
Even the sea sent its messangers over Newyear. The sea is mostly clear in Muscat bay and if you are lucky you can see even turtles getting close to the small shadespending marindrive towers in marble.
Last day of 2019 there came
two nice big turtles
(video) in the clear bay for a while - too much !
Home
DIR 3
unfinished