Ellora:
Set amidst the Ellora hill range (Maharashtra), it is habitat of the
Dusky Eagle Owl
with wich i spent the last 3 nights of 2014 in the gorge. check at page Outstanding nature !! The hills around are as well habitat of the Rednecked Falcon, seen one couple from close as tehy were performing togather, fantastic.
Magic nalla is habitat to a special Crab, a freshwater crab which is living there in the sand between stones and rocks in the nalle. The crab get about 15 cm max body size, measured by the hard bodycovers and claws found. Whats funny about these crabs is that they keep the areas close to their sandholes clean by taking pieces of plastic or other garbage with their tongs and somehow quite fast shooting it away. (Nehmen den Mist in die Zangen u schnalzen ihn weg) The crabs are food to herons, also some locals eat the crabs.
Magic nalla is also kingfishers territory (White Throated), one time at sunset I encounteerd Common Teals, taking off then, the region is also habitat of the Hoopoe and the Grey Hornbill which get also into the Bungalows garden there. Further
Blackshouldered Kites
can be watched hunting there, Woolen Necked Stork may pass by at the lower wooded areas with jheels, have seen one time from far. Common are the Roseringed Parakeets around the Monolithe and a Bats specie (or more) can be seen inside.
Shikra lives in the hills around, more rarely to be seen.
The region is as well the
Black Eagles
territory, which is a hidden hunter, waiting in a tree till silent takeoff. Once seen over noon hours for some while in a tree at the nalla, in the the dry hillsa round alos Hoopoes and soemtime the
Rednecked falcon
can be see hunting in pairs, special.
The morning of the 1st jan 2015, moving down from Magic nalla I found a weak House Swift which i took and warmed in my hand, and took off soon later from it at the cliff.
Khultabad
village is not far from Ellora (10min by bus) where there is Aurangzebs and his families tomb, fortification walls and ruins, at Ellora village is the old public bath which got renovated.
As well interesting there are stones and minerals at Ellora, sometimes Quartz in layers in the sourrounding rock, in rose, white or clear, some may be Obsidian (?), which got used in prehistoric times for arrow heads (Bhimbetka caves). Sometimes the quartz is in christallform inside some Geoden (closed christall stoneggs)
drawn map
,
gallery
.
Chapora - Laguna
A northgoan village, this village is not big but big of hidden spots to view birds. It is set between biotops like the Chapora hill with the walls of the ruin.
Chapora laguna which is partly laying dry during low tide, with a small fisher harbour at the mouth of the Chapora river at the village side below the hill with fort.
To the north Chapora laguna is enclosed by the southern bend of Morjim beach, where people swim and relax, also me, my favourite hotspot for best moves in deep waters changing where Chapora river joins with the sea, too much !
There the currents change from low to high tide, check pic with explanation at end of article. C.Laguna is identical with the mouth of Chapora river. In the village you can find a small lake, little hidden and not many know it, its mostly covered with vegetation floating carpet, january the Waterhyazinths (Echinodorus ?) are flowering.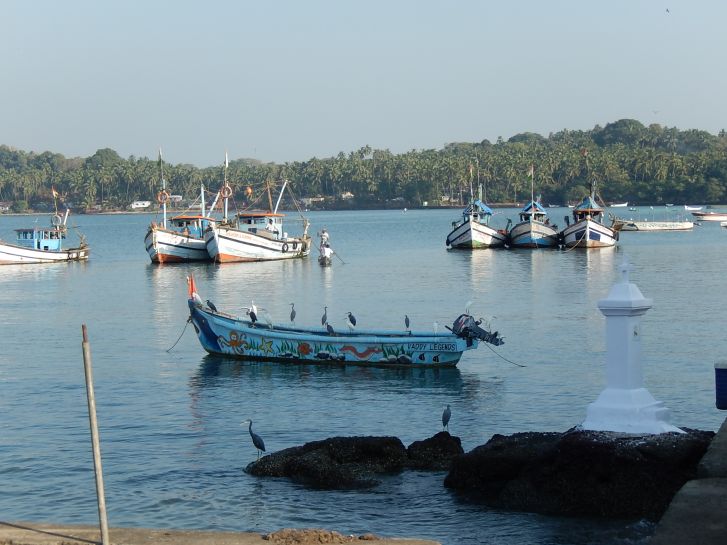 The village is embeded in Whestghat woods mixed with local talukas, small settlements in the palmtrees, spread around simple local houses in the wooded hils. Also some old falling apart walls n the more.
Bird species
which can be seen in the area are Kites,
Herons (
pc
) sometimes Night Heron), Terns (
pc
) Kingfisher, Seagull, Oriole, Flycatchers, Junglefowl, Green Bee Eaters, Shikra, Goshhawk, Eagle Owl (
pc
) sound in the mist during Monsoon from the fort, Peacocks and the
Whitebellied Seaeagle
(Ultimate Skymaster) since 2014, rarely if you are lucky the Grey Djunglefowl on the hill as also the Red Spurfowl and Green Beeaters (
pc
). and not to forget most kinky mix of people from close and far regions during main season, only ! Monsoon time is empty of foreigners and tourist. Chapora hill is famouse for sunsets, romantic couples and Pikinikers (
pc
)
Since 2o15 the laguna is territory to the Whitebellied seaeagle, specialized in hunting watersnakes, its screems can be heared during mornings, late afternoons and sunset are the Ultimates skymaster preferd performing time.
Laguna currents and Chapora at
State of map
,
Goa touri infos
,
Special experiences
,
Indian National parks
Dharamkot: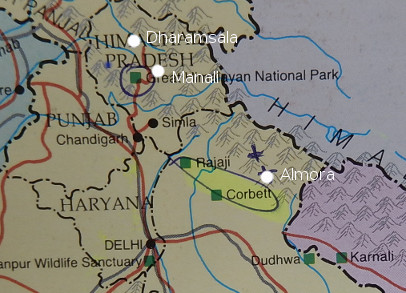 Set in the himalayan slopes over Mc Leod Ganj at an altitude of 2300m. To be reached by foot from Mc Leod G. via Tushitas (tushita-info.com) in the woods or from Bhagsu which got very hotel style and touristic. Dharamkot is sprinkled with nice paddy fields which are again decorated with smooth and more or less huge granite rocks in all sizes, biotop to the
Mongoose, Hoopoe
(Wiedehopf), Shrikes, Warblers, Bulbuls, Swallows and Swifts can be watched at Green hotel in Mc Leod G.
The Hoopoe is one of the most colorfull birds orange body with wings and cap in black and white stripes. Nested 2002 in our garden in centr. Europe where they count birds and couples in the valley at the southern Alps, it s a rare bird there. Dharamkot is embeded in fresh Deodar woods (Himal. Cedar) to the top, prayer flag locations can be found here and there.
Hikes can be done up to Shiva temple and further to Triund (half day trekk) or the waterfall from top of Dharamkot (2hrs), nice for taking a chilling bath, dont forget some food on way.
During march-april Rhododendron trees can be found flowering, at uppar himal slopes like near Trishul also during June, in dark red around the villages slopes. Crows and Kites often perform nicely in the skies, also
Bearded Vultures
high above passing in noon thermics, Dhauladar range is one of his preferd breeding ranges. Great Bulbuls and Yellowbilled Blue Magpies (also redbilled
pc
) in groups roaming.
People are mostly friendly, during trekking season you get good food in restaurants and rooms can be booked from simple to quite fency, just have your eyes open and enjoy. Digitalis is blossoming at top end of Dharamkot during april, in march llreday the Immergruen (Vinca minor).
At
Bhagsu
on way to the other waterfall even a small public bath can be found. Don t cluster all steep slopes at Bhagsu with hotels as it is exponated to heavy monsoon showers and can get a mudslide and rumble story. Nice hikes can be done from Mc Leod via the woods to Shiva temple or all around to Dharamkot which is for years allready a hideout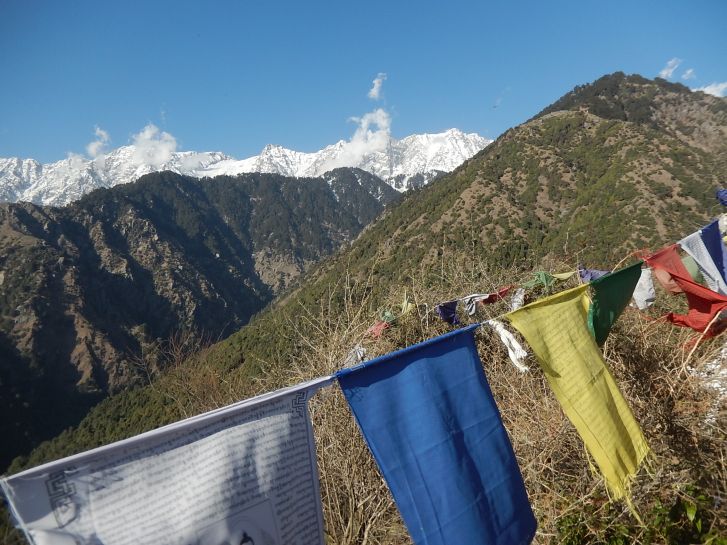 Dhauladar range from over Dharamkot (mar.016) and relax location after hot travels in lowlands, Goa and further south.
During my hike up to Eagle ridge over the village I ve also found Marmot fur pieces and droppings from some Herbivores (plant eaters) 1- 1,5cm of size found, maybe of Pika Royle, tiny Marmots, Barking or Husk Deer, once I ve heard a male deer barking up there. And joined ultimate skymasters while Doves sounded in the rocks and Marmots called from far.
birds listed
stories
and
National parks
of India and
Parvaty Pin maps
Kosi river:
This river very magic and fascinating makes the grosse meister nuts. Roaming by enjoying and swimming doing partly in the magnificant Kosi river, birds (ornithologia), plants, biotops and much more to discover.
Vicinity of Kosi river you can find below Almora city a Stupa or Saken grave like looking hill set in the ravines and rice fields, totally round and about 6m high, further over the hills many porcupine quills here nd there, and in a street curve (construction site) a mum or dad of all bombs like looking steet construction,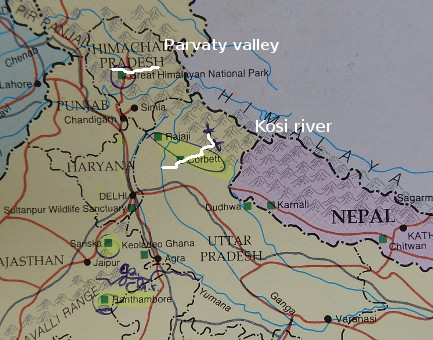 with a little pond in the curve, dragon flies, in the moist cliffsides and the Tawny Eagle around, Eagle Owls also possible which sometimes catch a young cow or streetdog and at end of the day reaching the Koshi (
map of trip
at this page) resting on a group of special looking granites, named Ruby granites because of very uncomon granite cuts, 2mm looking out between quartz phases and glimmer-schiefer layers, uncomon cuts, near the damsite. All not too far from each other.
Nature obs. related
and the
declaration
of Kosi valley to region of universal master (apr.014)
India
by locations
Galleries -
Kosi valley
,
Masala djungle
(Nilgiris.in),
Westcoast bio
and
Ganga levels
Parvaty valley - HP
ROCKS and WATERS
Parvaty valley is mostly interesting, it runs from east to west in the Kullu valley region. Most rock and mountains are of hard granite and related mixed stones. It can be seen on supertsteep mountain slopes with mostly dark rock, guess dark granite, and some trees on it only.
Upper valley you find nice locations like Kalga set on a granite socket, what makes the fields during pre monsoon time swamp and moorelike. The water doe not go into rocks below.
Since years they work on a big dam, once a narrow gorge maybe 30m high crossed by a small beautifull bridge, the construction sites function is not yet clear in sight, it looks ugly bad an evel. From some rock layers on other side (Tosh) it seems that water is getting through the hillside there, more sandy like washed hills near the dam.
Beside the construction sites the old paths and ways up are a bid lost, washed away and some parts end in nowhere (takes about 50 min from Beershani depending on luggage), but specially walls in iron-nets are also breaking away, what is mostly done by heavy rains and loose layers behind. The Kalga granite socket will not bother about that but for sure some trekkers and hikers on way. It can be mainateined and is of a good challange. Only nice samll paths and further up to Keerganga which takes about 4 hrs hike, biz is hard enough. They also made a car capable taking tunnel beneath Kalga on way to Pulga, maybe a Entlastungstunnel for high water from damsite but the distance does not make much difference. The granite socket will not bother.
Kalga and Parvaty valley is great and big enough to take such strange and wired measures, but for future it needs to be more dezent, these hydel projects.
Touri infos
and pics from the new opened Institute
pics a
,
- b
, ideas for the valley at Inventions
Yssik Kul - Kirgisean Sea
Kungej Alatoo range along the northern coast of Yssik Kul (at 1500m alt) is mostly of granite, below smooth endless rock fields and in back the nearly 5000ders, Yssik Kul sea is 160km long and at its broadest stretch 60km.
In Yssik Kul itself you find the Schlammohrschnecke (nice snails, pics below), which gets here bigger and has an harder cover than in central Europe.
For aquarien maniacs it could be interesting because Brackwasser conditons, a bid salty, are special. Did not see any literature on fish of Yssik Kul but they ve books in the lovely houses, woods are rare in high altitude mountain steppe but there are also some cotainer sized newspaper, mags, lighter and cigarrette sellers with small winter save windows. As granite sands are calcium free its also special for specialists in biotop aquarias.
The high altitude mountain ranges could also proof interesting for Geologists and Climatologists. During ice ages all was covered in huge ice and glacier covers but not the highest peaks which show sharp and high walls and breaks, over 4000m nowadays.
Boom valley river northwest of Yssik Kul drainages south into the kirg. sea which is a dead end for waterways and at northern side the way out of Tshong Kemin and at the hight of highway rest places north the way to kyrgyzean lowlands and further to Kazaksthan (german travel guides tell funny stories sometimes).
Wild mammals left by the Nomads, Mongols and modern hunters are sibirean Ibex, Snow Leopards, Isabell Brownbears (all rare, Marals are gone), marmots (Murmeltiere) should be out there, also foxes and martens (Marder), tibetan antelopes could be interesting here and there set wild in concurrence to sheep and goats. Snow Leopards watch its prey and beasts over days and catch them by surprise from huge rocks and cliffs, that is very sexy,
Kyrgyztan story
Biotops basecamps 2
,
National parks
,
Canoeing
,
Science pics
maps
weblinks -
www.Raupe-schmetterling.de
www.Insektenbox.de
www.Trichocereus.com
www.libellenwissen.de
font>