Egypt
Travelling through times from ancient to modern Egypt
Coming from Sri Lanka i arrived to
KAIRO
midnight, took some cabs and taxi to donwtown Kairo, where, after some good hike during early morning along the highway which was quite easy, after the long flight hours and welcome to aerport early morning in Egypt.
The taxi, after chnaging two minibus on way to downtown, found me a good Hotel, what had about 10 floors, a groundfloor saloon with recepption and view on the street, on topfloor a nice restaurant. All worked well sofar after some wild ride to downton and checking 2 more very simple stile guest houses before the good hotel early morning in Kairo.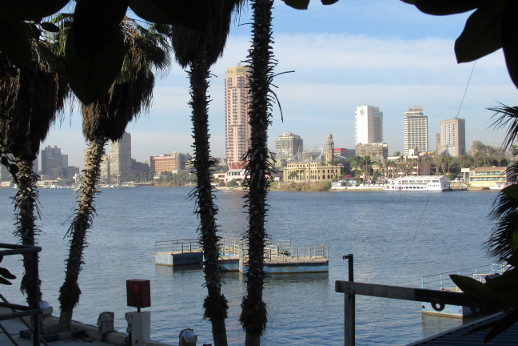 Next morning I got impressed on the streets of the megacity Kairo, after coming from Colombo, Kairo had allready a more european touch, but as a megacity. Broad streets busy to calm sideways and huge bridges, often during daytime packed with cars, but usually all in flow.
My first morning walk in such a huge city got stretched till I reached the mighty river Nile. In bright blue colours in mix with the sun and mist of the streets and of different scenarios and peoples activities left a deep impression, what a dimension and that since the times of the Pharaos.
Even as huge megacities are not my thing really Kairo left a good impression. It had all from busy to relaxd quarters, from broad rushy lanes to getting calmer and friendly sideways with pubs, cafes, fruit shops or the ones with heavy mashines or newspapers.
Two days after arrival I left the hotel for the Pyramids of Giza (Gize), with packbag as I thought I would stay there somewhere close to the pyramids overnight. It was weekend and many people where moving to Giza and the area, I tried to find a place to leave my big luggage but it got too complicated and the simpel gate to the pyramids at that side, which was more or less just a big whole in a wall where people got the tickets out before entering the area passing checkposts and the unspecial gate in the wall to the famouse Gize pyramids, which all togather disturbed me as it was the dusty unspecial looking way with flocks of people in front at the wall before moving towards one of the world wonders.
I got offered to do a tour on horse around the pyramids, but as i did not want to leave my packbag somewhere in a pub, unattended and the simple whole in wall ticketcounters with many people in front to get the tickets, also japanese and chinese tourists, I quit of annoiance, took my packbag and hiked for a taxi along the crowded streets at that part of the city with weekend families and many young and locals on trip.
SAQQARA
The taxi ride the rest of the day was excellent, we arranged a price in advance and the nice driver new all the famouse places and took me there, first to Saqqara.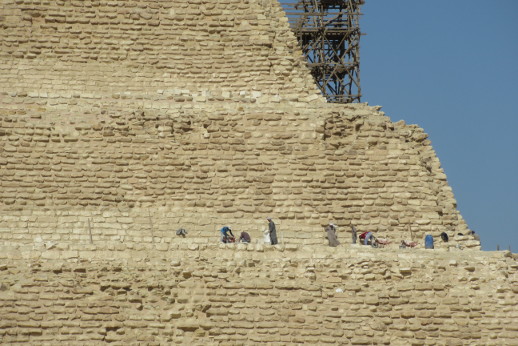 On the step pyramid at Sqqara
A wide spread area about 20 minutes from Giza south by car, with a huge step pyramid, mastabas, the open square with collonades, partly covered in sand, the Djoser museum.
Before looking north I got in sight of Kufu Akesh "The Horizon of Ramses" (Kufu is another name for Ramses, akesh is horizon) which is quasi the view on the horizon with the three worldfamouse pyramids in northwest of Saqqara, the pyramids of Giza.
From there you can also see in a distance the deeper down river Nile area in green and the huge city in quite a distance.
Saqqara is an absolut must for people who are interested in archeology, with impressing mastabas, partly buried in sand and small gates, the square in front of the big step pyraimd where workers and archeologists on it look like tiny small spots from just over the square.
The Djoser museum some curves down is of excellent shape and showing impressing arts pieces of the old times. The total area of Saqqara has to be entered on street with proper gates, security and ticket counter, which is absolut justified by the great area in back.
On of the main events during the pharaonic years was Heb Sed, the main celebration once a year for the Pharao, with presents and offerings during, singing and dance, at which also the Pharao himself had to partly show his capabilities by a small run at the collonades and square.
The total area can be visited for hours if you want, and has all from the step pyramid, the square in front, many mastabas wiuth some explanations, arts teh excellent Djoser museum and more.
Magazines with infos on the sights get offered and is very reasonable (beside language mistakes) on many kings, mastabas, arts, pyramids, forms of arts, maps, the overseeres of arts and construction, deputies to the kings etc, important people and couples, warlords, also wall carvings which included workers, daily life scenes, hippoes, birds, fish, hunting and crocodiles. All togather worth for studing over a lifetime as the pharaonic period and dynasties changed over 3000 years.
The next days I left for Luxor in the south, about 9 hrs by bus till arrival at early night, depending on schedule. From Kairo donwtown you can get rides to close archeological areas in tourist cabs or far away destinations. The longest get reached about 3-4 times a day from Kairo downtown. Tickets can be bought at the stations in advance. Long distance busses are usually in best shape with AC, take care of too much of AC inside and good heat outside.
During the long rides in the endless desert I got the vision of spending some nights in the desert near some bushes in a vadie by a small campfire.
LUXOR
the worldfamouse headblasting archeologic area today set between the river Nile and Luxor city. The total area spreads over many square kilometers with different archeological sites till over the river Nile to the
Valley of the Kings
The main archeologic area between the river and the city is deeply impressing, huge columns surrounding the main squares with the big gate from the south, when you enter the Pharaos can be seen on each side in monumental way, some of them smiling since centuries over their land - Hatshepsut. Before entering today people need to buy tickets at the main gate, inside you find yourself mor e or less minimized and impressed by the huge megacolumns carring till today the top, the pharaos at the gate, wall reliefs and paintings, some in good colour till today.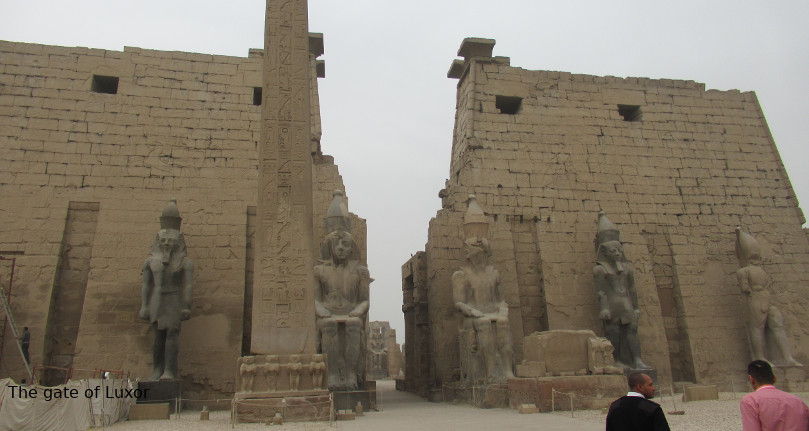 Luxor - The Pharaos welcome you, get small ..... 3000 years monumental and mega !
The smile of Hatshepsut rests since centuries on his land
The river not far, in sight on the other side the mountain range with the valley of kings waiting to get visited. I ll be back !
The city itself is a bid massy but you can find everything from hotels, railway and bus station, food places, shops and restaurants. The restaurants often a bid hidden but of good atmosphere, boats on the river and the pier inviting for walks and resting. During season I can imagine the piers and riversides getting busy with tourits and groups checking in for the big boats. All sizes of boats can be found on the river, depending on what people are like and go for.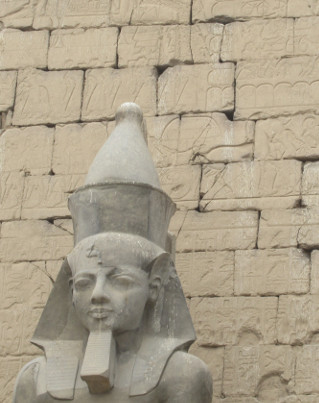 Also some shops with stuff like mobiles or computers can be found in the city. The more you walk you will find hidden streets and corners, some also of good stile. During februar weather can be misty sometimes, usually it was sunny.
One morning a frettil passed my way near some parked cars in Luxor.
Al Haram is a daily newspaper in Egypt and I liked to read it, because when you come to a land where you can hardly read anything beside hotel signs or modern advertising it is good to get some news in english then. It is in arabic and english maybe also a french and german edition. It often has big chapters over double pages on new discoveries of the old egypt times, also on regional issues, news on politics, developments from far and close. Also infos on regional powers and their engaging, like on Turky, Libya or Iraq and the more.
At some locations books get sold at the streets, there is also a big marcet with literature and books in a lot of book stalls, beside others tuff.
Kairo has huge fency hotels, big busy streets and lanes but close also narrow calm streets with nice settings, same counts with squares and places, it has modern areas and sleepy ones, from the main highways it looked sometimes as many 1 000 blocks would have been built over last 2 decades.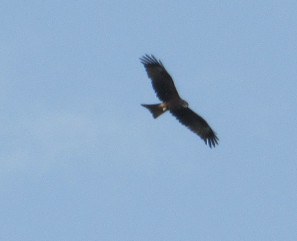 Honey buzzard over the Nile on way north
Tahrir square is the main square with big lanes, bridges and pedestrian zone, its streets spreading starlike to all reagions, with travel agencies, restes, some fency hotels, shops and offices, goverment buildings and the US embassy behind 2-3 huge rockblocks from the desert with some wire fence.
At that time (feb 2019) I could not sense the tension of close uprisings, demonstrations or revolts, even as it mights have been there .. hidden, I had not time and energy to get some news or infos by local people on that part,
Overall atmosphere was OK as in any other megacity. Some of the volks looked to me as they d have been as migrants on route from Sahelzone Africa, but specially at Alexandria, from where I thought I could take a ferryboat over the mediterranean sea north to Italy or Grece which was not the case, that routes do not get operated officially, not for passengers or trucks with goods for trade which surprised me.
River Nile
is timeless, either in downtown Kairo or the desert. Since ages the lifespender for the region which is elsewhere desert and hot dry hills, vadies and mountain ridges.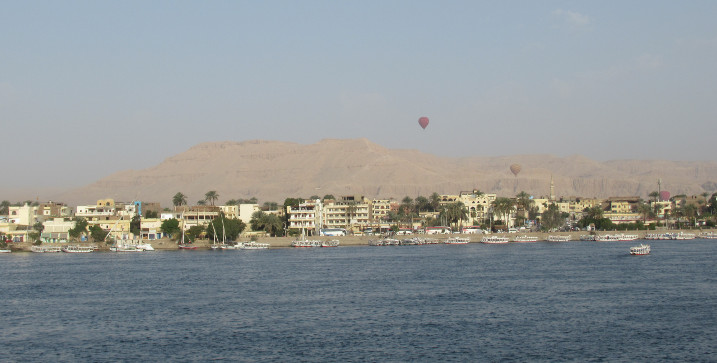 View over the Nile to the valley of kings
Egypt is a great land, great by history and its misteries, its people and traditions, hidden secrets and coming developments, I can see a good future for them depending on how they get things and problems done and solved.
It is one of the countries which gets kept under rel. stable conditions and politic, also by the hands of western powers, as it is important partner to the west, but it should be of more importance to its people before that. If you look to most other countries of the region that is not the case as too many sides are meddling from out and inside there.
It could be that the west fears nothing more than arab springs and revolutions with a muslim face which would workout different than with the mask by the kapitalist.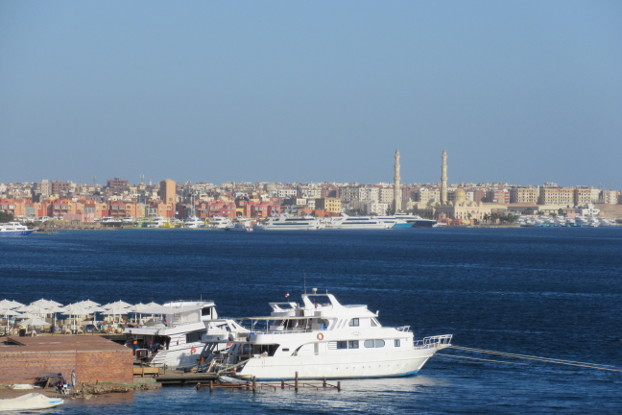 After Luxor I left for
Hurgada
at the Red sea by bus which is another 5 hrs busride, streets appear endless as the desert but the more calming, fascinating and tempting. The more disturbing when you get to see km of rumble along some highways which made me ask if they flattened some total villages or was it rumble of broken down houses. In donwtown Kairo itself I ve seen an open rumble area of about nearly 2 square km, behind some walls and fences which kicked my fantasies for modern city planning there, not far from Tahrir square.
Hurgada is a medium sized quite modern busy city with tourism along its coast and with an aerport. So I got into real holiday time, nice warm sun with best view on the sea, boats out at the sea, excellent colours and sandy islands on other side, small falcons sitting in the windows, good restaurants, bars, hotels, clubs etc, all unbusy at that time what I liked. Donwtown was easy going at nights and many people out, partly also families with young, at the nice new looking walking-only zone of the city.
I missed to walk more around and see more places, will do next time as long as tourism gets not too disturbing.
Egypt is fascinating, I wish them a great future .. and I will be back.
Egypt nature observations
,
Travel IT
,
Home
This page got done allready spring o19 after return but then some hackers blocked the harddrive and all data access was over.
under progress