A hawklike one followed by crows doing outer wings in the morning form room.
Purple Rumped and Purple
Sunbirds
at Haputale, the morning of 15th june a couple of Purple Rumped Sunbirds coming to window later I got to see their nest. Also Purple Sunbirds passing sometimes. Before reaching Haputale a Besra Sparrow hawk (?) fom bus overhead passing, straight and swift. Many swallows allday when there is no mist. (Haputale)
A
Black eagle
on way before Hakgalla from bus, big with short tail.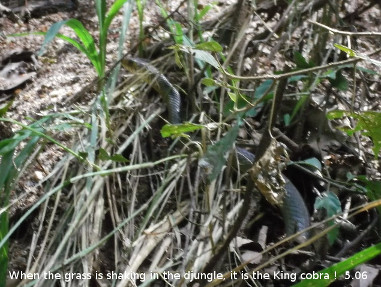 On way back from Dunidha falls in the djungle a
King cobra
3 m long moving slowly, halting, watching and moving on, fascinating. Taking potential prey in focus over 200m. The queen of the snakes eating other snakes, gettig to 8m long.
Monkies near waterfall and on way before, makaques quakes with the haircap, quite wicked and agressive checking people on way for foods. (Badulla)
A big group of medsized white ones on way form bus in rice field, spoonbills or herons.
During noon time from beach over strong waves out in covered monsoon sky the
Whitebellied seaeagle
then dropping sharp down on catch, flying back inland getting mobbed by some crows. Always again Kormorants, 2 species, crossing along the beach short over waves in the winds (Negombo)
Many
Flying foxes
on covered sky form guest house during evening, a few hundred, fascinating all flying the same direction over a stretch of time (24th.may)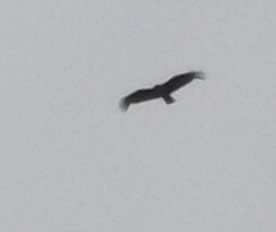 The first day after arrival late afternoon a
Grey headed fisheagle
over the sea doing some turns, seen from beach, later moving inland. Later two of them, big, but in distance to each other. Long wings, long primaries, more straight than the V shape of whitebellied, and not the typical kurzen Keilschwanz as with Whitebellieds, straight tailend. Other seaeagle species are living north India.
Eagle with 2 Kormorants
Once during breakfast a nice sparrowhawk like one passing overhead, in beautifull bright japonense phase in Negombo.
Many Kormorants, guess all 3 species, doing nice moves in small groups over the beaches. Many herons over the day, from great white to smaller white ones. Funny curiouse and naughty crows, exploring and searching all kind of stuff on beach (Negombo may.o18)
Cylon story
,
Mails from way