Cylon - Sri Lanka A - B may-jun.o18
The friendly people of Cylon
Route:
Negombo - Kandy - Kundasale - MAHIYANGANA - BADULLA - ELLA - Sita Eliya - Nuwara Eliya (morelia) - Hatton - HAPUTALE - Akarazia djungle - KATARAGAMA - Kirinda - Matara - Sinharaja world heritage
(arriving to Cylon from Bangkok)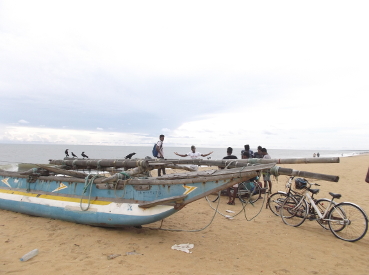 I arrived to Negombo, as ususal I guess, coming by a taxi and that is often the first destination then.
Negombo
is a small city spread around in the flatland along the southwestern Sri Lankan coast. It is one of the most costly tourist destinations, if not the most costly, meals and rooms are expansive, and as first place on way I had no idea about other places, normal Sri Lankan places and its prices.
The first afternoon after check in in guest house I got to the long beach and enjoyed the seabrise, clouds, watching people and different moods and special, two huge big eagles flying out there in the covered sky over the sea, not too far from each other, later returning inland, not typical shaped for Whitebellieds, maybe Greyheaded Fisheagles, more at nature observations.
By the offer of a local rikshaw driver I got a nice room, second day after arrival, with kitchen and bathroom for 1500 rupies beside his family home, which is reasonable for such a place. Usually prices start at 2500 in Negombo.
I spent the days along the coast, renting a cycle and enjoying the excellent atmosphere at the coast, nice waves, interesting sea moods and all kind of local to tourist people, fooling around guys, also playing sports at some places, mostly cricket, couples in romance and touris. After nearly one week the weather turned to
monsoon
state, waves got higher, the beaches a break, winds got strong and rains poored heavily. It was interesting to sea the change over days from sunny and hot to windy and wet.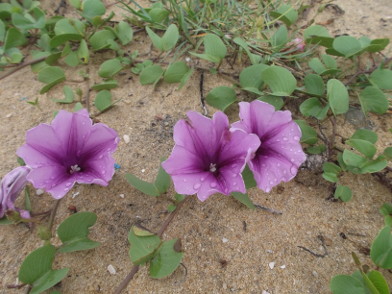 During southwest monsoon the southwestern quarter of the island is mostly exponated to heavy rains, the east, north and west less. In the moutain passes you can get heavy winds then, blowing day and nights, shaking houses, temples and hotels.
Later I headed for the central hills, passing Kandy the afternoon for short. Which was not too inviting cirkuses looking for rooms or nice restaurant, but with imperial biz studies and girl colleges along its streets, not far from the big lake in the hills with most fency hotels and accomodation, in its center the historic railway station with the E-city around the corner, of which i read once but cant remember what it was about.
Overall the people of Sri Lanka- Cylon are mostly friendly, 65% of its population are
Buddhists
and they are in generall friendl people, wanting good for the others as well, and thats what you can feel. Another main part of the population is of 22% Hindus, 10% Muslim and 5% Katholic believe.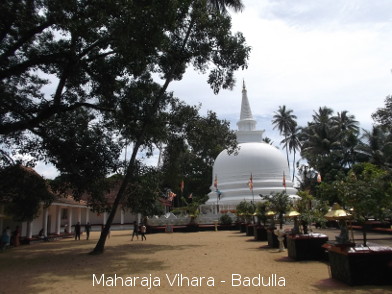 Buddhism is not a hostile, conquering, slave keeping and people killing believe and practise over history. Eight years after Buddhas enlightenment he arrived to the island and till today it is main part of many peoples daily lifes. In every bigger village there is a stupa and a monastery and you can often hear the monks reciting and chanting the evenings, it is of Therawada Buddhism which is the small vehicle, there is also Mahayana, the big vehicle which spread to Thayland and the region, Vajrajana the diamond way, Zen in Japan and two main directions in tibetan Buddhism (yellow and red hats).
The funny thing in Thayland they often offer massages to tourists, Buddhism is in general not body hostile, also along busy streets liek in Bangkok, what they dont do to tourists in Cylon or other buddhist countries, as well they do not massage tourists in muslim countries.
In Cylon you can see local couples hugging or kissing along beaches, also in some areas in cities like Badulla, what you do not see in India or muslim countries really. In Cylon there is some rare places with spas (Ella) or gyms (Negombo, Colombo etc) but I dont connect that to Buddhism, that is some new comings from the west.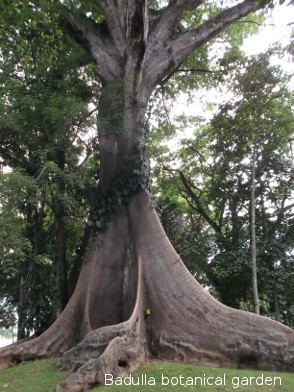 I moved on to the pass where there is the village
Urudamba
, short before there I got by chance into the most royal, posh and aristocratic small land house with guest rooms, a piano in its dining room and a nice garden facing the huge rock across the valley, from over the street, it was too lovely but not really the place for an adventurist and outdoor CEO with a packbag.
At the other side of Urudamba the wind also blew heavy allnight and day and I left after one night in the totally covered and inside rooms for the nice village
Mahiyangana
, which is a busy but not uninviting village.
One of the main travel hubs at the eastern side of the hills. Stayed there some 4 nights at the only family run guest house, which was with simple rooms placed around the center of the house, like an atrium, which is a good thing in the striking hot climate of the islands lowlands. The girl of the house was jumping up and down the house allday and watching her mum at the small streetside kitchen, nice.
The highest hills in the islands center get to around 2500 m, often covered with djungle, teeplantations on smooth or steep rising dark granite or other rocks. Where there is no halt for trees on the steep rocks it is mostly high grass, in some areas also lemon grass in the exreme sun at that altitude.
In the central mountains you can find many waterfalls, tropical rivers and streams and all kind of mixed woods, djungles, fields, crops, fruits and the more, in some even strawberries and carrots (Sita Eliya) growing.
Later I left Mahaiyangana for
Badulla
, the district capital of the islands southwestern Uva province, which takes about 4 hrs by bus. Badulla a busy, rushy and more or less by traffic polluted city in the tropical southeastern hills with the nice calm Muthiyangana Royal Temple complex (Maharaja Vihara) and a botanical garden not far, both worth a visit.
I visited the temple complex nearly daily with its nice main stupa, carvings, paintings, small and big Buddhas in small cells, often lovely decorated with flowers, or in the open under small trees, not to forget the huge old shade spending Bodhi trees.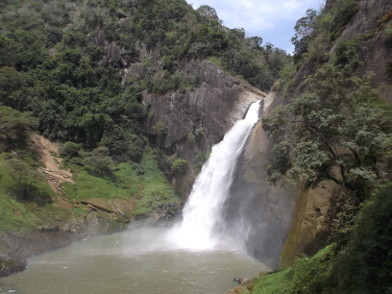 I left for a daytrip from Badulla for
Dhunida falls
(200 entrance) which is magnificant, very impressing. You can take a bus out of city, about 15 minutes, then a 1 km djungle path till you reach a big balcony for watching the waterfall, take care of the monkies checking for food. On way back not far from the falls I sighted a snake, about 3 m long, it was a King cobra, slowly taking its way, the queen of the snakes of which I took some pictures from save distance. Its not often that you encounter a King Cobra, I took it as a good sign, very exciting.
The King Cobra made my day, (more at nature obs. link below)
All kind of local people are visiting the temple area of Badulla daily, doing offerings, putting flowers, lighting butter lamps, also couples here and there, families and older volks, nice to watch away from the busy streets. The city has some nice good restaurants with local traditional food, all kind of shops, marcet, the main bus station, district court, hospital and more what is in need of a city alike.
Next place was
Ella
where I got to from Badulla by bus which takes about 45 min. Ella is a very touristic place up in the hills, surrounded by tee plantations, woods, steep rising hills, streams and waterfalls. The village has a lovely railway station, where traisn stop on way from Kandy to Badulla. There are many tourist homes, many most fency teher spread aroudnin the hills, all in walking distance from the main street where there are many restaurants and touris in short pants. Cylon people wear long leave cloths and men also lungis. The village seems to be a touri hotspots since years and offers a variety of places to visit close and far, from the 9 span train bridge, we met two girls who explained they "quit finding the bridge after one hour ...", Rawana falls some 10 min by bus down from village near the street.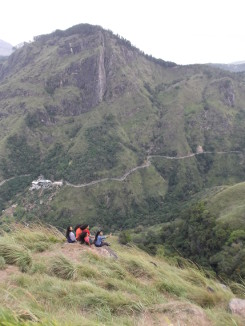 Most inviting for nice hikes the hillridge on way to little Adams peak, before passing through teegardens, then out on the up and down path. From the tops you get stunning views on the surrounding land, some young volks got excited and jumped around on the rocks for grouppicture sessions close to steep dropping hillsides, risky. On other side of teh valley is Ella rock which is a bigger daytrip from the village.
You can take trains from Ella further via Haputale to Badulla which is last station, or Kandy in other direction, which takes about 5 hrs.
Ella is touristic but worth visiting and you can easily leave it for nice hillwalks, teegardens, djungle trips or waterfalls, some of its places have special waterfallview verandas and calm djungle or teegarden ambiente but you can also find easygoing hippie and raggae stile restaurants which play music and have a fireplace.
Connectivity
in Sri Lanka is in general very good, I never waited longer than 15 min before leaving from main bus stands and got on busses without schedule, prices are very reasonable. It is a few types of government or mixed operated busses, about half of busses play videos and music on route, some are very basic and the ones operating around Colombo have also flexi pillow seats in mid plus music and use partly fast highway routes.
Tourist-tour operators are more costly depending on distance and places on route and need to be booked in advance. In tourist locations you can also rent cycles, scooters or heavy motorbikes, lefthand side is the right one to drive in Sri Lanka, take care, traffic can be disturbing in main hubs and cities.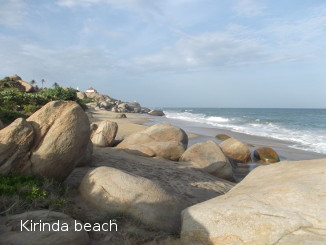 On of the only main problems in the country I see is the garbage and pollution. In every big village or city thers is much rubbish in the streets, also bus stations get heavy smoke by the old busses which is not good for the peopels health. Often they burn the rubbish then, often with plastic what gets poisen smoke. There should be more organisation in cleaning villages and cities which would also advance health of comon poeple there. Even as many people live by good attitude and habits, in friendly way, the rubbish in villages and cities is weakening their physical health.
I headed on from Ella to Sita Elya on way to Nuwara Elya. At Sita Eliya at the street is a Hindu temple total in gold colour, some busses stop on way there and often there are any monkies around. Not far from Sita is Nuwara Eliya in the cloud forest zone, and quite touristic with big hotels and a bid like alpine stile cottages and houses. It has an old horse racing parcour a big park, also good for watching specific birds and the lake, which looked to me like for honesmoon couples and families. During the time I visited the the place it was fresh and allday windy from over the peaks by monsoon currents.
I moved further to the city
Hatton
whih is deep in the monsoon prone zone, every 1 and half hour there were heavy rain showers pooring down. Hatton is a friendly and bid chaotic city, but good for doing nice walks in the region around which has tee plantations and further out some nice waterfalls which can also be seen from street over the vallies. Hatton has a nice small a bid downtorn railway station which was soaked in wet then, from it you can move by train to Haputale, Ella and Badulla on way, Badulla is last stop.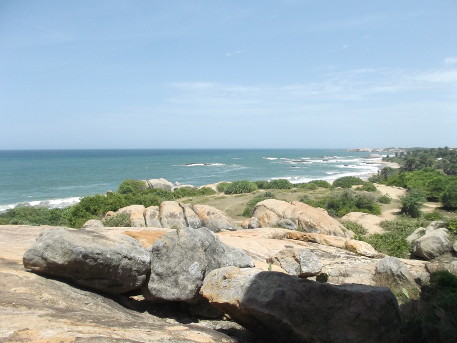 As monsoon was very strong I decided to get out of the heavy rain zone, which ment to move eastwards again.
Next day I took a bus to Haputale, first on road moving deep in the wet tee plantations and hills then suddenly getting out on the more sunny and drier side also in the hills.
Haputale
is a hillstation placed on a mountain ridge at 1400 m, from there you have good views to the lowlands in the east and to the west over endless hills with tee, villages, fields and djungle. During june monsoon is carrying allday and night clouds and mist over the ridge, moods are often changing every couple hours from covered hills in mist to open, sunny and clear, quite fascinating.
The city is embeded in tee, and a part of it in teh abck is of dungle, into where djungle path is leading, which had old signs along path and did not look that it got used last years. As so it was the more fascinating. The path starts from the street to the post office which was closed because there was postal strike for days allready. At the start of the djungle trail there is the foerst office house which has interesting plants as well, in the djungle you can see huge old wintergum trees beside many others, also monstera (Fensterblatt) and Philodendron. The path did not look used any more but even so worth the visit.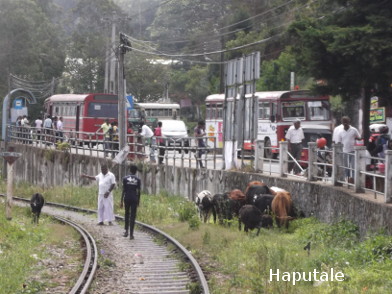 From Haputale I went to visit for one good day Akarazia forst which has a group of Elefants inside. At the woods outer parts you get through huge pepper plants, gum and kakao plantations, all three plants growing togather, quite special. Pepper was carrying big at that time of the year, I took some green corns and had it dried later, Cylon pepper of the best. At some nice small river I took a bath and rested for hours on the hot rocks in the shade under the trees near the magic waters which was fantastic. Some of the fish which live there are Stone sucker, Long snouted barb and Wilpita rasbora, more at nature observations.
Later local family came to the szene for taking bath and washing with their children, what looked quite peacefull and as they would come there daily.
Some days later I moved from Haputale to
Kataragama
, the well known sacred and ancient city at the gates to Yala national park.
Kataragama is good for visiting the old city with its main big Stupa with the Vihara (temples and monastery). During nights music gets played there and people also dance. During days many Hindus come for offerings and Pooja, some take a bath in the nearby river which is not very clean. Buddhist mostly come for doing offerings, wishes and preyers at the Stupa. During fullmoon end of June Posom Puja starts which is one of the main buddhist anniversary and celebrations which takes place over 1 month. During Posom many people from allover Cylon wander and travel for the time to visit and celebrate at main buddhist places of which the most important is Kataragama for Posom.
The main problem in Kataragama is that is is one of the most important pilgrim locations on the island for one month during a year when many thousand pilgrims come to-gather there. Same time it is at the borders to a big national park which brings some conflicts of interest with national park and the pilgrims savety and not too much of disturbance and action to each other. Another thing is gems which get also found there and does conflict with national park rules when getting mined.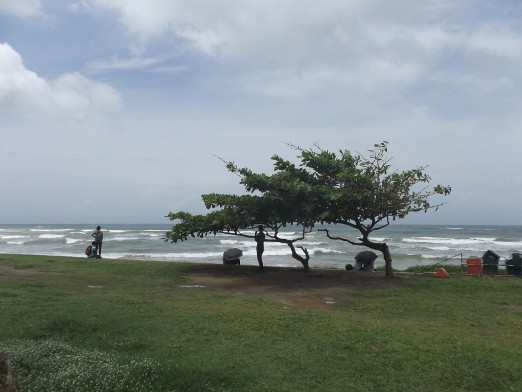 The big village is at the main gate to
Yala Nationl Park
and has many lakes with Lotos plants and waterlilies, also crocodiles and many birds. In the parks central main lake area are about 500 to 600 Crocodiles, elefants and birds as Openbill Storks, Kormorants, Darters, Herons, Peakocks, Kingfishers also Pied Malabar Hornbills can be watched, often in the parklike area near to the main Stupa, some Crocodiles could also roam to outer parts close to the village which is usually with warning signs then.
As the national park area is also part of gem business, some local people dig there themself, I got told that some find stones by chance in some of its rivers, others come for trading, also tourists which buy some stones. I see that as one of the reasons for the many police checkpoints at the parks gates which are also not far from the Vihara and main Stupa. Some days later there was a night shooting with some main heads involved shown on TV.
I got also told that some are hunters or for protection at tourists camps inside the park, and overall impression is that in Sri Lankan they do not keep it that seriouse with national parks as in India. Park visitor numbers are not limited, and regulations not that rigid, prices for tours are similar, but numbers of park tours are often not strictly limited. Prices for national parks or waterfalls can vary as for Dunhida falls you pay 200 rupies and could even see a King cobra then, others close to streets are for free.
National park fees vary as also for archeological sites with temples, painted caves or ruin areas which can be up to 25 dollars for museum with archeological area nearby like at Polonnaruwa. A 6 hrs national park tour with guide in Sinharaja can cost 80 dollares US for 3 people but shooting (hunting) there, as I heared, should be strictly forbidden, the last two elephants got taken away allready from there somewhen during June 2o18. Prices vary and it also depends on your bargain skills and experience.
Enchanting at the temples, challenging in the streets - Haputale
THE FRAGRANCE OF FRANGIPANI, EXCELLENT
Cylon B
,
Cy. galleries
Savety:
In general Sri Lanka is a quite save country to travel, its people are mostly friendly, some do a good show and it can be fun to joke with comon volks. The normal thing is bargaining or fantasy prices for tourists in some restaurants or for taxis and rikshaws. Also women are not in danger usually, at night alone in rikshaws it can be different, but usually ok.
It is quite a hot and romance doing country between the sexes, from normal affairs and marriage to biz, child abusers was a problem in the past. Usually nobody will harm you physically.
Health:
Tropical deseases can be a case in remote regions, (hepatitis, malaria) but they have doctors in all bigger villages and hospitals in cities.
Dengue is one of the main deseases which can occasionally spread, it gets transmitted by moskito bites, they reproduce in small water spots, this year (2o18) there were more than 1000 cases before July in Colombo, but that is under controll.
Ratfever is another issue, it can spread by unclean streets and kitchen where there are rats and its rests. The signs are headache, tiredness, fever or hurting eyes, it is a not that agressive like other deseases and is thatfor often left untreated, it can also diffuse other problems.
At most big villages there are doctors where people can do blood tests on routine on variouse deseases, also HIV. Moscito nets in rooms are comon standard, some like it, others prefer moscito repellent or use both. The sun is striking allyear during noon hours, take umbrella and sun-blocker on beach and in hills.
Fungus in rooms can be a problem and can produce uneasy skin disorders, specially in connection with sweat and street pollution, find a good creme for you.
Some beds, pillows and mats can be bad in basic guest houses, ask for exchange of it or put to sun during hot hours or change place at all. Often local people keep their places open allday, guest rooms are different. Dentists can be astonishingly very cheap, speak on wanted use of material before with doctor.
Climate:
Tropical, southwest monsoon from may to september, most heavy impact in southwestern quarter of the island, in the east more bearable with good sun hours. Northeast monsoon from december to january, the rest of the year is sunny, hot and dry with occasional rains only.
Sea gets rough from april before southwest monsoon and some specialised seabirds are getting closer then to coastal southern island waters and can be seen during whale-watching tours.
Cylon B
,
Mails from way
,
Nature observations
,
galleries
part of IT