Creta - Hvar - Ljubljana A - B
Route:
Heraklion- CRETA- Matala- Chania- Paleochora- Heraklion// Pyraeus (Athens)- Corfu- Ancona// - Split- HVAR- Jelsa- Starigrad- Split// - Ljubljana !
Takeoff from
Salzburg city
was not complicated and smooth as usual, also the Tui ticket got not failed and done in the city of Villach which was also a successfull trip cause a new packbag got purchased after 23 years there. The only unsecurities was the PR code which should get sent the samenight of takeoff from the target destinations government responsible for the Covid 19 gates and tests.
The confirmation for the fillin formular on web in paperform was good enough that on the targets destinations aerport wich was Heraklion, part of Greece. The confirmation for the fillin formular (gate covid on Heraklions aerport) on web got done successfully in the ticketoffice the same day there (covid test result is missing till now)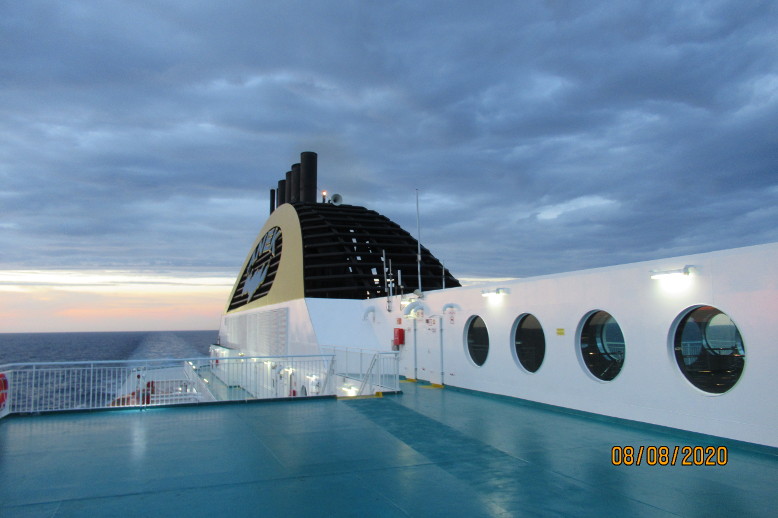 The day before takeoff the target city of Salzburg got nearly missed as the
train
took a new rout via Germany and Kufstein to Rosenheim which I was overall not at all interested to reach. So the train on half way to Salzburg got left with packbag and total travelgear and the distance of about 15 km between Schwarzach and Bischofshofen.sbg got covered on foot, in some fields and along the rail track.
Even so by that bid of hardships Salzburg got reached in time and dad was good foe a great welcome in our old appartment with many stories, yet untold from primary school times and our black friends.
All the way on air to Heraklion Greece showed no misshaps, as usual on 98% of my
civic flights
the years before and about 98% of all civic flights worldwide before the covid 19 turnover, which forced many fleets to the ground over weeks during the covid 19 times 2020.
Heraklion
got chosen because some old buddies of the old times in India, which where from Italy, where they still eat Hamstervogerl and Igonoderme (Seeigel und kl Voegel), arranged to meet there. This was the plan and after 2 days I reached the target city of Paleochora from Matala, Chania and Rethymno, all on way to Paleochora in the southwest tip of the island Crete.
I walked around 1 day in
Paleochora
and showed up in main streets and the 2 main beaches which were on both sides of an half island stretching into the sea from north. The city quite clean and readymade for tourism, many restaurants and all in a distance easy to be reached on foot within 20 minutes.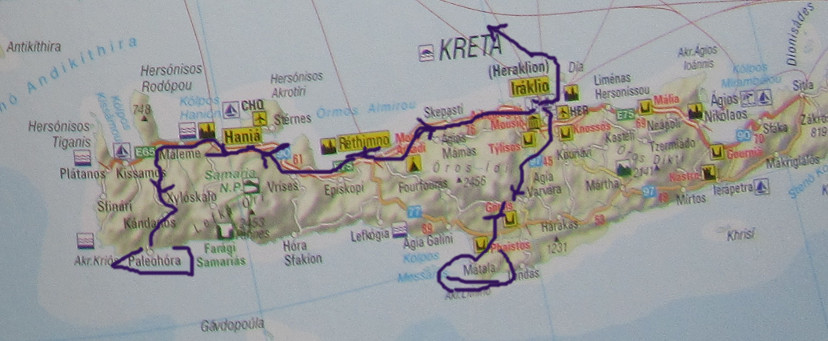 A bid annoying the days before was the streethikes in the heat of the island along soem streets, even as
Matala
was great some 3 hours after arrival, with the caves near beach, the nice village, sun rocks and easy going ambiente, also with many tourists, but it seemed to have been not yet overcrowded and too much distructed by the foreign invaders on cars and campers.
Lesbos was far away and here and then in anger of the more cars than locals on the island I marked Lesbos as more special, whic was a hipe by phrase on streets. Matala offered me the first good moves in seawaters with great view on rocks and sea, also some sexy tourists, which at that time of the journey did not yet the usual simple screams for mating (fakemate).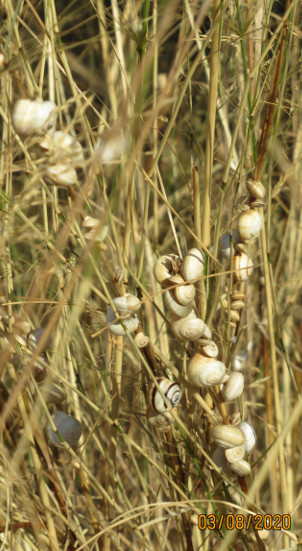 Over the yaers on roads you get used to much and the way from Matala to Paleochora (1 day ride) the next days, sleeping in Olive orchards and smooth lovely looking hills near small villages spotted with white houses did me a good welcome and great from busy highways and cities. A nice grownup Hippiewomen from Germany, who staied allreday 8 month on the island, offered me a ride and we had some good exchange for short on way back from beach with the cavehotel (Matala).
As the old buddis from Italy showd not up and did not send any proper signals for meeting, one of them was a Cisco manager before starting pig farming in italies north some years before. I though an ex Cisco manager should knwo how to send emails and
proper signals
for meeting on one of greeks biggest islands far southwestern spot.
They knew telefone would not work and to name any hotel or guesthouse location should not be a problem after 10 years travelling. Anyway that town was not somewhere around any corner, lets say in Lomardai or Tuksani (Toskana). And it was teh second failor for meet, the first was once in Bergamo where we should have gone for camping, what did also not happen. Later the region got hard hit by Covid 19.
So I decided to travel on without further annoyannces or not happening meetings and only some cryptic signals here and then over a week with any town named in some mesages. These times of simple mesage were over, and specially after the many profit doing and generating years for many big firmas by applis (APPS OF APES), which means software, I was far to hard(-ware) and experienced for that kind of lackings.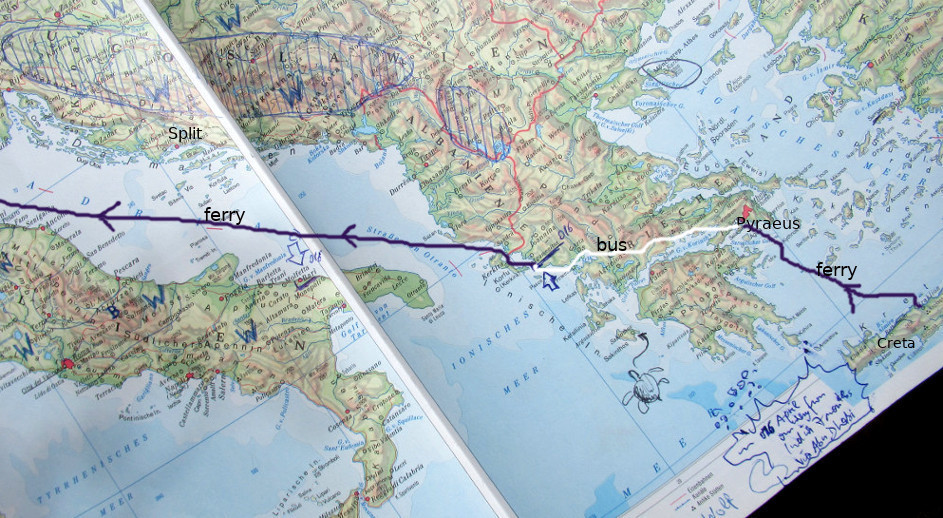 The way further along the greek coast north to Pyraeus gave me good impressions of harbours, the coastline, ship routes, big ferries and port towns, tourism during covid times and the time for relaxing onboards.
The chosen route to meet some other old friends at the northern dalmatien coast was from Heraklion - to Pyraeus, then by bus to Igoumeniza, from there to Corfu via Milos on ship. In
Korfu
there was enough time left till the evening for some good walks and discoveries, hanging out in some cofees or the minutes for a email control onway.
It has to be declared that the web got down to mobile format in the holiday regions, on Crete there got one Internet station found (Chania) what was of a kind of "computing by disco" experience as the triggers where shining and changing from white to orange light or blue colour in total dark, the station was spacy, but dark and more fitting for shootdown Obi Wen Kenobi with one of the disco blinking triggers than getting some proper messages done by such settings (unmovie). The webstation in Corfu later was OK.
So in case your old mobile, which in odd case gets called a rental mobile (Pensionisten Telefon) in Europe (with triggers and no chip), get stolen on the friday the 13th near your garden, and you have to send messages or meeting combinations on web count on hardships, first to find that stations, then the ambiente in that stations which can be tricky beside triggers themself (in changing light colors) to stations setting, which can itself show from starwars, over 007 to digital Dshihad. But overall it should be better than simple smart mobbing and can indicate lackings in main southeuropean cities and towns if there are no web stations at all.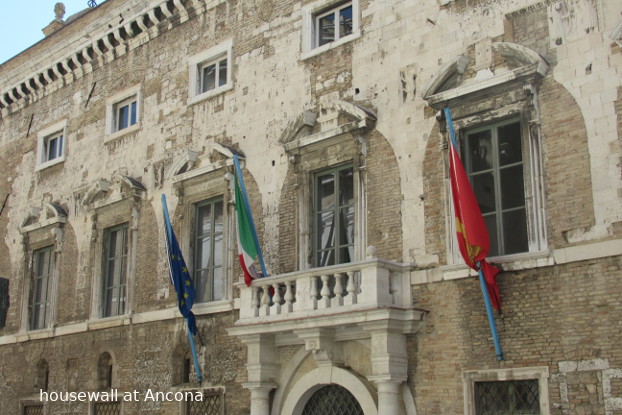 The gap gets filled with mass chipphone wishing, restaurants and cofees are a million more than a single cyber station in a bigger touristic city in that regions. In India the food/ webstation relation (Verhaeltniss) is better, and that in all major big cities over 500 000. Triggers themself can show tricky or better be pushed with a hammer (iron?) but that is well known since the times in Nepal webstations years ago. Is it related to other triggers, and if pushed what happens then. There is a difference between smart wishing androids and the commands by triggers, and what happens if it was a manager from cisco.... and hotelname got forgotten ?
In any
cockpit
of a better plane there are triggers, steuerknueppel and engine gears, buttons and hebel ! What is that with the socalled smart-mobs, where do the androids beam to and how many weeks need to get jobbed in any office to finance that smart toy with a chip.
The 7 hrs on bus during night from Pyraeus to Igoumeniza was ok, also with proper food stations onway. The time before boardiung in
Corfu
was nice, it is yet a town to be visited and invites, beside some swissmans finding on demaged corfuan roofs and letdown houses, a disaster for a swiss menhater and animal-lover with a hybrid car on way back, it invites for relaxing, hiking and roaming.
Corfu got left on a huge ferry (Olympic champ) with saloons, its disco changed for 50 young italien hotgirls travelling in a mixed group, and good for getting watched in puzzle, all the way to
Ancona
Italy, where I had a day for relaxing and to visit some oldtowns locations then. The headache from the ferry was fast over and the 50 hotgirls left to nowhere.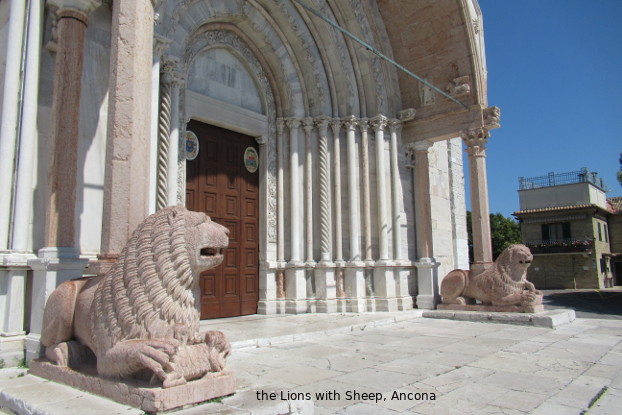 Ancona has some strange, special to wired katholic symbols of the past in marble on some of its churches, of which not many italien tourists themself know of its meanings. Beside the usual easy going tourism and picture taking. The modern parts close to the cities harbour for Flanieren with the main square and shops are nice and offer good places for any gustos. It is an old historic city which shows stretched over centuries from old roman parts near the sea, now embedded between the hills and the huge port which has 3 parts, the old yacht harbour is set between the two modern parts for big ships and ferries.
Short after my arrival by the Olympic Champ, the even bigger Grimaldi ferry showed up for some hours. Quite fascinating and all not far from another arce the triumph (Triumphbogen), nice streets and places in historic setting, to the modern squares with also old freaky men and women going for icecream as part of a main porttown with history and its freakzune.
Short after arriving to the
otok Hvar
(longest dalmatien island) I left with a taxi for 45 km to our old beloved uvala (bay) with the old fishermen family from the 80s and 90s of last century. It was hot and sunny and suddenly in the basin of Jelsa two
Snake eagles
were showing up not far in the sky.
This was a great sign as I came also to sea the eagles. This island is the snakle eagles only territory in Dalmatia, he likes broken country woods mixing with open areas, cliffs and rocks to go for his prey, which is snakes and lizards in main.
During one of the last visits on the island 4 of them were showing up over beloved uvala for about half an hour, they were peforming in great with their young, what is also special as usually they only get one kid through in one year. I was watching from the mole then and had to lay on my back to watch them performing.
Hvar maps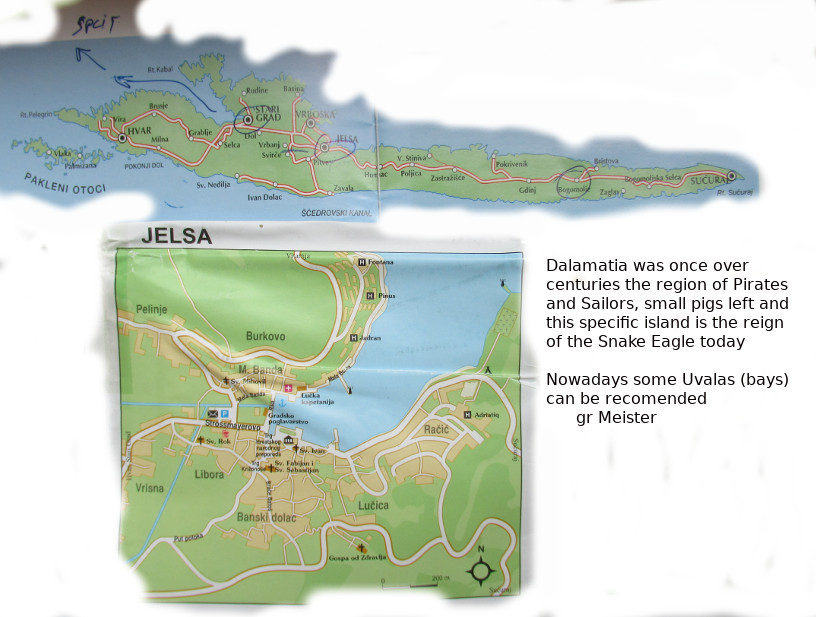 Reaching the bay in taxi, which was hot also because of that yet partly narrow roads getting fast tourists coming against, but no misshaps so far. I had a nice time near and around the bay, did some hikes to the old wellknown village which chanced to more tranquil state sinc ethe 80s, in contrary to the 3 main towns which are
Hvar, Starigrad and Jelsa
.
The cities got very busy and over season also from the seaside yachts and sailing boats hit the ports. Some of the broader ones with two wheels (steuerraeder), what is one too many by my calculation. But in these days people need not only two manuals to get into charging the TV but also with two wheels on modern yachts to get the better sight over the cabins during rough waters as I got to know.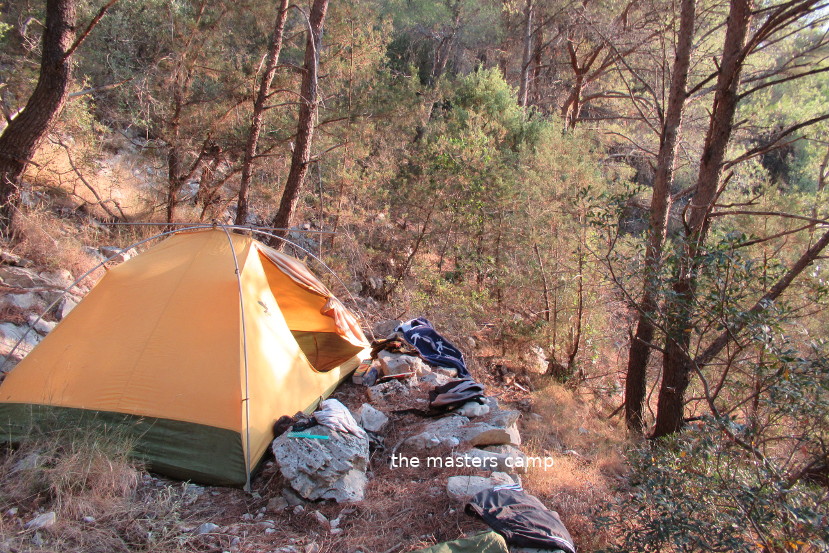 The island of Hvar is yet excellent and offers stunning views, bays, pensions, local products, encountres and villages. Not to be missed the Snake eagles in mind.
A little lacking was a missing booking office for air tickets or alike in Hvar town and only the sign for a webcaffe without the webstation itself, what is a shame in these times for such a city with fency port, restaurants, hotels, castle, parking lots for all kind of normal to stupid vehicles. Also covid 19 showed no effect on the atmosphere and the many people there.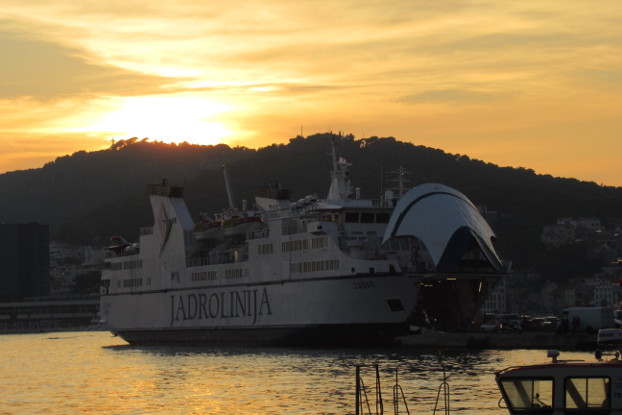 Arriving to Split at noon time the total afternoon got used to roam a bid along port and for checking the magnitude of tourism from young to old and hot horny to exotic wild. For any specifics to reach local hotspots of the region people get taken from railway or bus station by friends. Something like a small circus casino got alo seen at one side of the busstation near the park, with cabins for leaving, dropping or changing beach or casino gear ? It looked a bid massy but most people seem to get on board, train and bussees on time.
proceed here- B
Gallery
Travel galleries
Travel IT
picture size is mostly bigger than shown onsite, part of IT, done without covidAPP and NO templates used