Thayland central

On way from Kanchanaburi to Tonburi Asian openbills which got kept as White storks first days from far, also shy Rohrdommeln around the hut, two times a kingfisher for short, Pied.

The last days in the swamps near the pilehut, Warane, after heavy rains last night 2 of them sunbathing, a kind of djugle Skunk, Rohrdommeln here and there, always attentive and alert (smaller egrets), Redwattled Lapwings, on other side of river once a nice Hoopoe (4.04),
FISH: Hechtlinge (6 cm) in high morningwaters, 1 Snakehead.

On the side of the wild mammals allready a red colored squirrel got watched beside the whitebellied ones, further some stupid barking dogs and nice cats.

FLORA: Now is Monsoon time in Thayland ... that gets very moist then .... Myriads of exotic plantas, also the holy Lotos (Nelumbo nuciferas), all flowering now end of April in various colours, it gets too much along all this many highways and its joining monsoon swamps and lakes. The outdoor CEO can hardly take the Lotos along these highways ... Huge big flowers beside the big leaves moving in the tropical brise. That is too much all that flowering Lotos, the magic plant along these highways.

Further big nice old Bonsi Frangipani (good smell), in flowering state, too much. Also flowering Jasmin (nice smell) along the dirty waterways in Bangkok, full of heavy big fish. But not many species can take that muddy megacities waters. Only these huge Welse (There is a Wels Atlas 1- 3 out there, mergus, german !!)
Many more nice exotic plants near the djungle cottages and nice huts. Sometimess not far from the cemeteries where many soldiers got buried.
Monsoon time is tropical applicant times ! Philodendri, palms, Waterhyazinths floating, bananas, Rohrkolben and Gleditschien on less than 1500 m2 ... all shooting.
Morning act with Waran: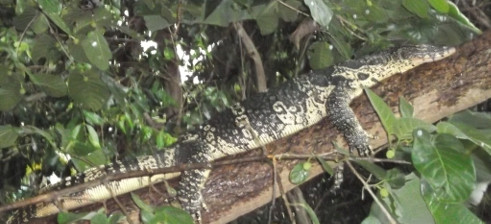 In front of the woodpile huts door a Waran, today mornig it was 2 of them, looking like an old couple to me (3.5.o18). After shower the second of them dropped for diving in splash. Excellent trailer, payfree .... cut next
FAUNA: Most common thay
squirrels
, with white bellies and loose tails.
Many nice birds from Oriental magpie Robins, djungle doves in all sizes, males with nice dark stripes at neck, bigger ones usually often in dark phase, bulbuls and others beside the striped 1,5 m
Warans
waiting calm in the swampy waters.
Two
Asian Openbills
flying in afternoon thermic skies over Bangok downtown what is surprising because in India they prefer wilderness, offcities Goa. Can be mixed with white storks of which one got seen over Yucatan, Mexico, afternoon skies during Dec, most strange as it is a solely an eurasien bird cum Africa during winters, long distance thermic roamers !! These storks have to get further studied.
Migrated fish species in an shop (trade.wto) as very colourfull young african cichlids from
lake Malawi
, big latin am. males (Aequidens like) seperated from each other, Sumatrabarben, Betas spl., red Piranhas, Goldfish breeds and others, all in good shape. Also some Kroeten nachts beim Radlstaender.
more
trailers and acts here