TURKY
Another journey was waiting to get started and as with the first of the last two air tickets the ticket got the problem then. With the first of the last two ones (airline agency etc - tickets) I did not see the ticket, yes the journey dates, the contract details but not the ticket before boarding what got no problem so far then at MUC.
The plane landed in one of the main tourist hubs in southern Turky, across the plains of Turky to its southern coast and the new boulevard and beaches with many palms planted, the taxi to downtown city took a huge curve around the center and ended up at some darker looking places after I did not see any hotel or appartmentos (comon in south Europes coastal areas, but aside a car and kitchen is there for spendings over holidaies ..with kids some) at the new looking beaches with palms and amusement areas.
The other hotels needed to wait in the central street with highrising buildings as there was only one money exchange counter in the center of that far spread aroudn city, aslo known to tourists. As the taxi drive after the landing during time when it got dark again was too long, the exchange counters at downtown w few too little with only one man as the exchange officer, what stroke my last nerves during that late time at the end of some day. Allready in the cew some 2 russian looking women in glamour where waiting there to get that done, so I could jump the cew to its first place cum packbag.
Another great decision got done and it was for the next city which I knew from my last time in Turky, there I knew the areas and it was not that far spread around and beach with the palms looking like anywhere in Mallorca or LA, but with less inline skaters and bikini gear. Finally I was in Turky. The busride took about 3 hours to Fethye through the hills and mountains in the darkness.
Next day was nice and I climbed the ruins in back of the city with the castle dating back to the times some 300 years before cero. There was much waiting there to get uncovered, I had since long a nose for that, up to the caves of the glacier times and bears of the last iceage in Austria (Schlenken and Bluntautal Bae. hoehlen..). If nobody takes that out who will for the genaeration X (android) ?
Breakfast was done in excellence with some russian family who came from far north behind the arctic circle, it was nice talks but i got thrown out of that hotel as it got full, and they could not explain that properly on then room phone, .."food outside.." Another breakfast would have been nice but by routine and experience over years checkout was never a problem for me. It was more a managment problem as the hotel had about 4 floors and many rooms. I could not see that many tourist flocking in in one group (linked or faced), even after facespuk (spuk wie halloween).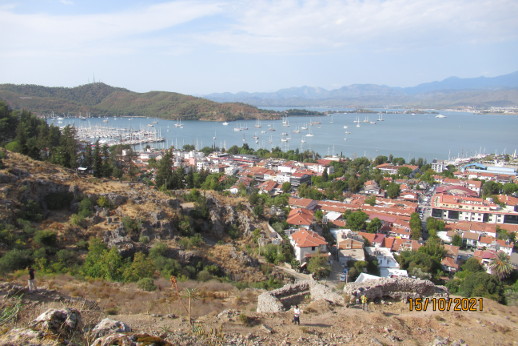 During noontime I left the city by bus to the north, passing the plains of Turky before it got winter in the peaks there. Some buzzards here and there and artificial waterway for the fields, some broken counrtry areas and smooth mountains, some covered in conivere woods. At night around nine the break during the ride got more then five minutes as the driver told and some people were looking as falling asleep in the restaurant, it got half an hour and more, I decided to drop off the ride and hiked along the partly wet highway over some two to three hours till midnight, maybe 30 kilometers till I decided to take shelter near a cemetery, the damned river not far from Istanbul yet in the valley. There was a big iron roof and a toilet in the back, once during that night i could hear something like a diesel Lokomotive at the other side passing along the steep falling mountain slope.
When it got morning i took one of the first cabs to the city, it was for free, the taxi then to downtown wssas costly enough, 700 TL, but finally after that hard wet night clsoe to teh hotel, whcih I knew allready from last time. It got to another nice breakfast with best view over the Isthmus. During many weeks of the year rain is pooring down there heavily, as two seas are clsoe and during mmost seasons the seas close are prdoucing the partly heavy rain front systems.
I had enough of that long distance busrides with "hiking breaks" on way ... and decided to head for a troical destination. Some calls got done on the balance check and suddenly after that specific call (banking ..) my name appeared on the atm screens which was not the best of kiss and ride ways so far.
A ticket for te flight got paied, not little money after and before face-spuk (es spukt, der Spuk ..wild west ...) and it was neither for a proper bus (now they have 1 +2 three seats in a row, busses)or a taxi, it was for a flight to the tropics, which I loved so much from times before. The tea gardens and hills with Muntiac where waitnig for me, Rufouse bellieds, Whitebellieds and Black eagles !!
She took the money in cash ... we looked something on a fltscreen but the additional info was missing. So the total ticket was a messy scneario in the far away airport and I rotated oevr 6 hours, three before the try for the CHECK IN and more than three after the try after the checkin. It was a few people who seemed to get troubles for boarding, most Indians told they flew to Pakistan, which was hard to believe.
ticket check ticket check in additional paperes

some few 100 EUs lost ...

check IN IN

side side
One big man had some big iron cartuche, which could have been big enough for a kitchen gastube, and he just left the checkin counter, his suitcase open with that strange iron bomblike looking something in it. He was not a fighter like me who tried over hours on all checkin-mates to board that flight, at least to the stopover onway. They had no public PC, beside their 3000 terminals on that new airport or what it got, and send me 20 times in circles to some 3 other countres of alliances but never the one i had booked for. Not even a proper complaint could get written at the point and they had not even stickers from that airline in neither of the few alliance offices.
It hardship of that 7 hours of headache was good for two telefone numbers, on some sticky nogtelike looking something ..., in 6 hours and the first minutes at the checkin counter they told, .. "ur ticket is changing" I replied so then change it, ... at elast fly me to the transit airport, there I culd do the additional paperwork !! They were very stubborn and ignorant. I took some breaks in between the flush of angers and left finally by bus the same evening to Sofia- Bulgaria, from that airort.
Which was the best decision as they were asking the 3 times when i got to the sector with 20 counters for ersatzfluege (new bookings) ..."do you by a new ticket" ...no no, ony to get the cities on way ... Bulgaria was Ok and I reached its capitel the next morning, with a 2 hrs stopover over midnight in, no question Edirne ! A nice young women onway had all the schedules on her smartphone it was the last infos I got from that land.
Remark on FETHYE:
At teh southwestern shores of Turky I passed a docu wall there in the center of the city and had to realize by a wall of old pics that Fethye was only 115 years old (from 1905), no hiuses at that times. At one part of the city is an old ruin with walls of a castle, they told that it was from before the old Romans. Not far there is an old amphie theatro from the times of the Romans facing the huge bay of Fethye.
That means that sinec the times of the antic games there eas a long gap, veasur ... over about 1800 years. And that even as there is a huge bay good for highsea capable ships. The city is only bid more than 100 years old.