Found Lackings - Habe Defizite entdeckt
On a short tour to the area around the northern Adria, where the 3 corners of Slowenia Croatia and Italy meet I reconginzed some defizits.
In specific it was interesting to camp near the woods which have bears, coyoties and foxes, that is geat indeed in Europes southeast. The camping was fine and the second night the tent got only setup the early mornig next day. It was wonderfull spots, not to be mixed with modern hotspots. Hotspots as Europe got to know relate to telefones and something what in the West gets named smart.
The problem which got only faced one time over some 450 km was that in Novo Mesto there was no open post affice and only a huge containerlike looking something to be seen, and no telefone cards and no public telefone cells to call some old buddies for the meeting at the river Krka, which has even a National park at its stream. So that connection failed and got quit.
The streets got hit further to downtown before Rijeka where you get about 2 -3 times on the same highway again either you move direct on highwy into the city, and or before then very close to the industrial zone of Split (some 380 ++ km further south). That sign got allready seen before the downturn to Rijeka. In case you want to move further to Italy on sideways you need proper guides and forget all maps, showing strange villages in different frames. Also some campsites shown on that 2 maps (1: 150 00 and 1: 200 000) were not to be seen easily from street at Triest.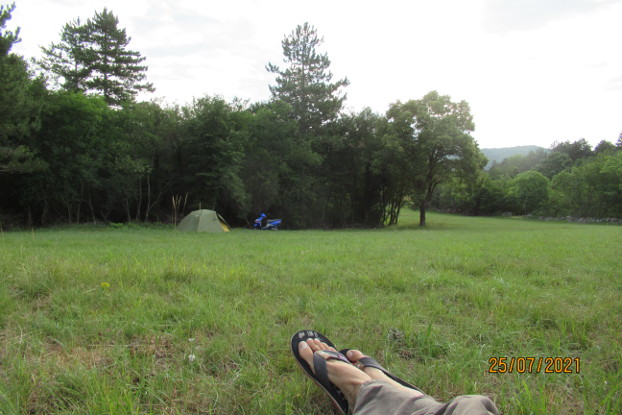 Anyway the woods are more wild and with bears,
coyoties and foxes, the macchie rough and the rocks and hills calling for good views.
The deficits which got faced was the first that, they dropped roaming (the one via smart phones) in Europe (a missing link maybe ..), now is hot discussions on the total controll on returning travellers to german speaking regions ... because of the virus etc etc. Then on the total stretch over there lands not one single telefone cell got seen.
And that during times when the rest of the world pays total fantasy prices for that whats some call smart or sm-cities or somethig. I have been around but I do not know one smart city really. In southeast Europe, the northern end of the Adria roaming got cancelled.
Street lanes and lines are not a big problem, its colors can be white or yellow in Slowenia, it can be red suqares for busstops in red on the right lane of two lanes, or small squares showing somehting like a cross, church, busy food place or horseback riding locations.
In case you want to avoid highways you will end up in tiny villages between Slowenia and northern Italy, mostly deadend ways Italy has also very inspiring city and village names often dating back to the romans or just inspiring somehow, in case you moved over 80km/h you may have passed many of the green small quadrado signs along roads, below 50km/h you could have read some.
Ending up in tiny towns and villages can be annoying when it is hundred of dead end villages in the northern corner of the Adria. In Italy you end up usually on highways, also before Rijeka you can make the big decision either on highway to Split or Rijeka, further to and after Triest it is mostly Udine then and usually only one village ahead on a taferl (per streetsign)
Route:
Spittal - Villach - Wurzenpass - Jesenice (SL)- KRANJ - LUBLJANA - Latija (1st night)- Mirna- Novo Mesto - Kocevje- Delnice (HR)- Rijeka- Triest (I)- Tarcento- Tarvis (A)- Spittal-
(22-24.July)
At petrol stations (statione gas) you need to be able to read latin letters (italien), need to remember a card code and then try to jump for the pipe ....
which is mostly automatic in these days in northern Italy. That means robotic and just imagine you need to refill something .... a tank (at the last robotic petrol station a women saied pipi ...) after 10 robotic stations tried there was the second which got the job done for refill 3 ltrs, .... for a einspuriges Vehicle out of nearly 10 stations till the hight of Tarvis lately.
That was ugly and a big defizit, when for 3- 6 Zapfsaeulen at one station you need to wait at one cardreader, in case you could read that and it was more then the motorbike driver ... and then jump for refill to any thing looking like a colomn. Modern smart european architrecture ....
So we get to result that after roaming.eu got dropped (cellphone roam..), whatever that means ...that doing calls from that regions (villages and towns, often deadend) is a bad thing, and that doing refill at mostly robotic stations is even worth. In asien countries the Petrol gets done manually and paied in cash on the spot or to two or three guys, or more rarely onland by cards. Usually it has also roofs and counters there.
And thats the big thing, bikes need much less, often just 3- 6 liters for one filling. Lines and lanes in 3 colors look a bid different then.
One other thing annoying was .... Leitplanken, iron bars along streets and Landstrassen. Also along some .... highways, which are not there along highwaies in the Americas or centralasian lands. It will change in the himalayn foothills. But often Leitplanken are so much of schrott, many will drive more carefully without Leitplanken, also at many crosscountry roads.
Another thing by the medias ..... is that cars will do barriers on flooded villages in the future much further north the way to central Europe, what will have a special impact so far during flood times. Along it shall not get forgotten that all airline fleets which got grounded over one year (cause pandemic) which could have ment clean skies and clean air. No mist and fog beside the none smoking fight since the 90s, aside Texas.

All that grounded fleets over one year will get smoked away by the big wood fires in this weeks, in Canadas west 20 woodfires in the west of the US about 70 woodfires, what makes the grounded airlines look small again, even so far after one year groundstation. Now Quantas again on TV, but were they able to extinguish the vast and huge devastating wood ad bushfires over 5 months, no.
Better see future scenarios coming as that will not be about small defizits and some lackings. Apps will not show the palefaces something smart then for fantasy prices.