Anax Imperator arrived
During the second half of June 2021 Anax imperator arrived, Europes largest dragongly.
It is quite impressing to watch it when the female puts it eggs in the pond, astonishing this year that females came alone over 1 week, and only one, it was different fems which can be seen by the colour pattern. They are super performes and the skymasters within the insects. Impressing for the ones who know to see it.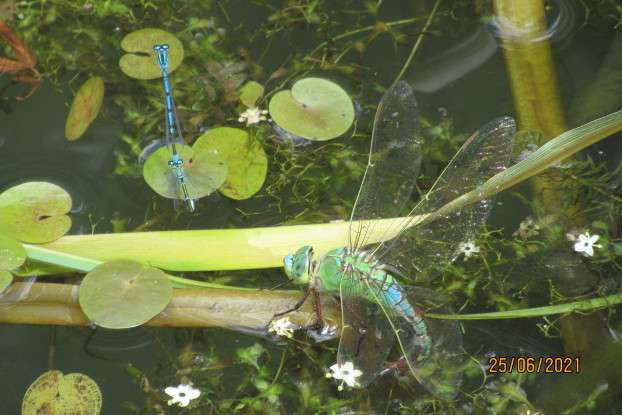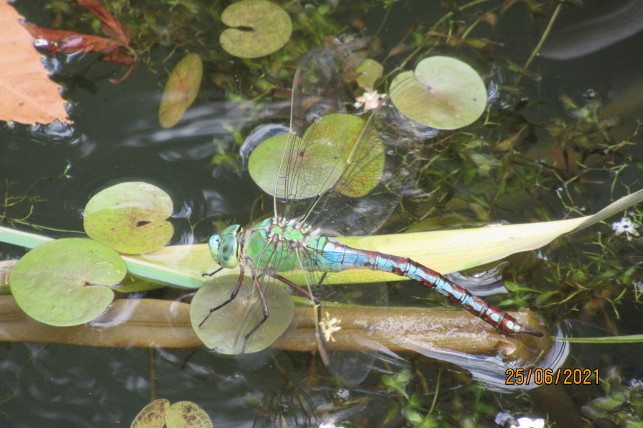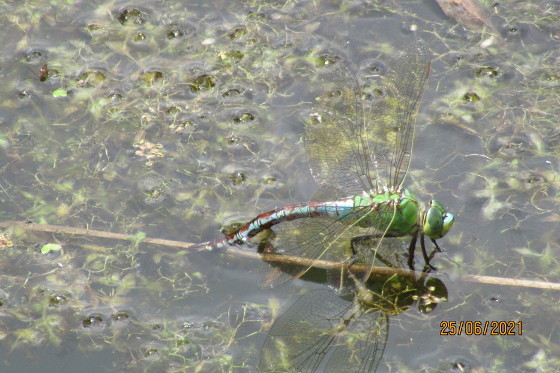 Also magnificant was when two Plattbauch disturbed her a bid and she did some 180 and 100 degree turns on the spot in milliseconds below the two Plattbauch dragonflies.
Then the Plattbauch left. Watching Anax imp is a good exercise for eyetraining, often hard to follow it onair and when it comes usually most other dragonflies stay away and calm in the high grass.
Moelltal -
BIRDS:
Many Rubythroughts are visiting over days (april), and they also like the bunnies hedge.
Funny enough the bunnies never attack small mice but wahtch them over 15 minutes from close, even as male bunnies can get very agressive on each other they never attack mice !
Yesterday before noon the com. Kestrel was calling over a while. Nearly everyday buzzards are flieing overgarden, guess for the spekulatius on the small babiebunnies. There are quite a few buzzards upo there at sonnseite of the valley, till about 5 years ago also teh eagle owl was calling here and then.
Eurasien blackbird visited with euras. Jays the garden beackside of bunnie castle. Eur. Blackbird is not that often visiting. (ingarden Elster)
MAMMALS:
Over last nights there were always hedghogs in the garden, often in front of the eastern window. One night it was even two of them under the Zwetschgenbaum. (oestl. Wanderigel, hedghogs ingarden)
REPTILES:
Second half of march many frogs came to the pond, guess Gras and Moorfroesche, Erdkroeten sowieso. Over summertime also Gelbauchunken reach the biotop and Ringelnattern sowieso. (ingarden)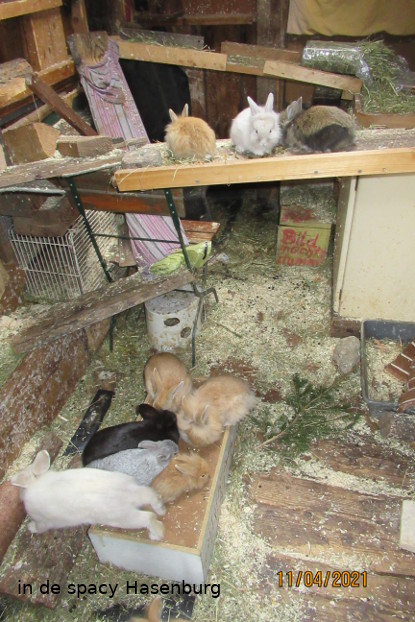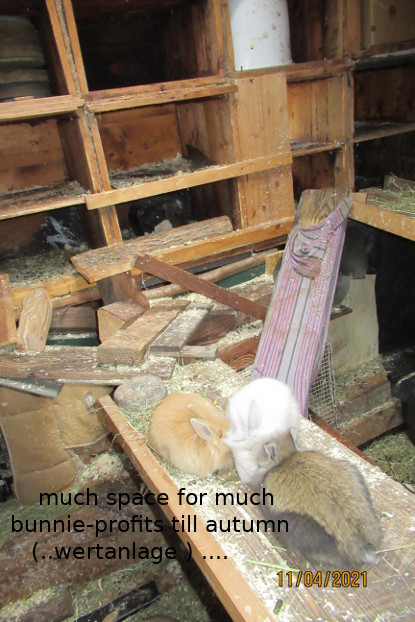 (while holding controll/ strg the pics will open in seperate tub, view image ...)
Losses and fatalities since my return from
Turky Egypt
, one male bunnie, (last old one this year till end of march) during night 7-8.march, 3.00 in the morning. The loud screem duirng early morning in garden grabbed my attention but no traces got found so far, not even at the side where small trees got changed the location. ( ... no sleeping cell)
Vom Garten - Garden
LAICHZEIT:
Im
Teich
brodelt es zurzeit (ende Mar- anf. April), Grasfroesche Moorfroesche und Kroeten laichen. Manchmal ist es dann auch 2 hrs still nachdem die Kreissaege udn Motorsaege in Betrieb waren.
Wenn der gr Meister in seinem Canoe nach der Holzarbeit Pause macht brodelt gurgelt und grunzt es dann, nicht weit von Blut u Bodenmatsch in einer Alpenprovinz.
Der letzte Winter war lange und schneereich und trotzdem haben die
4 Goldfische
unter Eis und Schnee ueberlebt.
HINWEIS:
Am Weg zurueck auf der Strecke von Muehldorf ins obere Dorf, zu Fuss ca 20km weil das Pickerl fuers Bike nochnicht berappt wurde, es war wiedereinmal mehr, wie auch sonstwo sooft, als veranschlagt, wurden am Rueckweg ueber Felder, Mauern und Huegel leere Badewannen gesichetet. Diese waeren an Waldraendern nichtnur fuers Vieh, sondern wenn das nicht dazu kaeme, vielmehr fuer die letzten Laubfroesche im Tal als Fortpflanzungshilfe wichtig (shr selten) !!
Von Smaragdeidechsen kann man sonso nurmehr traeumen, die haben geren sonnig trockene Geroellhalden, Schotterhaufen, Steine und lichte trockenen Waldraender (endangered)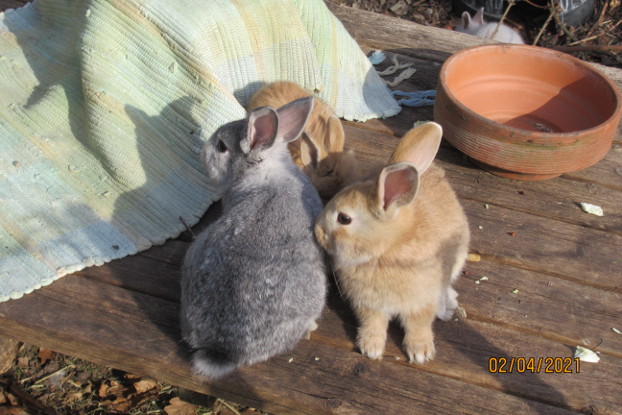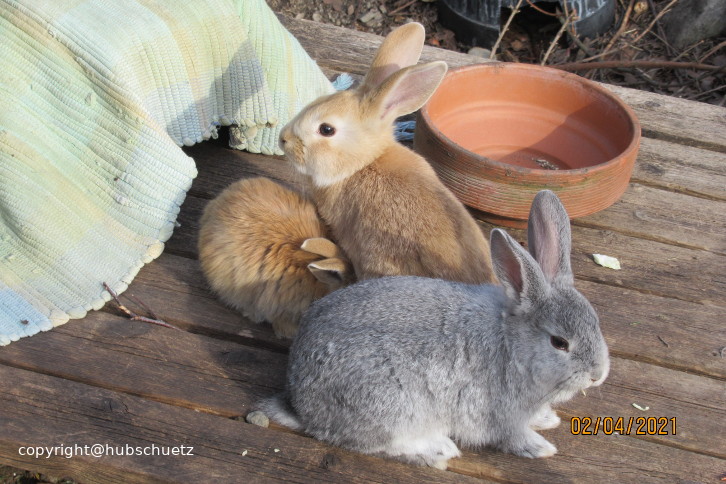 Jurassic Park ist noch langenicht vorbei.
obiwen Fruehling 2021
Es waren nachts vom 7 auf den 8. Maerz wieder
Hirschkuehe
im Garten, wunderschoen und gross mit hellen Beinstreifen, sogar zweimal in der Nacht, zuerst um so um 23.00 dann nochmals morgens um 4. toll anzusehen die wilden Tiere, was ist da das Dschungelbuch dagagen, und das im Garten, stellt euch vor. Die Hasis alle in der Burg uebernacht.
Tagsueber
Schwanzmeisen
an den Knoedeln und gestern als ich von der Terasse aetzte (Atze) kamen sie auf 2.5 meter zuwa. Ihr Nest duerfte nicht weit sein, Kleiber die morgens rufen, und die meisten Meisen duerften schon Nester bezogen haben.
Winter in the woods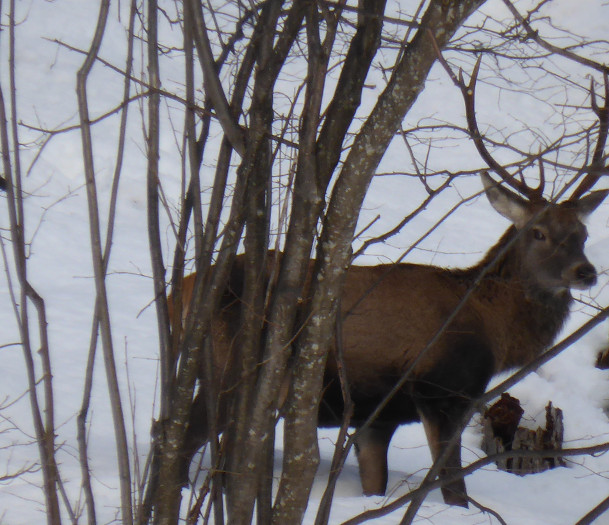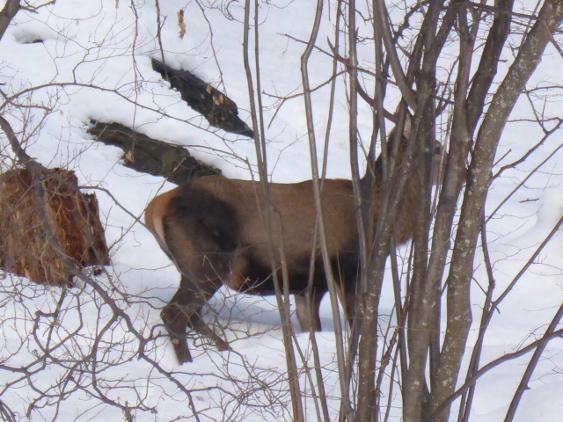 Hirsch (Rotwild, Big Deer) seen on way to a hillstations railway station not far from Mallnitz passing Lassach, at start of February.

Also at the night of the 27th of february 3 Hirschkuehe in the garden near the house. Jumping out of the window with a fliegenklatsche to make them run away, they soon left, thatfor the bunnie Aussengeheges fence did not get demaged by the big Hirschen in the garden during that night. Guess they smelt the bunnie food.