Alp mountains - mar 2o19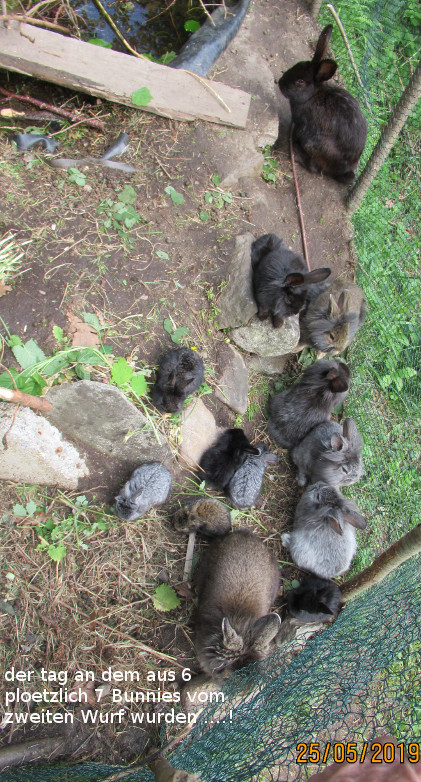 Ich bin morgens wie immer aufgestanden, dann habe ich mich angezogen um hernach meine topBunnies und next top Bunnies zu fuettern, weil es schon recht viele sind, seit 3 Monaten.
Draussen habe ich mich kurz umgesehen, dann als ich meine Top Bunnies fuetteren wollte kamen von oben aus dem Wald 2 Rehboecke, die Nachbarn starteten sofort ihr Auto, gleichzeitig sprangen die Rehboecke von obn hinunter zu unserem Zaun, es war aufregend, dann weiter bei unserer Fronthecke drueber und aufs Auto der Nachbarn, es gab einen unglaublchen Rumpser, das Auto war kaputt, die 2 Rehboecke sprangen weiter froh durchs Tal.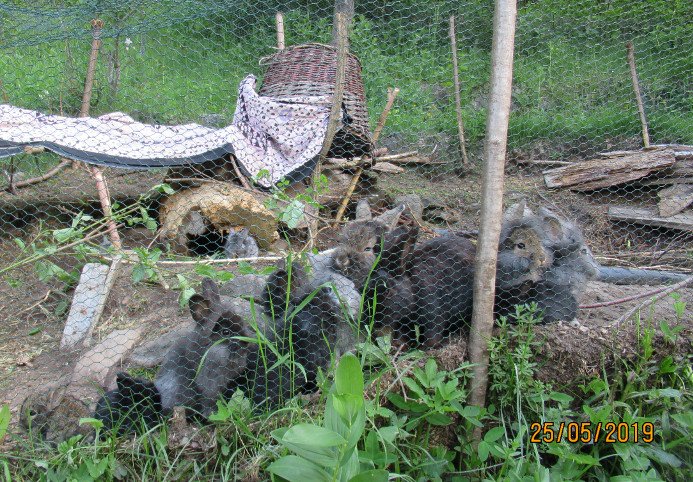 Dann beruhigte ich meine erstaunten top Bunnies und fuetterte sie mit Beifuss, Rainfarn, Klee und Loewenzahn. Wir waren sehr zufrieden. (23.Mai 019 am Waldrand)
The 18th of april the
Hoopoe
-Wiedehopf arrived, checking for nesting sites in the garden. A clear sign that spring has fully arrived in central Alpine vallies. Also seen before on way (migration) in Cairo and Luxor Egypt.
The nature is turning to green and after Sibirean Blausterne flowered in carpet stile with Krokusse and Fruehlingsknotenblumen, now also Tulips flowering, even the old wild form from Turkie. Bushes like Vogelkirsche, Traubenkirsche and fruitcarrining ones are full turning on.
Exotic ones like Quamash (Camassia) from the northwestern Praries also showing up for blossom later - successs.
Before noon from cycle at the Schattseite (shady valley side) a beautifull couple of
Gaensesaeger
(Common Merganser). The male with a black nearly fullbody long stripe in white (29.o3) !
Also some swans, Hoeckerschwaene, at the Stausee for Kraftwerk seen from Bundesstrasse, guess they have the big nest somewhere close to shores.
Second half of march many frogs (
mostly Grasfroesche
also Moorfroesche possible) in the pond for puttting eggs. Also to be heared from window during nights, das Grunzen der Froesche.
Funny to watch them on way to the Hasenburg. Bunnies are topfit .... in forbidden garden.
First half of March always again
Deer
(Rehe ...bambies) in the garden.
See the neighbours and friends close to the garden hunting fall 2o18, not unrisky and unlawfull !