Alp mountains
At the 22.11.o19 a magnificant day, sunny and bright at around 14.00 two Sparrow Hawks in full action got sighted one even getting close on the hunt.

They are furiouse hunters, agile and targeted. One of them had a small ball on a string hanging from his leg (no mouse or fairytail), during fast flight, not on a long string which would be too dangerouse.
So maybe it was the escaped one from a falconeer or from other disturbances (Oberfalkenstein ruine got totally flattened). Distance about 30m in the garden during the day action, what a vicouse flyer during daytime. The second one not getting that close.
It was the day when mum and dad returned to the house of Cult from the 80s and 90s and we where out in the garden at that magic moment.

The bigger very similar looking spezie is the Comon Goshawk (Habicht) which is also going for rabits, bunnies and some days before our light grey Helena bunnie was gone overnight (20/21.11) even as I jumped out of window and roared on first attack as, guess Loco was screeming... I got surprised of the penetrance of that night reptors. Loco has now a demaged left hindleg (Hinkelbein Wollmilchloewenkaninchen) Only the comon Goshawk would dare to go for them during daytime, but two attacks the same night, how wicked they are, or stupid ... headless ?


aug-sept:
An der Salzach noerdlich von Salzburg downtown, beim neuen KW (hydel power station) unter der Fischtreppe einen
Gaensesaeger
. Wahrscheinlich ein heuriges Weibchen oder unausgefaerbter Halbwuechsiger (3.o9.2o19)
Am Garten schauen mittlerweile 2-3 x die Woche Sperber vorbei, die Hasen und Kleinvoegel moegen sie. Jagen aber sicher keine Kaninchen, der Habicht schon ist jedoch zurecht sehr vorsichtig auf 60 km im Tal der Neutunnel Jagdschiesser (ich denk Kirchheim is der unterirdische Schiassplatz, sonst bei Florian Klenks, mittlerweile papier blog (aug-sept)
may-july:
During sunset in the garden flieing a sharp curve into the fronthedge a female
Sparrow hawk
forcing the small birds out of the hedge (Sperber weibchen), observed from below 10 meters.
Bunnies indicated since days some bird raptors around. The Grey heron some weeks ago going for a small pause in the kastania tree made them panic for some seconds.
Over 2 days the afternoon or evenings one young hedgehog from this year it seems, Oestliche Wanderigel, check pic, die lustig aussehen wenn sie durch sogar rel. niederes Gras stacksen. Bunnies spent full attention to that funny hedgehogs.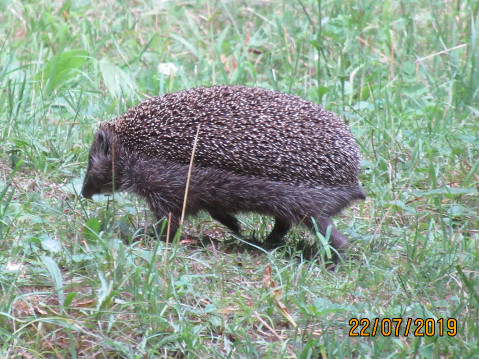 In Vogelbstimmungsbuechern geht es auch um die Gefaehrdungsgrade von selten, gefaehrdet, ganzj. geschuetzt etc Gerade bei Kontratstreichen Arten neben itali. Hamstervogerlfressern und igonoderme. Oder dem Status im Brutgebiet selten, rar, gefaehrdet, geschuetzt zB
Ihr koennt auch bei seiten wie Naturbeobachtung.at oder de mit Unterseiten mitmachen (Gliedseiten). Login kostet dort nichts !! und man bekommt auch ohne 20 euro zahlung beim Login keine pickerl von faceboot oder kookle zu sehen, die seiten sind evtl nicht in Holland angemeldet und werden irgendwo abgezockt. Eintraege zu recht haeufigen Voegeln koennte man in 0-8-15 Web-statistiken weiterverarbeiten, oder soll das der neuen schoenen melting-pot transmission Agentur dienen ?
Solange am Moellfluss keine Fischotter Spuren zu sehen sind ist der sobezeichnete Nat. Park unausgereift, nicht anerkannt, trotz aller "
Nat.park ranger
" sogar im Gartennahbereich. moellfisch.at hatte 10 fischerregeln ....
On way to the river with the canoe a
Hoopoe
(Wiedehopf) not far in the fields (20.07), guess from this year breed.

Later on river young
Common Merganser
(Gansesaeger), adult males are black and white in nice contrast. The day before on a woodpole near fields a Neuntoeter (Shrike specie) in the earyl sun. This year quite late, the first darkrose water lilie in pond flowering.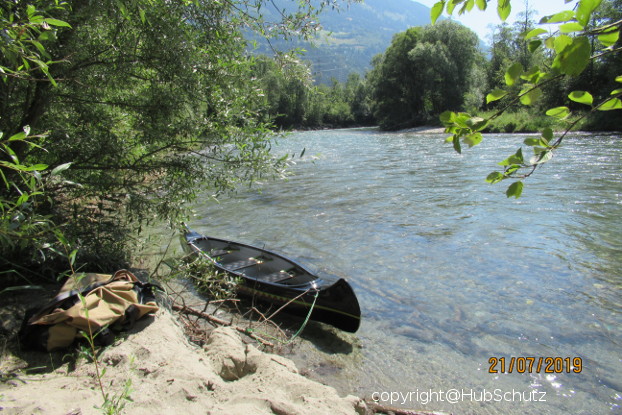 Days along the river
Yesterday during sunset watching a small
Woodmouse
hopping a few times over the entrance from the woodpile waiting to get cut (Gem Waldmaus)
JUNE END: Nearly everyday during sunny hours young
Ringelnattern
showing up, also
Bergmolche
and fat froglarves, allready with hindlegs in the pond, during blossom of Water lilies. Buzzards (Maeusebussarde), Comon cestrel (Turmfalken) and Crows always not far from the garden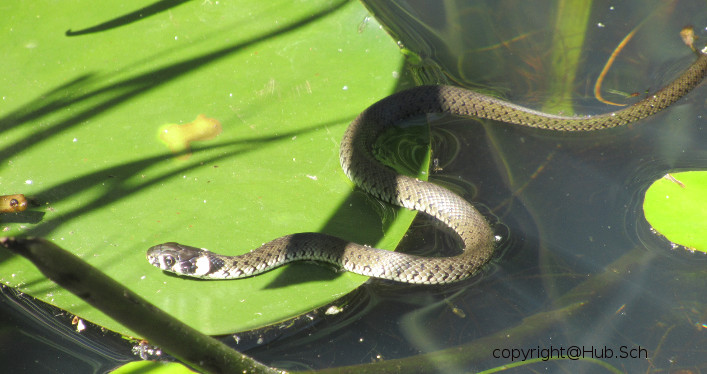 Over three days short visits of
Sparrow hawks- Sperber
, also big female, checking on small bunnies, end of june
During sunset a young Hoopoe on the cable in the garden (23.06)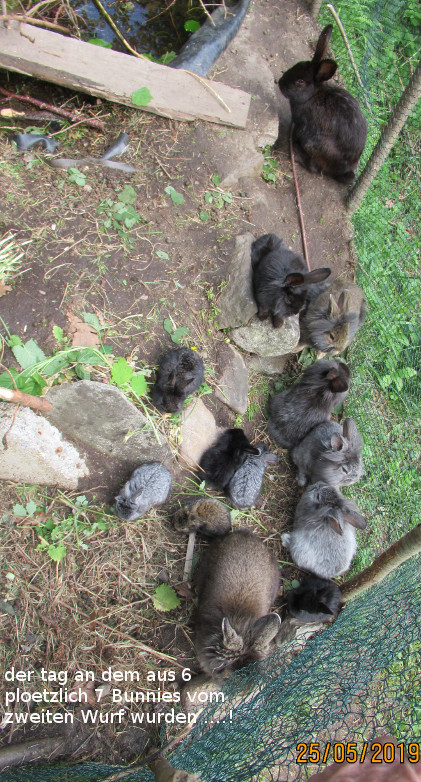 mar - may:
Ich bin morgens wie immer aufgestanden, dann habe ich mich angezogen um hernach meine topBunnies und next top Bunnies zu fuettern, weil es schon recht viele sind, seit 3 Monaten.
Draussen habe ich mich kurz umgesehen, dann als ich meine Top Bunnies fuetteren wollte kamen von oben aus dem Wald 2 Rehboecke, die Nachbarn starteten sofort ihr Auto, gleichzeitig sprangen die Rehboecke von obn hinunter zu unserem Zaun, es war aufregend, dann weiter bei unserer Fronthecke drueber und aufs Auto der Nachbarn,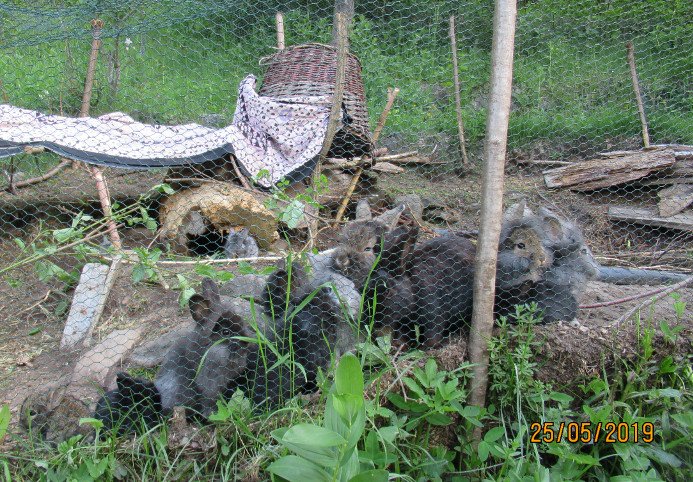 es gab einen unglaublchen Rumpser, das Auto war kaputt, die 2 Rehboecke sprangen weiter froh durchs Tal.
Dann beruhigte ich meine erstaunten top Bunnies und fuetterte sie mit Beifuss, Rainfarn, Klee und Loewenzahn. Wir waren sehr zufrieden. (23.Mai 019 am Waldrand)
The 18th of april the
Hoopoe
-Wiedehopf arrived, checking for nesting sites in the garden. A clear sign that spring has fully arrived in central Alpine vallies. Also seen before on way (migration) in Cairo and Luxor Egypt.
The nature is turning to green and after Sibirean Blausterne flowered in carpet stile with Krokusse and Fruehlingsknotenblumen, now also Tulips flowering, even the old wild form from Turkie. Bushes like Vogelkirsche, Traubenkirsche and fruitcarrining ones are full turning on.
Exotic ones like Quamash (Camassia) from the northwestern Praries also showing up for blossom later - successs.
Before noon from cycle at the Schattseite (shady valley side) a beautifull couple of
Gaensesaeger
(Common Merganser). The male with a black nearly fullbody long stripe in white (29.o3) !
Also some swans, Hoeckerschwaene, at the Stausee for Kraftwerk seen from Bundesstrasse, guess they have the big nest somewhere close to shores.
Second half of march many frogs (
mostly Grasfroesche
also Moorfroesche possible) in the pond for puttting eggs. Also to be heared from window during nights, das Grunzen der Froesche.
Funny to watch them on way to the Hasenburg. Bunnies are topfit .... in forbidden garden.
First half of March always again
Deer
(Rehe ...bambies) in the garden.
See some neighbours and friend close to the garden fence hunting, fall 2o18, not unrisky and unlawfull !
Home
Latest
Dir_5
Disclaimer
Archives