Cylon - Sri Lanka A - B may-aug.o18
The island with the friendly people
Progressing route:
- KIRINDA - Matara - Sinharaja world heritage - HAPUTALE - Badulla -
Polonnaruwa
- Trincomale - POLONNARUWA - Haputale - Kataragama - Tissam - Negombo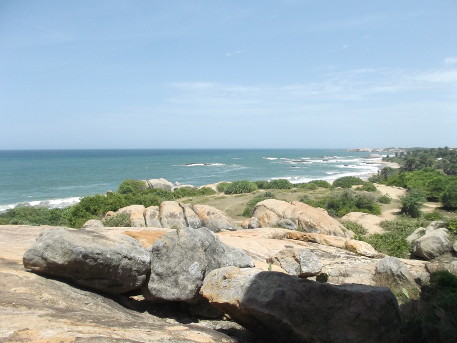 Kirinda
has an excellent beach with granite rocks, on the rocks there is a nice old temple in frangipani trees located which is an excellent location for enjoying sunset with best view at the sea in the winds.
Kirinda village itself is a small simple village, with some shops and a restaurant which opens during evening, also some souvenir shops with foods and drinks there, the few guest houses have big rooms with shade spending veranda, big open gardens and moskito nets. The village can be reached from Kataragama or further in the south from Tissamharama by rikshaw in 30 minutes (15 km).
The city Tissam (Tissamharama) is not far from a big lake with a Stupa and has more tourist accomodation and restaurants than Kirinda, more on Tissam below.
I took a room at Kirinda and staied 3 nights as it was sunny, nice calm village atmosphere near the coast with a great beach spread with smooth granite rocks in all sizes. At one end of its beach is a small hill with a nice small temple in frangipani trees, on its toprock you can find its small Stupa which is an excellent location for enjoying sunsets with best view at the sea in the winds.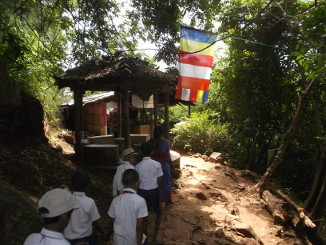 Next place after Kirinda was
Matara
, a bigger city at Sri Lankas southwestern coast about 2 hours by bus from Tissamharama via Hambantota, the town with cylons new port with some new institutions and offices popped, somewhere out there on the land.
At arrival many local couples relaxing there under umbrellas in rainbreaks at the shores of Matare, in back big waves rolling allday allnights. The forts are as well worth a visit, with partly old buildings in renovated or ruin stile, mixed wih new ones set within the fat walls. Beaches are partly inviting if its not too busy and packed with busses in back. It is a typical cylonese city, busy streets but also with nice quiet locations, with forts and ruins, some islands along the coast, one of which is also with buildings, shops and restaurants, schools and viharas, some bridges crossing inland over some big rivers, in some of its gardens you can also watch sunbirds, bulbuls, kingfishers, crows, doves and others in some grown over gardens and green streets.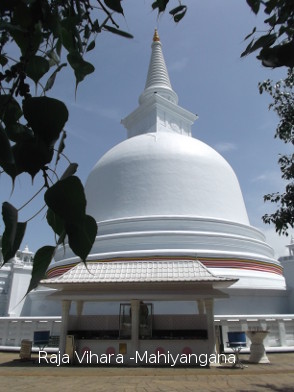 From Matare I left by bus to
Sinharaja
which is about three hours by us in the north. I got to the djungles from the main village Deniyaya, from where you can take a tuktuk or local bus, over a partly steep rising and narrow djungle road. Ther are some guest houses and camps close to Sinharaja heritage site djungle, not many and most quite costly. The region is mostly interesting and tours which guides can be easily done, prices vary depending on length and number of people joining, there are paths with ticket huts along into the national park.
When I wandered towards the main djungle area during arrival I heared two shots the afternoon over half an hour, which did not sound appropriate for a world heritage djungle site of its class. Tourits get usually guided through the woods, but you can also do minor stretches alone. The area is spreaded with djungles, nice rivers, some small villages at its borders with paddy fields. I wanted to get a taste of the area as it is a main location for huge groups of birds during migration time or winters in the northern hemispheres.
The next day after I met a beautifull women in the djungle, not in a pub or along a street, not at the job or in a city, no near the magic djungle at a nice small river, the next morning 4 Black eagles were showing up with a Shikra and I knew why I had to visit the place.
The next place on route was again Haputale on way via Pelmadulla, the route sharp at the line to heavy monsoon region which is in the west. Moving further up into the hills, many covered in tee estates. At some corners in the mountains eagles showing up in clearing skies and one time passing some big orchidlike looking plants along street.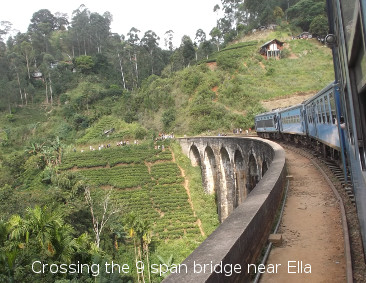 Haputale I knew from before, staied overnight there and took the train next day afternoon to Badulla Leaving times are daily from Haputale at 14.20 and 16.30, the first one usually with half an hour delay. The train was packed with people and all tourists got out in Ella on way which looked funny and made me smile over days, then it was nearly totally empty. The stretch from Haputale to Badulla takes hardly 2 hours, Ella is at about half way.
I chose that route from Sinharaja north because there was no other way possible and I liked Haputale and Badulla from before as I also wanted to take the train through the tee and djungle hills from there then.
From Badulla later I decided to take the way to Polonnaruwa which is a longer stretch of road but can be easily coverded in a day, also in local busses. At half way was Mahiyangana which I also knew allready from before, in the waiting time for bus I visited my guest house from the time before whith the mother and her young daughter who had the same name as my brother, lovely. Before leaving for the days later destination I visited
Raja Vihara
with one of the most important Stupas in Cylon, if not the most important one. It is set in a nice artificial plateau with huge shade spending Bodhi trees and a parklike area around where in its huge old trees an unusual big group of Pied Malabar Hornbills where hopping around, a good sign.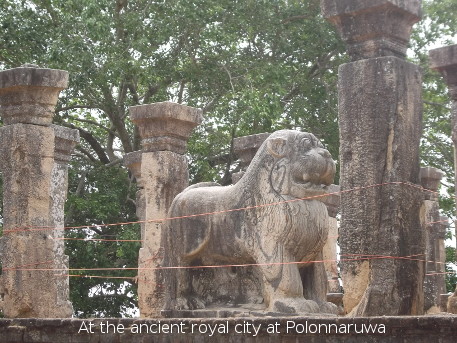 At the end of the day reaching Polonnaruwa I took the way to the lake where I got into a good guest house. It is the place of the old royal city form the 11.th and 12.th century AD (1055 - 1196) of which many interesting ruins are left and can be visited, tickets can be bought at the museum. The ruins are spread over a bigger area of which most are with fences, a fewouter places can be visited without ticket, most of them are worth a visit. Also coins of the royal times got found and chinese pottery of finest royal Sung dynasty art got uncovered there, which gives proove of trade with China allready at that time.
Nearly everyday I took a bath in the big nice lake beside Cormorants and fisher men, usually with heavy winds blowing allday at that time of the year. There are also some public places for taking baths with demarcation to No bath- deep water zone. Many local people enjoy time in refreshing waters and shadespening trees.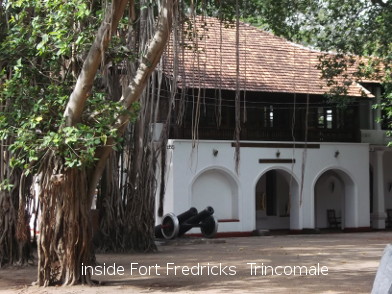 After some little days I took the way to
Trincomale
, a city palced on a huge crosslike looking half island along Sri Lankas northeastern coast with a huge seabay to inland. It got once used as save seaport during times of colonisation. The city has two main beaches one to the outer coastline with fisher people and many of their mixed colourfull boats ashore, the sea is also smooth and clear there, and to the other side a nice stretch of open beach with clear waters and good option for swims, joy and relaxtion during evenings, many local volks, families, couples and some tourists, also some tame Axis deer can be watched roaming free at the area from mornings to evenings. There are some close more or less fency hotels there but also some good less costly ones.
Trips to the close huge area of old Fort Frederick (1675) can be done on rent cycles or tuktuks moving through the narrow gate in its fat walls. Inside you find the big old military compound spred with buildings, squares and old trees, quite spacy, partly bordered by steep cliffs and rocks to seaside. The fort got built and taken over by different foreign powers over the centuries, first the Portugese, then Dutch, followed by French and later the British who kept it till 1948 the year of Sri Lankas independency.
The inner parts of Trincomale city are easy to be done on a cycle, if it gets not too hot during days, it also has a travel agency which is not so common in most cylon cities of its size, usually flights get booked in Colombo. Overall WiFi (Wlan) connections are good in cities and main tourist locations and its hotels or guest houses, which was not the case in Trincomale. Trincomale is worth visiting for its historical sites and beaches, which are very different of type and atmosphere.
In Trincomale the main fency restaurant with hotel close to beach did not charge service tax as in many other hotels in Sri Lanka usually, so as with Sudu Araliya at Polonnaruwa lake they should mention charging taxes in the menue.
On way south later via Candy which is a traffic monster set in the djungle hills, specially during weekends, also cities in its vicinity even as its streets are often big and its main bus station is mostly packed, busy and chaotic. Maybe a seperate busstand for north or south of the island would do it a release.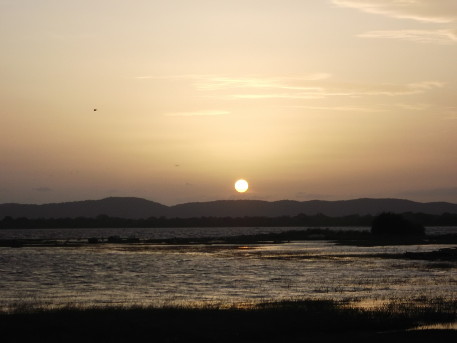 Good with many busses is that you can read on them, also in latin letters beside Sinhalese and Tamil where they depart and head to. The times between departures on same route are usually below 1 hour, usually much less. Music in some busses can be disturbing, you can ask then for reducing volume or put earplugs same counts with noisy tuktuks.
I left later for
Polonnaruwa
which is a great place. There are two main parts of it, the new city with railway station and bus stand along main street and the area with museum and the archeological sites, left from the royl city once, about 6 km out of new town. Its archeological sites are all more or less close to the big lake at its eastern coast. The lakes waters are good for refreshing, take care in heavy winds and waves, there are designated bath zones. A main stretch of its shores are with stones and a big stretch behind the half island to the south is flat water zone with many water birds and nice islands, it is by cycle after passing Potgul vahara on the left. During evenings many birds return from their fishing grounds to the islans for staying overnight. The last days also Woolynecked storks showd up, within many Openbills, Cormorants, Ibis and Herons on top kites and the pair Whitebellied Seaeagles.
Only 3 minutes
It is 3 minutes on foot to the computer sparepart shop,
only 3 minutes to the cooky shop, 3 minutes to the grocery store,
3 minutes to the mobile and powerbank shop,
only 10 minutes to the railway station - Haputale, Sri Lanka.
On the countryside
housedoors and windows
are mostly open, I have not seen one single gated community like in Latin American countries. Open windows and doors are a good sign for living in peace. Of course there are rich people out there who have the usual fences, gates and walls, but that is a normal thing. Gated communities are a strange new thing since some 15 years in the Americas where normal midclass people, also rentals, who live togather behind walls and a fence with usually one main gate with security. I think it is good that you do not find that in Sri Lanka. People here live mostly in peace togather, that is the main reason beside climate why they are possible to live by open doors.
Drugs got a main problem over the years and there are many stories out there in the news of new cought dealers, usually with heroin what is one of the most addicting, heavy and dangerouse drugs. Other people get cought with a load of gold or gems.
Gems are a big thing for some people and can be found at specific locatins in Sri Lanka. Gems are part of official or illegal business, also some tourists engage in gem trade, usually on a small scale. But you have to know the stones you are looking for, if you do not know about it better buy it in offical jewellery shops.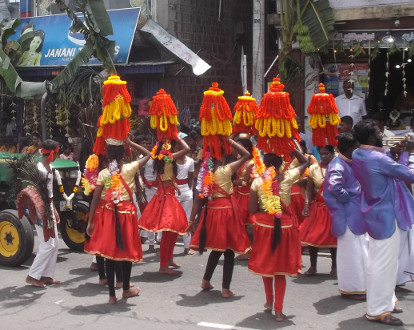 Pawning places are a normal thing in major cities, where people exchange their gold or jewelleries for money, what is unthinkable in most Latin American regions, far too dangerouse. I have seen related places in Dubai and people of Sri Lanka can be happy that it works on that scale in their country. In lands where they had centurylong greed and rush for gold, either by simple miners who came in thousands then or by the church and imperialists, there it is not possible and not a common place because it is and was too dangerouse, in Sri Lanka possible and normal place.
A nice aspect and comon place is that people also often have some place where they
feed wild animals
like Parakeets (Roseringed) or Squirrels (Streifenhoernchen), they also place nesting sites for them, often claypots with a hole for sparrows or places up at a wall or a tree where they put the rests of their meals for squirrels or Parakeets, also seen in Thayland, as well a buddhist land.
The problem can be monkies because they are bigger and go more targeted and in group for their food and often leave a mass then at houses and gardens, specially when with vegetables. There are also Elephants out there but that is on another scale.
I can hear the Peacock calling not far, also Doves, Bulbuls, Babblers and Sparrows around, as well Monitors (Varans) and Crocodiles out there, what is a very good sign of a natural way of living togather. Of course there is a National park not far. But even eagles are flying around often at bigger towns check
nature observations
.
Part of Sri Lankan tradition is coconut crushing, which looked funny to me, but not too amusing, such good and healthy nuts getting smashed down somewhere on a street, often during a festival, or a location made therefor with an iron fence. That is not a very targeted way opening a coconut, just throwing it fullpower on a stone or the street, that looks a bid wired and funny leaving that good and healthy peaces of cocomeat there at the ground. It gets often done in connection with a wish for the future. It is somehow the most simple way to open a coconut and a kind of untargeted, chaotic, compared to do it with a big knife for drinking and eating it later. It is a unique habit of Sri Lanka which I have never seen anywhere else before.
Newspapers you can get in all main villages and towns, usually in Sinhalese and Tamil but also often in english at main towns and tourist places, what I also liked very much, you can take your time with it and it does no popups like with websites. English newsmags are usually by 3 different editors.
In Latin Americas they speak also some native languages, also Zeltal and others like in southwest Mexico but usually you only get newsmags in spanish, not even in english.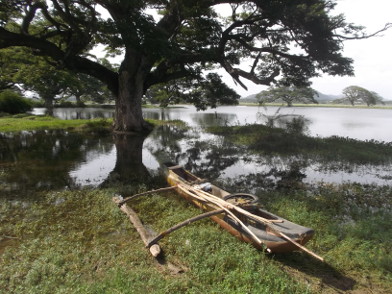 Later on way from north to south I stayed some days in
Haputale
again as I knew it from before, coming from Polonnaruwa. The busy small town up in the hills at 1400m, surrounded by tee and partly small pieces of djungle and rocks in its surrounding. Up there where the climate is more temperate you can do nice hikes in the hills or further to enjoy some waterfalls, nature places or tourist sights. Rufousbellied and Black Eagels have their territories close to Haputale, some hundred meters down by bus to Akarazia via Beragalla, the main junction for volks on way to Colombo and other places, is a nice djungle and mixed dry woods with Elephants, pepper, gum and cacao gets grown at its outer borders.
During the days in Haputale a local tamil festival at end of Blood moon (lunar eclipse) took place. People dancing in costums in the main street, followed with drum and music players and in front one ascet hanging pierced on hooks from a rope, which looked wired at first moment, but there was no blood running and it looked that it was his ultimate practise, partly in trance and with some people who took care of him and the fascinated crowds and some touris. Haputale has also many shops, some local stile restaurants and the lovely small railway station of which there are some more there along the rail track. The ones which are totally exponated to monsoon are often washed of colour, rusty and moist like the one in Hatton, same counts for old bridges and houses, monsoon is heavy. Also birds breed mostly beside monsoon time during dry season.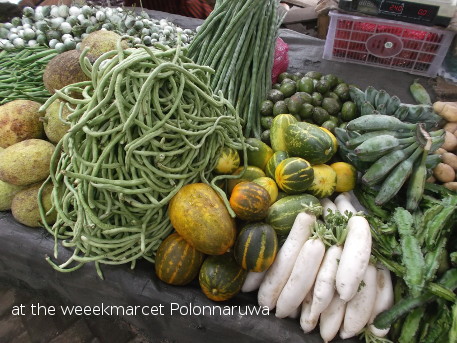 From Haputale the route went south the to
Kataragama
, as tired of having the big packbag with me, with tent inside, I did not like to stop at all the many sights on way and did the main stretch in one day south, where I reached early afternoon then.
It was two days after the closing ceremony of Posom, with watercut ceremony, which is Sri Lankas main celebrating and pilgrimage time and takes place from fullmoon in June to fullmooon in July, during which people from allover the island start travelling, mostly on foot, to Kataragama where then they finally reach after weeks of walking and celebrate at the Vihara, Temples and Stupa end of Posom.
But also the other time there are night dances with music at the temple area. It is a mixed hindu and buddhist location what can be quite interesting. Also at other places you can find sometimes near the buddhist Stupa the Vihara complex sometimes partly with some hindu temple or elements.
Another good thing in Sri Lanka is the information by its
telecomunication system
. After each single telefone call or sms you get the immediate info on your actual balance and how much last call or sms was. In mid Europe (Austria aug.o18) you can buy yourself a new sim for your mobile for 20 euro, 15 euro of it is the starting balance but do not ecpect to be able to send sms then, it is not part of the 15 euro startguthaben, during same time the multies sell their smartphones in post offices, but no telephone books there, quite wired. In Sri Lanka you reload for 50 or 100 Rupias (about 0,4 euro) and have a good time, always know your balance after each call and can have fun for 2 weeks then, thanx.
Aquristic shops are something in Sri Lanka you do not need to search for long in cities like Negombo, Tissam, Trincomale and others, Fish are mostly in good shape there what can be seen by the fishs color and agility. The bird and small mammal section I did not like in the shops. Aquaria filter systems are often from China, go for the RS Electrical liquid filter system series, others similar looking system has not a closed filter container, so when power is off it is exchanging with aquarium water then. I took one RS system back to mid Europe, new trade, as they lack relevanth shops there since years.
Some of the goods I bought there and took back, a screw driver for PC, 2 small fish nets, a big aquarien filter (1800 ltr/hrs), a can of color, some kabelklemmen, cofee, black pepper, new visit cards, some skin cremes, cycle lock, transparent tape, a high power energy saving light bulb, an iron torch with rechargable battery, a good card reader (all cards), a good new chipless (unsmart) mobile of which I can really use its triggers without second and third try, all part of the New trade so to say but as well some nice feathers and empty sweetwater snails I found, some seeds and many good memories !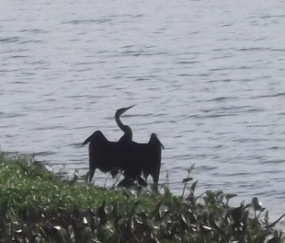 Not far from Kataragama is the town named
Tissam
(Tissamharama) near a big lake, partly covered with plant carpets and huge impressing swamp trees at some of its flatwater shores. Birds like Komorants, also Darters, Herons and Pelikans Whitebelied Seaeagles kingfishers and others can be watched there. Swimming is also possible at some designated areas, if you want go where the local people go, there it is mostly Crocodile save. Tissam which is more western oriented and also focused on foreign tourism than Kataragama, there Safaris, often on special seated Pickups to the close National parks can be booked, often direct from the streets or hotels. Water safaris can be also done at the lake near Tissam. Some of its areas are very impressing with huge swamp trees and many special birds, more at Nature observations.
Cylon overall is a nice, very friendly and warm, quite save, diverse, unique and interesting country, of which there are not that many left out there any more with extreme climate and many things to see, enjoy, experience and get to know about, thanx a lot.
journey map
Cylon part A
,
Mails from way
,
Nature observations
,
The meisters new card
part of IT