Day in Enchanting graceness
It was best trekkink weather. I took the way to Pulga, down and over the stream coming out of the narrow side valley. Was in good mood and got over the fields and apple orchads at Tulga and up into the woods. Not far from that high dam, maybe 30 m ogf hight, its function is not yet clear. It s just a damn dam at this small industrial zone uppar Parvaty valley where you can order stones, plates, granite or schiefer and maybe adopt a street section, so to say 1 or 2 km as village kolchos for 2 years 5 or 10 years, as Par. valley street adoptees.
I took over the fields, lookig great, passed over like looking old for long, partly overgrown crop fields, some parts covered in big flowering, birds around which i joined soemtimes their calls, spotted Nutcrackers following secretly. here and there woodpeckers, crows and a
Barbet
from far.
The day before heavy afternoon rains and ice winds in pre-monsoon. Fields soaked in wet and on way partly slippery, all breathng in fresh. At about 2300 m you get through nice woods, breitbarts hanging also from its branches (Bast or broadbeards)
Also some old Eiben trees of which once in GB they had harsh penalties on cutting such trees as serving for making bows out of it, and arrows, huge coniveres and himal fichten. Instinctively I took the right way after having passed house construction site somwhere up there in the woods, was a bid surprised, but in PV valley everything is possible from damsites, biz to majestic mountains, peaks covered in glaciers, woods doing it nice covers and shade spending, sometimes breitbeards hanging down some trees.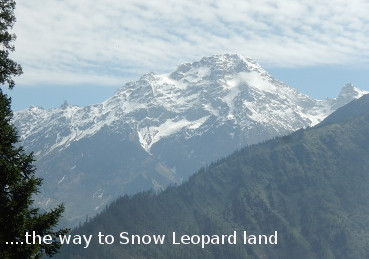 Suddenly a sound, a big
mountain hen
in front of me flushed and taking off heavily from the moist ground. A big hen maybe 60 cm on ground, unusually big, very exotic, not a Kocklass pheasant really which a smaller and flieing sharper. A Auerhenne from the alps, how she got there, it got mystic. I checked its resting location, it looked as it was cooling her legs in that tiny water spot in the swampy wood steps, up there close to the tree line.
Also the crows looked amused to me by such a hen, did funny moves, it was a great day. I got out on the alpine meadows, where I hiked years ago with a friend, close to two huge rocks, one with a fire place underneath, big enough taking five people for shelter during ice winds or thunder storms.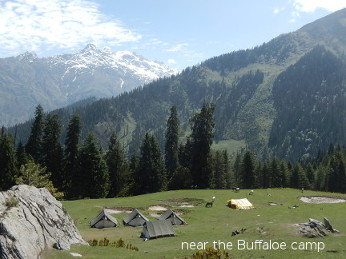 I took off the shirt and rested for a while sourrounded by enchanting graceness (- ! -) Took colour and sun in splendid. It was a great day, later on as in a dance over the fields like in valley of flowers. Suddenly a camp got into sight, nine tents. It was not the rainbow one many volks were asking the days before on way to a socalled chipsi house, which I knew it did not exist as I knew most guest houses at Kalga granite plateau.
No, but with a buffaloe wash beside the tents,
15 horses
nearby. the way further
120 goats
dancing in fresh after the cold showers the day before, alt 2700. Fresh and washed, hopping down, halting on the allready warm cliff, down to the camp under two trees.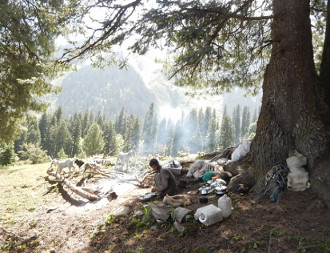 A simple sheperd, I mentioned
Malai Kofta
, one of Indias best meals you can imagine, "30 minutes padme (later)" maybe, he smiled on my peak joke
As the goats were dancing, cyrcling, tolling down I laied in the grass amused, the hen before was allready big special, but 120 goats jumping, 2 sheper dogs not far, also buffaloes,
Indian Water buffaloes
usually seen at flatlands, here at 2700, looking good.
I reached the nalla (stream) with
great waterfall
, did the lunch break without lunch, sprinkling waters, refreshing, taking heat and colour. A smoke in enchanting graceness, got lost dreaming mixed in white peaks doing great views. The big hen (murgi), 120 goats, buffaloes and horses. Later the day on way down I sighted the Spotted nutcracker and at a bigger stone in wet a mouse not moving too fast but ok, dark grey, guess a spitzmaus (specie at end). Some places looked like feeding places of the
giant Kashmir flying squirrels
above in the huge conivere trees.
Here and there I spotted a single porter the way up, once a female mating call also, mystic, birds chirping melodies around, me somtimes joining. Passing big smooth granite rocks in the light woods the way down. Himal Iris on floors blossoming, fields and apple orchards at Tulga, crossing the small industr. zone with a tunnel even, I branded. I reached happy back to the "Almhuette" where I had my research lab (
pic
).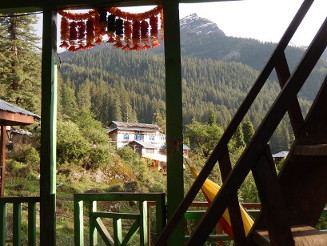 It was a great day full of new sightings and findings, a big hen, small mouse, dancing goats and the Spotted nutcracker which followed secretly on way.
(Parvaty valley may.o17, the mouse seen was a Himalayan Water Shrew, Chimarrogale Himalayca, himal. Wasserspitzmaus, colour and sice are fitting and it seems to be the biggest mouse up there, waters are chilling, then it gets big 13 cm, other mice get only 7-8 cm)




More nature observations of the valley, the latest panorama scrollie and skymaster family
3 nights with Dusky Eagle Owl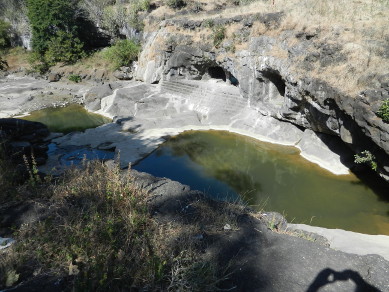 Last three days of 2014 i slept at the magic nalla (magic stream) in between cliffs set closely when the Eagle Owl screeming during dusk and dawn, twilight zone. We exchanged for a while, me the litle Ullu (Longeared Owl) and he the huge one (58cm max. rocksitting).
He got disturbed by me first time when I as Tiger came along at top of cliff range and he took off to other side of the magic nalla gorge gliding on his broad wings. Typically staring and hardly moving with its big shining eyes, fantastic.
(dez.014, last time heared in velley.at start of new century not too far from our
garden de paraiso
)
House swift freed at the cliff
The next day on way down from Magic nalla the morning of 1st of jan 2015 I found a House swift on the ground, took it up and with me in my warm hand for some 100 meters ... looked good to me, freed it on a rock well overlooking the whole scenery ...
total succes voila viva pronto
(same days, same gorge)
Whitebellied Seaeagles taking over
Majestic skymaster performing partly in courtship display but rarely recognized
cause of its usually straight n slow flight ... but
when focusing and got the attention by prey or just happy they drop down sharply, nearly vertically, when getting provokated by lets say some naughty kite, they turn on back for the bit of a second and show the provocateur their deadly claws ...
They are well reknown within all bigger birds of the beloved Laguna as their protector and skymasters outstanding, some crows and kites get sometimes so excited, me as well, by watching the WBSeaeagles that they try themself to advance their flight skills triggered by the souveren Whitebellied Seaeagles, my salute !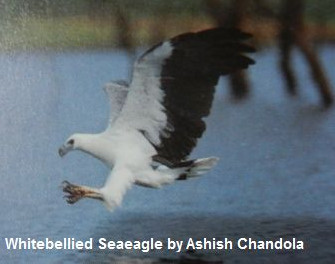 Sometimes spending the hours during sunset on the hill near the Laguna (Goa) all skymasters small and big where showing up, about 5o kites of variouse species in evening thermic, and finally straight and smooth the Whitebellied, sometimes in pairs in a kind of keep distance bubble, I sent my call and immediately the Whitebellied turned to see me half naked down there in the rugged and burnt north side of the hill during sunset hours. We where both deeply moved and impressed by each others class.
One time I got up during hot noon hours from my room, steppd into the guest houses garden cause of some excited bird calls, i turned at one side watched the birds turned to the other side looking up and the two Whitebellieds did a close turn overhead above the palm trees somehow in good bye way. I didnt see them for next weeks cause they started nesting ... then again calls and sunset turns and dropping down on nest sharply after each other, the female littel bigger than the male
... hill sunset
(Whitebellied with a kite, very unusual, Goa feb.016)
Ganga TransAction
Wanted to do it allready in autumn 014 after bad experience in EU.at, but waters were too cold. So after coming back from Goa i checked beloved Ganga waters at height of Rishikesh, beaches sprinkled with hot rocks during days in all sizes,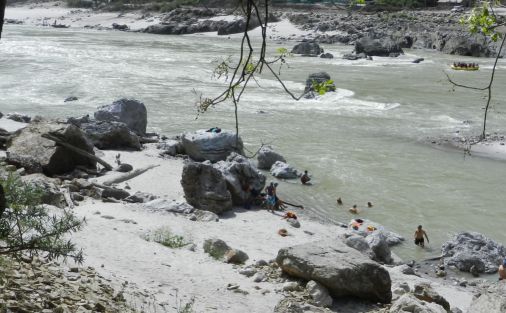 uppar Lax Jhula strong and fast currents changing after thunderstorms upriver (100km) within little hours, checked the situation for three days preempt, looked good, the section shouldn t be too easy, the third day i jumped. Had two boiled eggs with me, took one before, freed me of clothes but swim pants (shopped in Goa).
The wild main current took grip of me swiftly, very powerfull ... I faced downriver immediately in waves 3m long, made strong moves, fast as possible not to get close to cliff facing frontale ahead at curve, so to say facing and avoiding potential clash.
Did it .... wildest and most powerfull parts were taken, then some 100m more easy, but no maior backstream in bay, got on a rock for short break and took last meters to shore.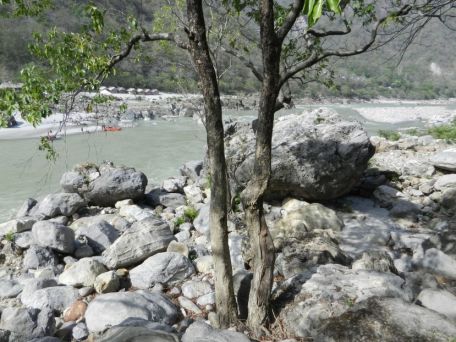 Happy and proud I rested about 3 hours at hot and nice parts of the cliffs ashore the Powerfull - fantastic -
Later I climbed about 1km upriver, barefoot and happy. Some rafts with people took a break there at the main halt for drinks and little food, some did a rockjump.
Here the waters were smooth and moving steadily,
me warmed up and naughty took another jump for the next takeover from a small rock, swam easy but powerfull and reached again. There on the sand dunes inviting for a roll down to the waters i took heat and energia,
gallery
- all was resolved - all come and gone -
map
(23.03.2015)
From Deodar to Shaolin range
Not far from Dharamsala the way to the water tank via Tushitas, in the 3 corner area Bhagsu, Dharamkot, Mc Leod Ganj i roamed for ages so to say over decades. Resting at magic spots in the holy Deodar woods (Himalayan cedars), misty sometimes during spring and clear before winter, deep ravines and rocky parts with farns. During april also Rhododendron trees flowering up the mountain slopes, from dry to very moist around the corner between Tushitas and Shaolin-range far up covered with prayer flags.
It s the territory of the Snow Leopard, me, and before going nuts at that altituted from 1800 MCL to about 2500 Shaolin range i had to move, climb and roam for days, resting on warm rocks and sometimes the exponated
Rhododendron tree
at Snow Leopards ravine. Coming back via the small and solid Web-caffee (kaspersky antiv.) down to the small chai stall near the school and water tank, where Tibetan women laugh out loud and indian tourists hike, start trekking or get dropped by cabs.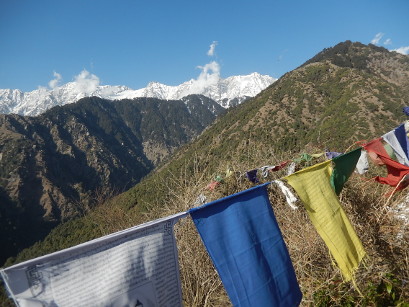 This is a region unimaginable, full of misteries and hiddden spots, quiet in the holy woods, hot at vulture watchpoint up the way to Shaolin flagrange, if you take a move around the corner some meters, dark blue shimmering birds and flycatchers companion you secretly, sometimes during april indian Hobbits take off togather during sunsets, while Himalayan Pines stand in deep snow further up seen from Vulture watchpoint when fogs clear by southern currents from indian lowland during afternoons.
Taking the little gap on way to opposite site via Shiva temple i took the steep climb up the dry slope, smooth and fast, found flowering Rhododendron trees, took the tiny seeds and climbed further sometimes on all four as Snow Leopard. Suddenly myriads of butterflies took off carried away by the warm currents upwards ... dreaming .... Himalayan Nirvanaaahhh .... (april 015)
Wicked girls at the edge
As Snow Leopard (and Cugar) coming back from India via Maroc I was sadly only little roaming the high Atlas range, so in specifics the magnificant Valle de Oureka. Up there not, far from the end of the street, i took my resting and high altitude locations . Fantastic slopes, deep ravines, smooth granite horizons sprinkled with oak trees and some sharp breaks, even edges showing up some late hours of the day.
One evening, short before shadows got closer by disapearing sun behind the edges I observed the village people swimming in the simple but best done stone-rumble bath in clear waters, sometimes joined them rolling the big tree trunk in the water.
So that evening after having roamed special territory I took rest for sunset and best view at a step in the deep falling slope about 200m from the bath at valley ground, watching and getting lost in twilight. Suddenly a flock of sheep climbed up the rocks, looking as by daily routine, not far from me (20m ?), well but suddenly behind them some young girls showed up, for sure not even 10 years of age, maybe 5-7. They tried to follow the sheep, which quite fast and agile climbed that steep not high passage. The girls stood below the rock watching up where the flock took the corner at the edge.
I got puzzled, would they take the risk to climb that dangerousely rough section - wow - they didn t risk the climb but stood so nicely looking up there in fascination ... (july 014)
- very nice, bohut sundar n saahsi larki - borrhia !

Titles for more
Morgenhecht in Au
Delta Force Squad peed from deltaroof (to center from Feste Hohensbg,
during repaint end 90s)
Spitzmäuse im Mölltalsaum
Wintercanoe
Schneemaus bei sonnenbad auf 2300
Kreuzotter am Auernig
Früh Eulen übt sich (zwischen March und Krems)
Schneehasen im Winter (Grossellmau, d mystischste ...)


Ultimate powers
The ultimate powers and supreme rule don t like fake,
they love the ones without fake and false.
They love the real,
the true, the strong and ultimate,
which can be learned.

As the ultimate powers are great they
support and love the great.


Signs to read
When you can read its good
when you can read traces its better
When you see and understand the small it s ok
when you can read the big it s better
when you can see results much better
when you can read the skies
you are of the great
thats by the ultimate


magic lick-links -

This page is dedicated to Ferdinando, Lotti, Pezi and the Whitebellied.
Under permanent progress and may never be finished ... impossible