Srinagar - Kashmir (jun.017)
SUSPECT BOTANICS: at southern hillrange of city plants like Goldregen.at, weissdorn.at (in moist woodside usually in austria subalpine zone) most strange and japan. Fluegelnuss (?!), Pfeiffenputzergraeser, Riesenginster (not 1 bee on it), Arizona pine, Himal Lebensbaum (all on dry locations), Himal cedars.
USEFULL plants Arthemisia (Absinth), Beifuss (both on dry hillside), Kalmus (lakeside). Others as big Water lilies (light yellow) at lakeside, further Wassernueusse (small nice floaters) etc

BIRDS: as Whisekered terns in all phases during young getting on wings, herons, many kites, Pied kingfisher performing during eve, seen from houseboat getting down straight and leaving with nice sound, Comon kingfishers also in pairs and typical sound, fast and straight. Feathers found on hillrange from kites, doves, chicken etc mostly unbroken, some maybe killed by birds of prey but not showing broken feathers, by what it can be checked. Cam got stolen last day in Parvaty valley.


Parvati valley (may.017)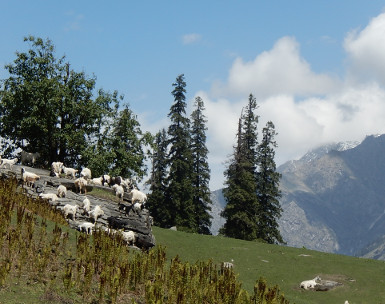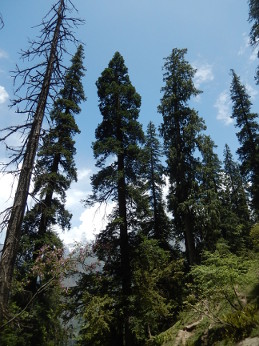 On superhike day (24.05) over Pulga and Kalga
Spotted nutcrackers
, crows, traces of Flying squirrels (kashmiri), 120 goats, 15 buffaloes, 20 horses, about 30 sheep, mostly clean after icewind and rain from day before, total succes. Goats dancing down some fields and rocks, some even doing cyrcle jumps n moves.
The Shaheen
, utlimate skymaster of the region.
Most astonishing the high altitude mountain hen (murgi) a
Auerhenne
, 60cm lifeweight at takeoff from tiny waterspot, guess leg cooling after uptake. White outer tailfeathers distinctive. (Maybe Cheer pheasant fem) Seen from 8m, in swamplike high altitude Eibenwoods mixed with breitbart trees (Bast). Kocklass pheasants are smaller and fly sharper.
Huge coniveres and fichten. On way down a dark
grey mouse
(Spitzmaus) at rock in moist. Crows and Nutcrackers looked amused to me and on way in woods many places with newly covered Schwertlilien (Iris) at the swampy woodsteps with granite rocks, more at
waterplants
, half shady (alt 2700; 24.o5). The
research lab
(pic) actual topics breitbarts and flin facts.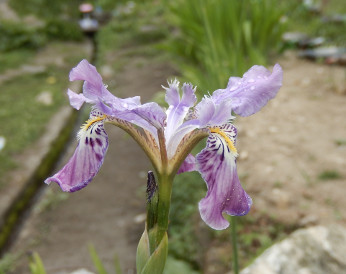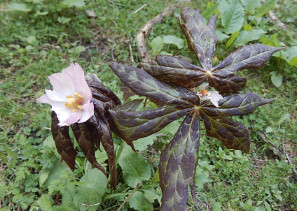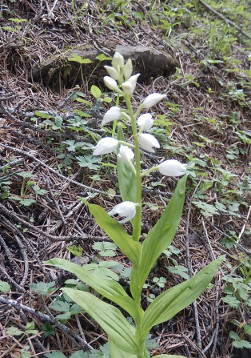 Himal iris
this year on long leaves (much wet), a special one unknown and the
Waldvoegelein
of the Orchid order, white, which is in our garden.at rose, last two like special locations in uppar valley twice, all uppar valley.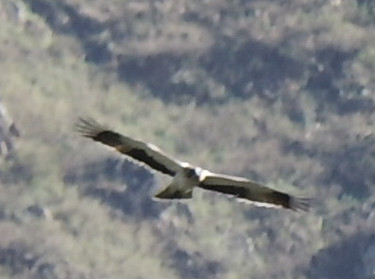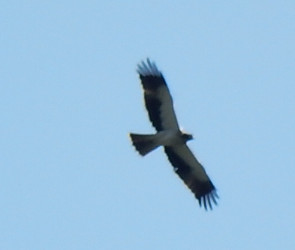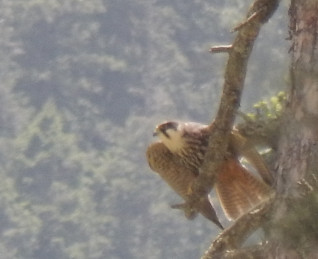 Pariah Kite
(lineatus) in which is quite rare, and also the majestic and furiouse
Peregrine falcon
in uppar valley twice. (mid may o17) - success - And places of excellence discovered further up,
2 big
pics
with huge Ulmen tree.
Fauna Flora
Uttarkhand - HP (apr.017)
About 2 hrs before Chandigarh an eagle, guess Bonellis seen from bus.
Leaving Almora the way to the Koshi, sighted a
Tawny eagle
for short, can also imagine Eagle owls resting there during days, and got to a Saken or very old Stupalike looking hill, 6m high totally round, further over the hills in Pine woods many Porcupine quills, hardly any bushcover left and a Whiterumped Shama, the near a pond in a streetcurve the mum or dad of all bumbs, caterpillared streetconstruction site, dragon flies and some cows. At the Koshi the special granite covered rocks, named ruby granites because of uncomon granite shape, 2mm getting out between quartz and glimmer schiefer layers washed smoothly. Too much for a fakirs sunbathing, map of scenerie at
Goa freak
page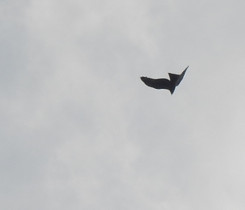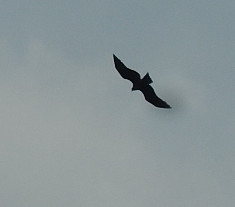 Two
Shortoed Snakeagles
performing greatly, a couple on way back from Anamay Ashram before the thunders and refreshing rains in the hills. Same day late morning Redrumped Swallow families first turn outside nest, gallery via ind. birds list (23.04.o17) - Total success -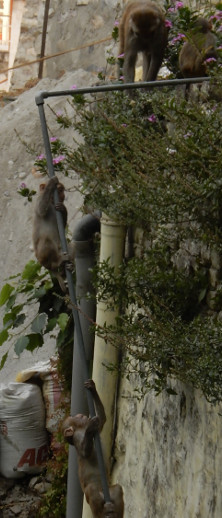 Iris
left and a special
Malve
from left to right.
big pic
) and a group of
Langures
having noon rest in the Pines around Kausani, leading female in tree and
group pic
Bulbul
in flowering tree on way to Ganges uppar Rishikesh
Monkies conquering and massing hotel garden last morning before take off to the hills (Rishikesh)
Birds of India
Kyrgyztan
Dharamkot HP Goa