Alps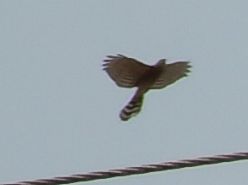 MISSING: for days during start of sept, Seagulls, Swans and Ducks (Salzburg city and vicinity), also swan nesting sites, guess because they fear for their dogs (hominiden) when swans attack them,
here more
The
Bussard family
(Mauesebussarde) near the house, over days showing their young, calling and replying, also to me.
Two times the
Sparrow Hawk
(Sperber) from terrace. one time in superswift moves hunting and some excited swallows not far, very impressing. (2nd half august)
Salzburg city nd region
Schoener junger Gruenspecht bei Nawi, abends 18.o8, westseitig vom Uni Teich von Bank aus. Graureiher fliegt vormittags bei Regen am Balkon vorbei, eher jung, 19.o8. Ziemlich weisser Schwan bei Koenigseeaache ueber tage, immer solo, waehrend gr meister badend, relaxierend und ohne gr Abenteuer beim Farbwechsel. (aug.o17)


South centr alps.at
The nice
Ringenattern
of different size show up nice in the pond, party will not do them much of disturbance, smooth and nice swimmers and really very unpoisen. James Brydon and the strong white Water lilies flower in greatness, mucho grande.
2 lange Tage hat er ein gr Wespennest vernichtet, unterm Fenster am Frontbeet (komische Rundlinge mit platten drunter im beehht ...), sonst aber heuer rel. wenige Insekten an den Blumen, sehr feucht u El Ninjo .... auch wenige
Hirschkaefer
the EUs biggest beatles, only primary mixed oak woods (jun.017)
Der CEO ist ohne Sicherung in den Baum hinaufgeklettert und hat in 6m hoehe einen schoenen Nistkasten angebracht, fuer den Wiedhopf. Der CEO denkt wieder an einen Huehnerstall, 3-4 Henderln damit auch der
Habicht
(hier auch Huehnergeier) kommt und nicht nur zum Eier zaman klauben.
Tags zuvor eine ca einjaehrige
Ringelnatter
, 80cm, am Teich beobachtet. Sonst auch
einige Libellen
(Dragonflies) von Vierpunkt, Blgr. Mosaikjungfern ua so elegant und garnicht mystisch (29.06)
H. SAPIENTEN: Die Radpumpen passen kaum zu den Radventilen und nach 2 tagen Aergern geht auch eines wieder. An 2 alten Raedern sage u schreibe 2 verschied Ventile. Leider ist die eiserne Pumpe samt Wechselventilen vor 1 einhalb Jahren in den Muell gewandert worden. (ende jun.o17)
Der CEO hat letzten Sommer auch die Hauseckwand gestemmt, dann kam ein lokaler Handwerker samt , doch heuer sollte der Wechselschalter wirklich klappen. In diesen Zeiten sind doch eineinhalb jahre nicht viel fuer einen Wechselschalter, oder.
(Mr Trump of the US had 2500 cases before Court, guess because the locale Handwerker work there without certificate)
Seit 1000 Jahren sagt Annemarie "mann weiss doch nicht wann es wem wie oder wo kimmt,
nein das weiss man nicht", sagt sie.

Sarajewo - Dalmatien coast (jun.017)
Arriving on way from Istanbul at Sarajewo (Bosn Herzegowina), eating on way from aerport cherries at a garden fence I sighted short after a nice falcon. A
Roetelfalke
gliding smooth and fast, determined and without hesitation dissapearing between two houses as he d have done it for quite some days the mornings. I was deeply impressed by that class of a performance. As i had never seen such a nice smooth falcon before, but I can differ many, I had to exactamente check in the good books for what specie it was, and defenitely.
Later in cities center children playing ball in park, not too far from the marcet tents, cafees, banks, shops and more. Quite friendly overall if you don t need to enter huge skyscrapp like buildings or big embassies, the tram with german push-trigger signs was ok as well, people speak also english which is the int. language of biz, infos on
places on way
more Nature obs -
Kyrgyztan
Dharamkot HP - Goa
Indien birds