Mixed places - gemischte Orte
Amsterdam
1998
, Wohl die berühmteste Stadt Hollands, ich war begeistert von den Grachten-Wasserstrassen, den vielen kleinen Gassen und der fahrradfreundlichkeit der Stadt. Wohnte bei Freunden die mich, nachdem wir uns bei den Salzburger Festspielen kennen gelernt, zu sich einluden. Man sollte doch mindestens einige Tage in Amsterdam bleiben und sich Zeit nehmen fuer die vielen Gesichter der Stadt.
Von Amsterdam reiste ich mit dem Zug weiter Richtung Ahmeland, nach dem Tip der holl. Freunde, eine schöne Insel an der holl. Küste. Lieh mir ein Rad und fuhr durch die herbstliche Insel. (old stuff in german ...)
Way back -
Bordeaux - Paris - Genf - Zuerich - Schwarzach (end 2o17)
Arriving by plane from Marrakesh, the waiting hall during night at Bordoux rlway station was magnificant, High wooden walls, nicely carved in classic stile, a TV screen, unnoisy, and underneath a dried Binsen setting, which was a good contrast to the TV. Not too cold inside and interesting volks warming up, during smooth rains started outside getting close to midnight. Also the smooth night bus from aerport I liked very much.
TGV is of an excellent standard since years, also as most trains move in "Cinque Stelle" stile to Paris Tickets are not cheap but worth the journey, more than a short "Last minute" flight and you see much more.
I liked flying between the winter hills and getting back from spring, which showed its first signs in Maroc. I thought of the Waldenser passing small villages and castles, but hardly any birds, rabbits and deer on way from train, a bid sad. The last stretch from France into Swisserland seems to be very old settling grounds in the vallies before Genf since ice ages.
In Swiss, Dietikon and Zuerich exactly same volks entered train as some years ago, and set close, maybe keeping track. Dietikon is a strange name and Zuerichs rlwy station is empting withing minutes undergound during nights. Some keep track, some run away as you watch them still on train, others have a radio in their pocket and dance for short underground. French are mostly relaxt, Paris in the morning was nice, underground not too easy but the two rlwy stations fitting the Grand nation.
Mexiko - Cuba -
Maroc
- Europe
Bari
apr.2016, 2010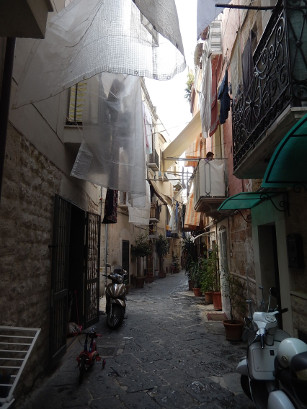 Bari is a nice medium sized mediteranean town in Italys southeast, Apulia, The city has nice squares, narrrow streets with flieing laundry, a big stretch of beach, old and new town, mostly friendly people as Italiens in general. Once the harbour region was more dangerouse as my goodfriend told me. The port area is interesting, all from small to big ships, fishermen, some pubs, and the more. We had a great time there, and i miss the Grande. Hasta la vista ! Italiens are mostly friendly, they love the life, women, the music, singing, eating togather in the open, and women there can handle machos. I will be back !
gallery
Bergamo - Verona
Both big cities in Italys north. As I was travelling som efew 100ds kilometers to meet some old connections from India ad Bari but an ex manager missed since 3 years to take my prepaied telefone calls we did not meet. I hate Bergamo, not be mixed with Pergamento. It s quite a strange city to me, and I say 80% Prachtstrassen (Mussolini), 60% leerstehende Verwaltungsgebaeude and 20% Wohnflaeche. some hills north of its center with old strange looking houses of the centrury old slaughterers, but i got into a fine chinese restaurant after days and more days to come on autostrada. Also a spread around aerport to its south, where i wandered in days of waiting for comrades as the grande had a booked flight. I don t understand such cities and hate the only coloured house, only a Mac-D at the rlwy stations square, but many migrants from Africa and the Mid East in that many Prachtstrassen which triggered to me the idea of putting a 5000 m2 pool there as well, fitting the modern mess but with less chlor than in Barcelo sans pool (rlwy station parque industrial)
jun o17
Verona a big spread around city in the flatlands of Italies north and south east of Lago di Garda (24km distance) and about 1 hrs by car from Bergamo. It has huge fortification walls of the Roman-Normannic times, also an old 5 span bridge over the big dirty river, Tagliamento, where I tried to catch an evening fish underneath after a day of sweat and carrying around the packbag lost in the street of 100% car society.
The old 5 span bridge seems to be done mostly by the Romans to take many lakhs (100 000) of soldiers and cavalleristas over the river to Germania and the limes. But today it takes the fast italien Ferrarosso trains. Usually slow at that section, which did not amuse me at all from beneath. The big Auenwald (river woods) some 2 km away along river looked good 4 swimming and also good fitting for the costly horseback riders there with huge stables, barns and parcours, did not see any horses or riders at the time but big horse farm and romanesc vilas there in the wood along Tagliamento rio.
The city has a big railway station and bus stand aside, which is far to vast to fit the few buses and old offices, mostly empty. There you find also many bicycles, usually strongly chained. There are many migrants in all colours roaming and cycling beside touris excchaning travel hubs.
I can recomend the Bistro 26th aprile at rlwy station which gets run by Indians and did me some easy breakfast, none veg, and good talks (partly hindi) after days of waiting to meet with comrades from Italies south and even Monza, which is in short racecar distance (fanculo, mazurati, scayo ... stronzo ...) but it did not happen. Total route map below
Hamburg
Hamburg
got shifted here
and a
city galerie
Havanna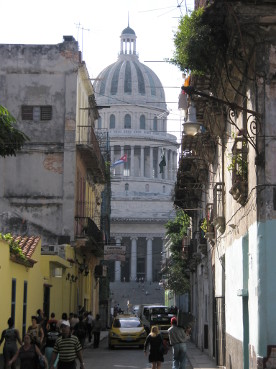 Havanna is quite a huge spread around city, over the smooth hills along Cubas northwestern coast. The city has a railway station which serves its people till today on a daily base usually, new train engines got ordered during my stay and are on way from Russia, think it was 9 main engines.
In Latin American countries trains are not too comon any more. In Costa Rica there is a small djungle train somewhere near the banana plantations near puerto Limon.
Havanna city has many departments and Habanna velha is mostly well known to the tourists, nice houses, parks, pensions, easy going people, good guides for the ones who get down from the cruise ships to face some half covered tunnels from one to another church as well. Over last 10 years many locations got renovated and you can find best pensions, partly with breakfast, but usually all with bath and shower. The area near the emperors embassy.us with many cuban flags and a huge stage in front looks quite the same as once.
Day and nights in Havanna are easy going, people play music in the streets, dance here and there, some performances for tourists, many pubs and restaurants, partly open till late nights, empty streets beside fully packed ones during nights, savety is usually no problem.
The cities aerport is about half and hour by car out of town, local busses leave to all directions, to Miramar at Playa it takes about 30 min from the central travel hubs of downtown Havanna. The city has also a quite modern looking tunnel under the sea to the northest taking the cars out of town, traffic is not yet massy as in many other cities of the size of Havanna and old Havanna is mostly pedestrian zone (but taxis and trucks) only.
Havanna harbour takes a few big cruise ships sametime over a few hours, days and weeks. Usually about 1 or two a day. You can watch fishermen along the piers and strong Pelicans doing their moves and shooting down into the sea, often during good winds. Dailong heavy winds take much saltwater on the streets and house fronts of the 7km long Malecon and partly eating on its walls since decades.
But even so you can see some rare romantic couples amusing themself on the wall during nights with huge waves. Sometimes all the tang, kelb (seetang and algeas) is gone and I wondered how is that possible overnight, herons and egrets could tell more.
Havanna is for everybody worth a visit who is curiose on history, arts, dance, joy, good food, also health, mixed people by all colours and the centerstage of resistance against the emperors since decades (revisited dec.o17)
gallery
Hvar - Starigrad
Island and city
Starigrad and the city of Hvar at the western end of the huge beautifull, spicy and goodsmell island at the Dalmatien coast. Starigrad takes now the ferries and big ships. Hvar is more nostalgic of both the old cities, Last centuries the island was also serving pirates for hideouts and settling, it has many bays, nice stone houses and simple villages with partly old roman stile stonestreets. The bays have mostly clear waters inviting for swim, The island is covered also with nice zypress (spitze baum) and pine trees, figs, levanda, salvia, grapes (weintrauben weinen nicht) and the more. Here and there small villages set between rough, partly new done stone walls, take care not to get lost and cut in the hot and rough maccie with sharp rocks broken by the heat of the sun over ages.
The island is also territory to the Snake Eagle which got seen last time with young performing late 90s over the beloved bay last days spending holidays. I had to lay back flat at the mole as they performed for a while that late afternoon.
The island has a street from its east end at Sujurai to the west at Starigrad and Hvar city, passing lovely villages and in some you get lost in atmospheres like from ancient times during the Romans and Pirates or later times of Tito. In some of the villages main grocery stores they had for long his picture behind the counter hanging on the wall, sometimes with a komunist star aside. Some have special connections and get lost and drunk in love, smell, sound, wind and waves never ending since the 80s. (revisited spring.o18)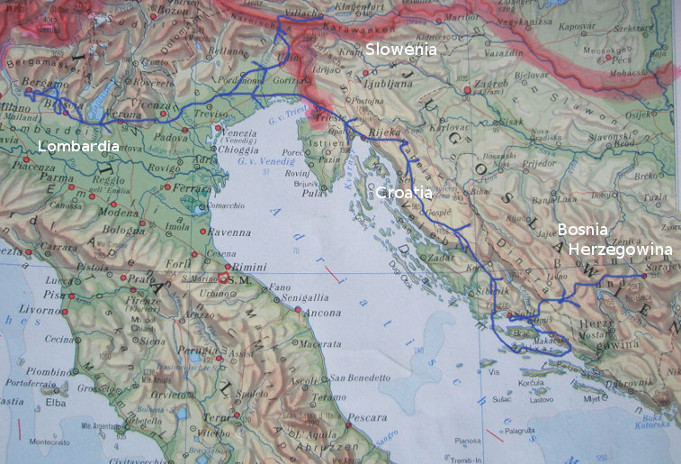 Istanbul
It is the city joining the continents Asia and Europe !
Last time I visited Istanbul was april 016 on way back from India, all was flowering. Nights yet chilling as close to the Black sea, seagulls on roofs and from rooftop reste a great view on the Isthmus with ships passing, clear fresh skies during mornings. Istanbul is a big spread around on hills city with different faces. Spice Bazar is impressing, also the famouse central parts of the city. Some areas are a bid dangerouse as everywhere in big cities, so don t show posh. The city has many hidden places good for nice walks, old town and along the coast, Topkapi, main squars with mosques, parks, bazars and the more.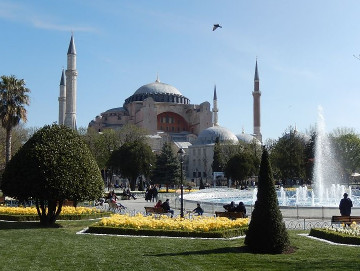 Istanbul got visited 1st time during Feb 2001 on way back from India. It was snowing sometimes and not too much inviting during late winter. It is the well known famouse city joining Europe and Asia, good for roaming, shopping crafts and spicies, dried fruits to big Shishas, leather jackets and lightcovers. For sure worth a visit beside winters. A special city with history.
For birdwatchers interesting during migration times as hundreds of birds can be watched in sky on route over the Bosporus, storks, cranes bussards, owls and more.
SAVETY history:
Can be an issue, do not take foods from street sellers, some tried till some years ago with narco cookies, then escape to a restaurant. At that time it happpened, even after 2 days, that the guys who I was with, for a small nightwalk tried narco cooky on me, but sent me back to hotel with taxi in sleep state .... if you have traveller cheques as was often in use at that times, the gap between narco cooky effect and wakeup time to get cash for stolen traveller cheques can be a factor. In worst case scenario try by your embassy.
At that times bad stories got often told, you can listen to the streets, it changed better over the years, also then diet pills were a big story sametime in Thayland allready.
Now it is spam and pills on the web, detox, botox, hatespeech and silikons.
Bussines in the city can be talked over in private family home with turkish tea or coffe.
Istanbul gallery
Jerusalem
2001
Jerusalem got visited the last days during the stay in Israel on way back from India and visiting friends there in its north the first half of the visa period. Second half got absolved in Eilat at the Red sea, hot and desert climate, glimmering streets and action from ships to beaches.
It is the well known holy shrine city for 3 world religions (jews, muslim and christians), and so fighting can break out here and there.
I took the opportunity to buy a Luther bible and climed around on its roofs in its old town to find some
Stockrosen
flowering there then at the times during highnoon summer time, of which I took the seeds to our garden from the ageold cities stoneroofs,
Isreal story
Lodon and NY got shifted to
Megacities
Omis
Nice small town set along the croatian coast at the adriatic sea. At the seaside it has a long stretch of beach with showers and restaurants, to the mainland it is enclosed by sharp rising rocky hills. Options for tourists are rock climbing, beach and sea, or visiting one of the many croatien national parks, one not far from town upriver between the cliffs. The town serves its young with a school and university (?), has a nice park, restaurants, good view on the sea and islands and a small harbour. Seawater is christall clear (beach showers) and invites for action. Omis can be reached from Split (45 min) or Rijeka in the north or Dubrovnik in the south (June o17), part of Croatia.
Samothraki
Grece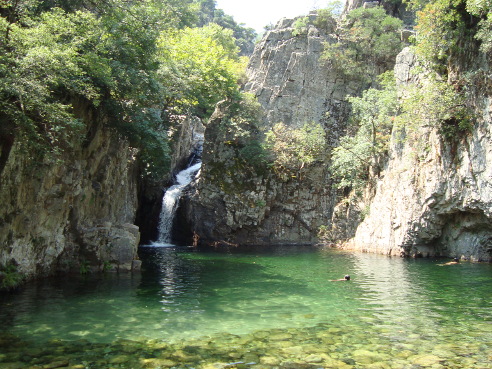 A nice island in Greeces southsouth-east, the next harbour to reach Samothraki is Alexandropolis. The island has some nice old villages, which give and proove taste of its past since the Romans.
We were 3 campers, who partly did good fishing at the islands southern coast, not far from the campsite, which was really missing some good food, beside ice creams and some drinks. My italien friends were also going for Igonoderme (Seeigel) which is not untypical for italiens in contrary to croatien volks. In Italies north they hunted small birds what is even more disgusting to me. Anyway we had a good time there, partly 3 on one scooter.
Ships from Italy go from Bari to Igoumeniza (overnight), from there you can take the highway to Thessaloniki and further to Alexandroploy. From there go ferries to the island. The island is inviting for nice hikes in the partly dry and hot mountains during summers with goats and sheperds, also Oregano and mostly impressing gorges where people take swims. Also archeological sites can be visited.
gallery
,
island location
(summer 2o10)
Sarajewo
Coming from India via Istanbul aerport I got out in Sarajewo. A big city with friendly aerport. Sighted
a falcon
after arrival the sunny morning walking into the city. Modern center with skyscrap like buildings, beside the big US embassy, maybe 3 floors but spread, old vienna stile tramways and the typical white tents (marcets) which can be seen in many EU cities the summers. Some of the few skyscrap like buildings with usual brands like from MS and more on its tops blinking somwehere (June 2017)
Once it was the city of the yearlong snipers during the war in the 90s. Now the it is capitel of Bosnia - Herzegowina. Slowenia, Croatia and Bos.- Herzegowina have each different money, could have all euro ... ?! Bos.-Herzegowina is green with many woods, they dont need grass trimmers and leaf blowers. Wolfes and bears are still roaming up to Slowenia and austrian border regions. Croatia is much more dry along the coast with maccie, levanda and many national parks. I got out there on way from India curiouse to get the city and how it looked after the years of trouble during the 90s. It was ok, I just staied for short on way to the coast, total routemap above (Hvar), the city is part of Bosnia- Herzegowina.
Getting out of Europe after having visited the island of Hvar I stayed some nights in Sarajewo and had the time to visit its nice muslim quarters with many small shops, cafees, Mosques, the whole set in the close hills which are mostly kalkstein and does some interesting birds good nesting locations. Guess some Roetelfalcons will soon revisit the city as well. The total city is stretched from east to west and getting more wide to the aerport side. It has many different areas, also with old tramways, which makes it the more friendly today.
On way from Split the area at Podolje is nice, allready on the higher plateau, with the big lake where you can see snorkling some Steinbeisser fish duirng high summer times, putting single eggs here and there, also Kormorant and heron nesting sites in flooded regions. (revisited spring.o18) -
Nature obs
Split
A well known harbour town, mid along the dalmatien coast. From old times as other cities like Dubrovnik and with some city parts of the 1st millenium AD which I did not visit this time. Sometimes young women screeming into mobiles drunk during late nights. Usually touris and motorbikers roaring in the streets. The harbour is a bid wild during midnights, even and specially while facing fency but strange looking 60m motor yachts across the street beside the cat-ferries.
A waiter tried to fight me for a baby bottle, (glass smoothy) which I did not even touch in the bar at night (4 euro) but lately I paied it without having touched, not to mention drinking, as he insisted showing mad and evil. Heavy punches for an untouched smoothy is not my thing really. Split at night is different and I got on way further north to Rijeka and Triest lately next morning (June 2017), city part of Croatia.
Triest - Rijeka
Two big harbour cities on each side of Istria, Triest on Italien and Rijeka on Slowenian side. Triest a little less dangerouse, but both ok. Had a nice half day pause along the harbour in the sun. Once ports to huge ferry ships doing the ways to Split, Krk and Hvar islands, Venecia, Bari and the more. Didn t see any of the once huge ferries in either city as during the 80s and 90s.
Keep your eyes open in Rijeka during baggage check in at main busstand, it s sometimes professionel pickpocketeers biz during boarding, as in Barcelo Sans rlwy station near some counters, quite wired their psycho and ripp off games. Go here, stand there, show ticket, give cash ... and gone, some guys with earplugs and looking important. They gonna be carefull, some guys do different biz and hits. I got to Rijeka by bus from Split and further to Triest whih is usually no problem. Some routes are only done once or twice a day,
total routemap above (Hvar, June 2o17) -
facts figures
Venice
2010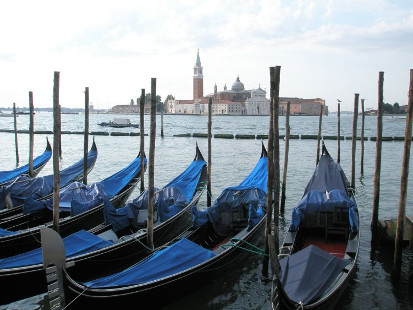 In Venedig hielt ich auf der Rückreise von Samothraki, siehe oben, wanderte einen Nachmittag durch die Stadt und war ueberwältigt, was will man mehr, die Stadt ist nicht umsonst so berühmt, Paläste, Wasserstrassen, Gondolieris, enge Gassen und tolle Architektur (unfertig) !
part of this
galerie
Wien - Vienna
Vienna the capitel of Austria, little more than 1 mio people, got visited for hardcore demos against the far right wing coalition at that time, 2003 which is an issue till today (see Alpenfestung series)
Check Vienna and its locations by Tripadviser, on any better smart mob,
Dir_3
on travelling and destinations.
At that time the minority vote taking parties tried a coalition and were moving to the angelobungszeremony underground, subway so to say, during the people of Vienna staged very angry demonstrations on top which I shared for 3 months after my return from India.
Nowadays after many foreigners, refugees and tourists came to Austria the blockade of the Brenner border is sometimes an issue during the migration crisis, what should not be mixed with the Brenner Basistunnel or some political parties (foundation) fight for the socalled Basis which are all since years main burning issues (von brennen).
Do not put Phosphorus, Fluoride and Sulfate in mineral waters, also chlor chicken is bad (skin whitening and physical defenseforce destructing) but if you wanna die earlier than scheduled