Mexico - Yucatan
CORRECTIONS: Redtailed Hawk is a Bonellis Eagle, (birdbook Birds of Mex. city, Buteo jamaicensis) Hawks have long tails and fly furiously. Eagles with short tail and fly powerfull. Guess there are more eagles in the US than only bold ones.
Redshouldered Hawk (Buteo lineatus) is a buzzard and less a hawk.
Got in sight of nice small
Agame
(small Iguana) 19cm, limegreen by netscape colors (dec o17)
Playeros (Strandlaeufer, Sandpipers) are nice by travelling, camouflage, way of moving along coastal regions and covering distances.
In comparison tiny speedy Hummingbirds, the Kolibris burning nectar over hours, can not fly huge uncovered distances, Mexico - Hawai or Mex - Canada (?) ... but when there came big storms or Tsunamis and debris was rafting in the seas. In azteka its name is Huitzilin. In India the sunbirds, some of them flying for scooter mirrors during mornings.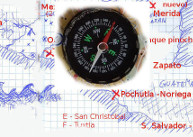 The Inca dove (Columbiana inca, Imker dove) is only 9 cm of size not 20-23 cm, but I am not sure how many species of djungle doves exist and it is always the Rose Pelikan.
Once seen a
Whitebreasted Kingfisher
in Chiapas, not mentioned in the birdbook but a "belted kingfisher" (Megaceryle altion) one which looks like the "Pied" one from India, which once went hunting in couples near Om beach. Needs of many birds can be figured out by distribution range which is very diveres in Mexico and of long range. (nov o17)
Two huge
Parrots
(Hyazinth ?) short after arrival the evening at Palenque, near main junction during sunset, landing. Many small Parakeets during morning, calling on wing big flocks. Kormorants, many
Americ. White Pelicans
allday at the coast, impressing by size and moves, heavy but somehow elegant.
Great Blue Heron
once and two Hawks on way from bus along coastal swamps and woods.
Got a birbook in San Christobal, Chiapas
(nov o17)
Mexico - Chiapas
BIRDS: Huge swarms of swallows, about 300 during noon over the djungle, calling on wing, Tree swallows.
Berylline Kolibri overhead in two orange flowering trees (looking a bid like Chocolatel by its fruits) the morning near Comitan, near the wet field with horses, a big Montez. Scheinzypresse at the nalla with Platies and a mio yellow medium high flowers around (Sonnenhut alike), bananas, maiz, and groups of small yellow Tagetes, from sleeping bag.
Djungle doves, a Sandpiper (Las Brisas), Comon Yellowthroat, beautifull male with white cap, from room the mornings and it seems also a family Tyrannanfliegenschnaepper around with their high pitched squeaky calls.
Some days later at Las Nubes a Kolibri with white spot in long tail, the morning the same day 2 black ones, like Greattailed Grackles but with lemon yellow outer tail feathers (30 cm), wie schwarze Elstern doch mit zitronengelben Schwanzfedern.
A Redtailed Hawk from bus, less the Harris, on way south from Mex. city to Oaxaca, a Sharpshinned Hawk on way back from Comitan and often on way Loggerhead Shrikes

BUTTERFLIES: 4 huge dark blue ones, 10 cm, with black outer stripe at hindwings. Many medium sized ones and one of them dark with a red spot on each backwing. A huge yellow one with black stripes, like a Segelfalter 9 cm. Las Nubes is magic ! (nov.o17)

FISH: A cichlid specie, overall turkois green, with a black stripe at the back from top and a slight dark spot at start of tailfin, adults, 17-20cm. A bid like Augenfleckbuntbarsch at djungle nallas of Chiapas. (Las Nubes) Myriads of djungle plantas in de region de frontera a Guatemala.

Pictures and drwaings could be put here but thats very much of an hardship .. from the djungles !!

The region to Guatemala is mostly interesting and LAS NUBES Nat park remarkable ... too much, only taxis or busses duirng nights could force some sections on foot, Jaguars could also be encountered then. Agua Blanc and Monte Bello also too much.




Ecuador
Kolibris around Quito (Ecuador) aerport also once at Huanucos main plaza (Peru). And guess some even fly from central America to Canada, masterpieces of a journey !! Tiny jungle doves at Belem aerport not far from the Tyrannenfliegenschnaepper, which is widespread over the southern Americas. Strange with Kolibris is that even from close they can hard be named, moving fast ... there is even a Lucifer specie of Kolibris and somewhere deep in the djungles bats which suck the blood from the cows.
Mexico has freshwaterfish with dicks ... lifebearers as Platys, Guppies, Mollies, Schwerttraeger.

(In Brazil a rio sangue (Tiradentes), in Mexico lagunas muertes at the southwest coast, in Peru near Sipan the tumb of senior de guerra, his family and some living owlets at the archeol. sito, quite bizarr... or only spanish)




Peru
CHICLAYO:
Very colourfull fink dead along a road with yellow and orange body parts. Two times very green shining finks and often Tyrannenfleigenschnaepper in cities. (Tingo Maria, Belem aerport)
Three nice
Owlets
at Sipan under roof at the tombes near Huaca Rajada.
A big Fregattvogel the morning on way from Chiclayo to Tombes over the morning hills.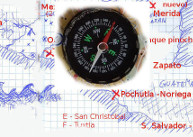 CENTRAL CORDILLERA:
Further north I got a good book on birds, the big moorhens at lago Conococha was the
American Coot
(40 cm), the pendant to the big Blue Moorhen of India. The ones which got kept for Emus was mostly the Whitefaces Ibis (62cm) hard to say from 1km, less the am. Avocet.
At
lago Conococha
on way from Huaraz to Huanuco on the Altiplano, close to 4000m,
25 Flamingos
, 2 couples huge white ducks with black wings, Seagulls, the Emus (), white Herons and Am. Coots, Condor el paso.
Two times a small
falcon
, something between a Comon Cestrel and a Roetelfalke, less colourfull, black and grey. Once overhead on wire on top over Marcara, out of Huaraz.
At the dry slopes on way to lago Wilcacocha a young snake (natrix), coloured in black stripes, looking a bid like Kornnatter, size about 40cm, some lizards.
Sadly there are no bookshops, and if no science books or books on the many colourfull species of the djungles, coastal desert and high Alti Plano.
No books
on birds, Guanacos, Lamas, Pumas, Condors, kolibris, spiders, tucans.
Peru story
Belem - Brazil
At Vero peso, Belems central old marcet, a fully grown Banana spider which is one of Brazils most poisen, even deadly spider, rapidly getting out between some stuff at the barlike setting. Quite a big one (8cm) fully grown and suddenly coming fast out of the settings after dinner on the desk. I pointed at it, yet sitting there, fighting distance about 60 cm, 14th early evening, short after arrival.

Over 4 days I watched in fascination and curiosity the brasilian women standing near the fency cars at the aerport, often in a kind of waiting position not wanting to touch any bags from their fency cars, but waiting for some guys to help them with the bags and luggage. Me fascinated because in Brazil bags carried in streets can be frictiouse and dangerouse in many big cities, but specially during twilight zone and nights. The climate helps that the less, so much sweat .... In general bags is a big story for adventurers and trekkers.
Overall it gives prove of Raubtierkapitalismo and hot climate which does transpirando in that climate.

Many birds seen from and around aerport like tiny pigeon, some Magpielike ones, long tail and nice wings, no raptors but cosy enjoying mornings togather And the most magnificant Tyrannen Fliegenschnaepper, with its special pipelike high screem in variations which proves the birds decisiveness and determination, also by its typical flight. Some swallows and others.