Canada - USA 1992
Route:
Winnipeg - Calgary - Trail /Beaver falls - Grand Forks - Kelowna -
Vancouver
-
Bella Bella
- Seattle - Yellowstone - Grand Teton -
Jackson Hole
- Bozeman - Bismark - Fargo - Winnipeg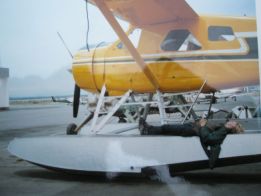 Canada was always my dream country from young times on, wilderness, woods, the own wood hut, and adventures. So I left school and decided to travel Canada to see how my dreams would match with the country itslef. I flew to
Winnipeg
to the uncle of my friend about 20 km from the city in nowhere, flat land, woods and agriculture. i arrived during may and winter was stille there, i had some nice trips in the woods around the house following the traces of coyoties and others. After about one week i left to
Calgary
passing the plains and moving into spring, i just passed Calgary and travelled further to BC where i visited some families of my friends, spent some nice days at
Beaver Falls
not far from Trail, did some good walks at the waterfall and along the creek where i found a beaver dam and helped my friend while arranging things for his new place, a farm with horses at Grand Forks /BC. We moved there togather in his pickup and spent a good time at his farm house, heating the stove at night with old wood chairs and eating beens and bacon from cans. Wilderness in BC is very special, mountains, lakes, glaciers, grizzlies, coyoties, wolfes and the more.
I left by bus and arrived to
Kelowna
where i visited some friends. They had a canoe and i asked them if i could use the canoe on the
lake Okanagan
, yes no problem, they took me to the lake and i started my trip on the lake equiped with a tent, sleeping bag, some food, a rain coat, a plastik plane for covering the stuff in the boat. It was a beautiful trip along the coast, rocky and with some bays with a beach, met a fisher man along the coast who gave me some fish which i roasted on the fire at the evening, but the meat was too hard to eat it. Sometimes i could see the waves coming closer as the lake is formed as a pipe very long where the wind blows through and one time the wind was that strong that it turned the boat and i had to do a cyrcle. After about 3 days paddling north i paddled back south from where my friends picked me up. See the piccies from lake Okanagan, with my friends we visited some small lakes up the mountains for fishing.
From
Vancouver
we flew in a small water aeroplane to Bella Bella(map), which was an adventure by itself, just some two or three kilometers above the sea, able to see all the big and small islands along the Canadien west coast, eagles, giant trees, it took us some hours and we had a save flight also we couldn t start at the point but had to wait some time for good weather.
Bella Bella
is a native community -
Heiltsuk nation
, and a village with an airport located on an island in the wilderness along the West coast. We spent some days there, my friend was working on a tank and i met some new nice people at our hut close to the planes, on our island across the sea, some few hundred meters, from Bella Bella. It was even possible to watch Kolibris coming close drinking from the nektar bottles.
gallery
After some days we flew back to the city, could see the clear cuts from the plane on Vancouver island.
Vancouver
is a nice city, with an interesting shore line and a harbour where i met a family who was working on their own boat. I spent some days with my relatives from Canada, visited the Botanical garden in Vancouver, some old forts and villages.
I headed on to the
USA
by greyhound-bus, passed
Seattle
where i had a pause for an afternoon, visited the harbour there with nice wood yachts, and walked around the space needle, i think that s how it s called the high watch tower in the city and left for
Yellowstone National Park
, where i arrived after a long ride in the bus passing Washington state and Idaho, arriving to
Wyoming
at the national parks west entrance. There i was hitch hiking and walking along the street till i reached a camping site where i staied over night. Next day i started walking again wich is not so nice because of the huge distances in the park, i passed some grasslands with bisons and found some bones there, till i reached the fountainsafter having done soime miles by foot, the big geysers and colourfull water basins the most famouse one "Old Faithful", all togather very impressing natural wonders and worth a visit for some days in the park,
i got lucky finally and found some nice young people who gave me a ride on their pick up, leaving the park to
Jackson Hole
south of the pak, passsing the
Grand Teton range
another very impressing mountain range and National park in the US, (
picture
-my tent at top of Jackson Hole viewing Grand teton range). I staied overnight on the hill close to Jackson hole in my tent, just backside of the motels. Next day in the morning we met again and drove north along the Snake river west of the Grand Teton range up to Bozeman /Montana which took us some hours to get there.
In
Bozeman
i got off the car and on the greyhound bus after some time waiting on the busstop, where i met a man who told me that the Crow Indians took out his gold tooth and he explained "...I dont trust the Crow...". I left Bozeman by bus to
Bismark
/North Dakota, where i spent some hours along the Missouri river, thinking of the Mandan who once settled along the river not far from here. I headed on to
Fargo
where i spent one night along the busstop meeting a nice guy with whom i walked the dark and loenely streets of Fargo, what was nice, next day i left for
Winnipeg
/Manitoba/Canada, staied there with my friends, the climate changed allready to summer and after some days in the woods of Manitoba i left from Winnipeg back to Europe by plane.
other trips in the US
map of the trip
Savety:
Canada is a very save and organised country from my perspective and you do not need to take any special security measuers. People are warm and friendly and in the wilderness contacts are always welcome and people help each other out there. If you are about to stay in the outback /wilderness far away from any civilisation it s not a bad idea to have a gun with you, Grizzlies dont like surprises, and in general you should not go after them, some wear a bell to get heared by the bears, but it is not as in the past during gold rush, that you can easily get a gun, i wasn t able to get one and was very sad about that, as a local it should not be a problem but as a foreigner you can not get one easily nowadays, check the nearest police post or gunshop, they know about the specifics and rules. There is a good page about the Yukon-environment and many aspects for staying in the wilderness.
Health:
Canada is quite a clean country and your health will not suffer more than in other developed countries, as long as you dont go for adventures in the wilderness as are trekking, canoeing, hunting or others which require depending on the season very warm clothes, good boots, rain clothes etc in case of injuries while your stay in the outback you should have some first aid equpiment with you and a connection, mobile phone to reach the nearest help, mounted police and others. Have good maps with you, they have topgraphical maps of all regiones, and maybe a compass, no nowdays it s a "gps" for not to get lost.
Climate:
Moderate in the south, moist along the west coast, and winters can get very cold as well there, the more you move north the more it gets very cold during winters and arctic far north.