by regions -
Parvati valley
Birds:
Hoopoe
(Wiedehopf, Upupa epops) In India seen from Hampi to Uttarkhand near Almore uppar and HP Parvaty valley in the north. There near the apple trees ad half open fields with granite rocks. Wonderful bird, nicely colored with crest and during flight more catching by white spots on wings than on ground, kind og butterly like flight.
In Europe rare, attentive and hiding, in some regions like central alpine vallies south nests get counted, found all over Eurasia in warm areas and parts of Africa. Hunts for insects near fruit carring trees, dry half open country with walls, ruins and rocks spread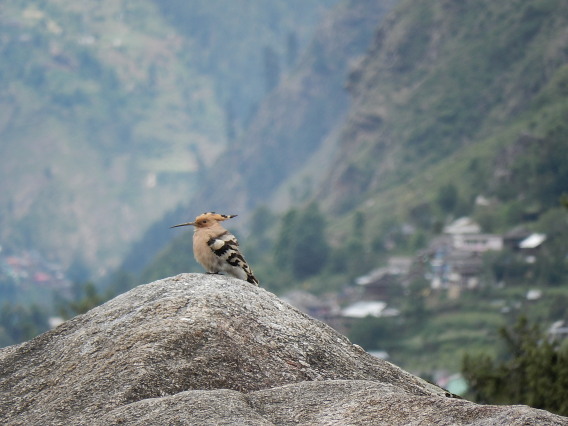 Bred 2002 in our garden and sometimes visiting late summers, nesting in holes of walls and trees, max. hole span of artifial nests should be max 5cm big in mid Europe. (Hoopoe, Kalga o17may)
Bulbuls, Crows, Bearded vultures late summers sometimes passing over daily, Peregrine falcons most powerfull and fast, Pariah kites lineatus phase (o17), occasioanally Plumheaded parakeets in small groups, Magpies yellow and redbilled, Hoopoes, Spotted nutcrackers, babblers, thrushes, a few species Woodpeckers, tits and more.
P. valley plants -
Cobra plant
A special and beautifull looking insect catching plant, long cuplike flycatch containers a bid looking like cobras when n attack mood, also growing in HP in the deodars but special groups discovered in region up from Kalga and further. Needs half shady locations exponated and warm, takes also harsh winters.
Datura - Stechapfel
Datura metel (indian datura) Metel is a strong growing datura, white standing trompete flowers, heavy smell and haircover on leaves, some varieties with stramonium mix. Exponated and hot, not too dry locations. Bread over years in pots.
Subtropical climate from HP India to Kerala, found in Goa at sunny streetsides, villages n the more. Some women don t like the plant cause of its agressive smell
Datura stramonium, (mexican stechapfel) light green leafes bushy up to 1,5 m, needs sunny dry exponated locations. Can also be found in mid Europe at sunny exponated gravel grounds, dump sites nd the more, in HP India also in lower Parvaty valley near Jari.
Gets used during ceremonies by mexican native indians, halluzinogenic and can drown the body nicely if used moderatly. Bred forms can get shopped as Engelstrompete, white hanging flowers by long crossbreeding. In India many forms from north in pink mixes to white stramonium, near Munnar (Kerala) huge hanging white trompets.
Datura gallery
Useable
plants like maize (corn), potatoes, mint at wet areas in Parvaty valley.
Brunnenkresse
tasty, in small water streams, has its litle sister in mid Europe at same biotops. Hemp (canabis) in many nice variations.
I can imagine trying Heidelbeeren (blueberries) growing in moorlike moist biotops up there (Deodar zone), half shade, uppar valley, good for marmelade, cakes and anti bad stomach.
Strawberries
wild tiny ones in above Deodar zone, flowering may o17 in same region over Kalga (tuut in hebrew), both look a bid suspiciouse to me up there.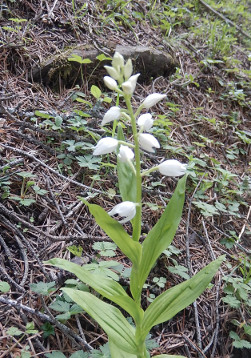 Waldvoegelein weiss
only once in himalayan conivere zone at over 2000m, is of the orchids. Have in garden the wild rose one, rare specie with interesting locations the rose one, half shady locations.
Trees
like oaks, deodar (himal. cedar) holy with very good smelling seeds, huge himal coniferes (Himal Kiefern), further up Ulmen, barches, med high rododendhrons covering ground at tree line and Eiben in high alpine woodmoores.
Climate:
Special about the climate is that uppar valley the way to Thwak Debasa, Kullu Kango via Keerganga into Pin valley (Spiti) you get from the green and moist zones with woods out into the rain shadow, the high altitude mountain desert zone, the reign of the Snow Leopard who has a big territory and like to roam it much.
I want to make Kalga great
not by a strange huge dam pretending to be a hydel power station,
I want to make Kalga great by great harvests, by succes and profits
It s the region close to the Snow Leopard on way to Malana from Kalga and to Spiti, the land of the gods, changing weathers, snow,
rains and sun in mixed mountain moods.
I want to make Kalga great, not by small strawberries somewhere up hidden in the woods, but sometimes sunflowers and tagetes. Not by a single white Waldvoegelein standing up in the woods, but by fields, crops and success, by nice fireplaces and the sauna (at Researches) for winters on way
to Keerganga. (alt 2000m)
On the vallies
Rocks n waters
,
Valley gallery
,
Touri infos
or
P valley story
and
Maps
(trekking)
Kosi river
Nicotina kumaoni
Growing up to 1,2m, typical tobacco leaves but not that huge like Virginia, which leaves can cover half cycles, lovely small bellike flowers, in mixed colors, white to light rose blue nice flavor, strong plant which grows at sunny to half shady locations, also near river beaches, flowering from april-okt triggered by daylight timespan, top secret project, but grows anywhere in some himalayan vallies like Kosi river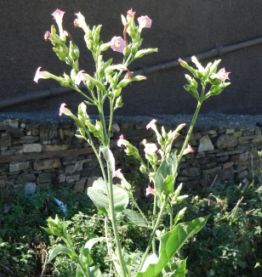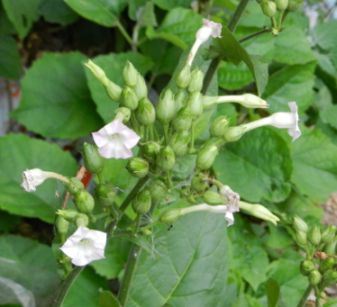 Ipomea kumaoni
(Trichterwinde) dark blue climbing up exponated sunny walls, rel. humid substrat, not too dry, in Himalayas, HP, Uttarkhand.in and Nepal (Naudanda), alt 1600m - 2400m
Others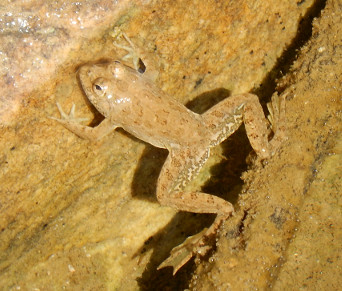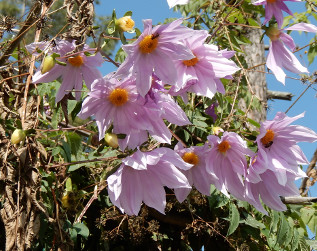 A frog from Kosi river and the socalled Pijama plant, half bush half flower depending on cut of branches. Snakes seen, 3 times Comon Indian Ratsnake and a big snakeskin near the river.
Birds -
Shortoed snakeeagles performing close over hills, Honey buzzards, vultures as Whiterumped and sometimes joined by kings vulture usually sailing during noon termics. Bulbuls, greywinged blackbirds, djungle babblers, comon mynas, Redrumped and wiretailed swallows,
skymaster family
and the
Great Kosi river galleries
Dharamsala - Dhauladar range
Fauna -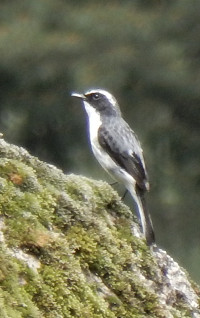 Some years ago heard a barking deer over Dharamkot, near the moist wood areas, some mt djungle fowl taking off, Skinks seen near water tank (Vipassana center)
Birds -
Verditer flycatchers in deodars, 3 kind of vultures also Bearded vultures sometimes high up once also getting down to Mc Leod level during late autumns at veranda seen from restaurants.
Bulbuls, yellow and red billed Blue Magpies, at nallas Redstarts, crows, Great Barbets often by sound, Oriental Hobbies, once even togather in typical sunset take off performance at Dharamkot, Hoopoes,
Plants found in Himachal pradesh -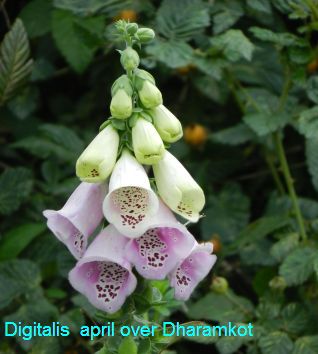 Digitalis
(roter Fingerhut) at Dharamkot sunny warm locations.
Trees
as deodar, larchs, Rhododendron trees, flowering april in the highs, infos below.
Nachtschatten Stechblatt
growing in northern India, dry Himalayan slopes and streetlines, sunny and exponated, fruits yellow-green balls when ripe, max 3cm of size, Leafes rough with huge thorns compared to leafesize, dont know its scientific name but that its of the Nachtschatten family, once bred in garden.at.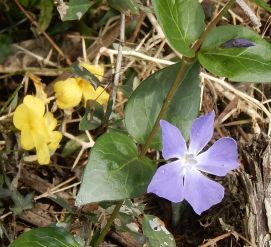 Vinca minor
the wild ind. growing over Mc Leod Ganj not far from the water tank in the deodars, the smaller one a bid smaller in the garden wild (Immergrün) Also Immergrün in german, vinca minor, growing in Himalayas from 2000- 2300m alt Humid and shady places, surface covering, nice dark blue flowers. (dissapeared in large over winter 014-015 near gardens alpinum, but strangly enough seen at gemein-des hauptplatzl, villags main square at wrong location ... dry and exponated near parking lots disgusting, unappropriate ...) and by the way mums preferd color "-green" (evergreen in english)
Woods - Trees
Impressing are the Deodars, holy himal Cedar woods, partly mixed with Rhododendron.
Deodars can be reached from Mc Leod Ganj which is at the mixed Pine wood level changing to Deodars at the hight of Dharamkot (2200 m), it s seeds have a good smell from its oily liquids, tried to grow some back to the alps once but not that easy to get them start growing. The trees are mostly shade spending, can also be found in Parvaty valley around Kasol on way to Manikaran and regions alike in HP.
Further up from Dharamkot in the more open and dry Rhododendron trees can be found, flowering during April in big dark red butts. And more upwards the way to the tree line at about 2700 in the Dhauladar range huge Coniveres can be found often yet in the snow after winters while below much is flowering allready (mar-apr), part of
this gallery
Dharamsala touri infos
and
gallery
Mixed exotic plants
Camassia - Quamash
Wild flower of the northwestern praries (USA - Canada) once used by the native americans as food (roots), don t mix with similar looking poison specie. It got mostly collected during flowering times. Rare to find in plant shops in Europe. Amsterdam and Hamburg possible
gallery
Peyote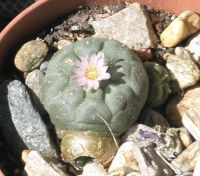 (lophophora williamsi) rare stonelike cacti, dry and hot locations, gets used by the mexican native people since ages, buttons of dried plant, strong Halluzinoid, take with care.
Trichocereus pachanoi
also named Peruvian torch, high getting cacti from the peruvian Andes, put to garage during european winters, grows about 35 cm a year when young
halluzinogenic, boil for some while.
Asian Lotos
Infos at
waterplants
with Waterlilies and more,
gallery
From the garden
Mammals:
Deer sometimes passing through, rarely a fox, iltis, stonemartens,
hedgehogs (oestl. Wanderigel) and woodmice.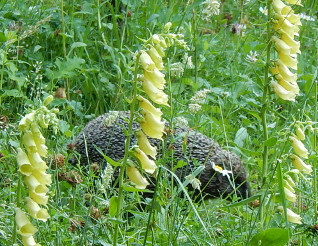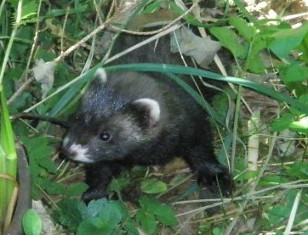 from left oestl. Wanderigel (eastern hedgehog) and Iltis (bigger marten)
Birds:
as a few species tits (Kohlm, Blaum, Schwanzmeisen, Tannen, Sumpf) Nuthatches (Kleiber), Hoopoes (Wiedhopfe, bred 2oo2 in garden) Eurasian jay (Eichelhaeher), Hawks rarely showing up for short overhead, Sparrow hawks (Sperber), upper peak ranges Golden eagles, as woodpeckers Schwarzspecht, Buntspecht, owls as Waldkauze, and once the Eagle owls breeding in uppar cliffs in valley.
Amphibes reptiles:
Feuersalamander, Grasfroesche, Erdkroeten once also Laubfroesche lat 90s.
Aeskulapnatter:
The nice long Aeskulapnatter which is bigest snake of Europe, gets up to 2m long, spent some 2hrs with me 2014 autumn for good bye under the walnut tree, sometimes she moves into birdnests.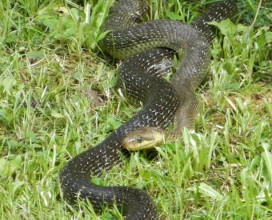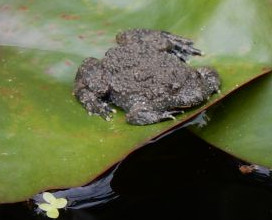 Äskulapnatter and Gelbbauchunke in garden
Insects
as dragonflies (Fruehe Azurjungfern, Blaugr.Mosaikjungfern, Plattbauch, sometime Anax imperator europes bigest dragonfly,) Laufkaefer, Hirschkaefer, Rosenkaefer, Sandlaufkaefer, Gelbrandkaefer in pond,
dragonfly meta
gallery
Institute 4 Applicable Kompetence
- GOT CLOSED FINISHED FOR THE ORGANISATION ... !
... mehrsprachige Ortstafeln)
Indian-birds
Ponds
Waterplants
Science-pics
Dir_5
weblinks -
www.Raupe-schmetterling.de
www.Insektenbox.de
www.Trichocereus.com
www.libellenwissen.de
monsterpage under progress - copyright©H.Schuetz