Chapora - Goa english deutsch
Infos - Restaurants -
Beaches
- Panorama
A small village in
Goa/ India
, my preferd place for consuming fruit juices and for enjoying the mix of indian culture and "freak-scene", during the season (dez-feb) the village gets very very busy, specially during afternoons and nights, then you find all kind of people, from locals, fishermen, freaks, travellers, Russians, Israelis and many other partly on their big and small bikes. At start and end of the season it gets more quiet and relaxed and during monsoon season (june-sept) nobody of the foreigners is here, you can really count them then on one hand from my experience 2006.
The
nearest beaches
are main Vagator beach, small Vagator (once Tel Aviv and Spagetthi beach) and Anjuna beach (3km away, map at end of chapter). To the north across the new bridge you find Morgim and Asvem beach. Nearest train station is Thivim (about 15km from Chapora, map below) and the closest bigger city with a nice mixed typical market is Mapusa (also Mapsa, 9km away from coast) in the north of Goa.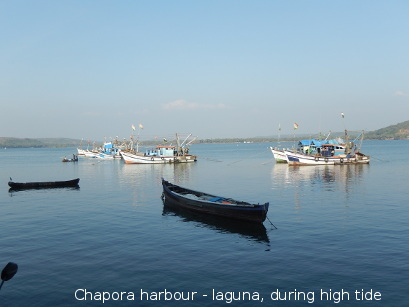 In backside to the coast there is Fort Chapora, built 1717, the walls are relicts of colonial times, made by the Portugese, from here you have an excellent view to the north, across the Chapora bay, and to the south. The hill is habitat of the Peafowl, you can also watch Brahmin kites and harriers in the sky, sometimes Oriols, and during the Monsoon season the Grey Hornbills, which are roaming around in small groups then, at Chapora bay you can watch Kingfishers, Herons, Seagulls, and rarely even the Osprey.
The preciouse vilage has as well a small fisher harbour, very nice to see, during low tide big parts of the bay lay dry, and at special times the locals collect shells for food, locals move as well in massive wood canoes (canoe gallery at end of chapter).
The village is a mixture of Portugese and Hindu elements, some Temple gets actually renovated (2010) and at central location in the village you find a huge tree with a small platform to rest, smoke, play cards or just observe from all kind of more or less wild looking foreigners, Indians and locals. At the trees plattform you ve to take off shoes. In the villages center you find as well many guest houses and restaurants, which get frequented mostly during evenings and at night and ...
... the more you search and look around you may even find
the sanctum sanctorum
the Lake
covered with Waterhyazinths, strolling Pheasanttailed Jacanas, Herons, Kingfishers and sometimes you may even see the Tiger, me resting in the shade under the huge old trees covered with lianes ...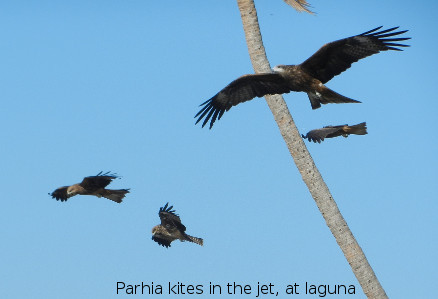 Restaurants
nice traditional or family run:
Mango Shade (SA),
Scarlett (C), Good place(C), Rameshs(SA),
Naz Lavis(SA), Blue Tao(A), Zooris(A),
Signs:
A- Anjuna,
C- Chapora,
SA- South Anjuna,
V- Vagator
Shut down once hot locations:
Roberts place (Israeli embassy), Primrose, Sharewood ...
Travel-Diary entry (2013):
"Antonia Vargas da Souza got a new Sab-sabji-Mash-mashine (all veg mash mashine) by my guest-house-rent, and the new sab-sabji-masher works very fast and smart, - bohut adja hei (well), sometimes AVd Souza is just using it before 6 oclock in da morning, 2 early !"
Beaches of Goa - Straende
Anjuna, Baga,
Calangute, Candolim
Big and small Vagator, Palolem
Panorama scrollie
Copyright©Hub.Schuetz (reg.ptn239, 12.03.2016)
Biotop infos
,
Chapora map
,
G.critics
,
Goa freak
,
Beaches- rlwy.stns map
,
Wood canoe
Parvati valley part of HP/ english deutsch
The Parvati valley runs from west to east and is a side valley from the Kullu valley, all part of the state Himachal Pradesh, many visit the PV on the way to Manali via Kullu.
The entrance to the valley lays near Bhuntar, some little kilometers south of Kullu.
Bhuntar
is a bigger village with a small Bazar-street and even has an airport. From here you move by bus or jeep into the famouse valley, the first main village is
Jari
, here you find some guest houses, restaurants, a liquor and a chai shop.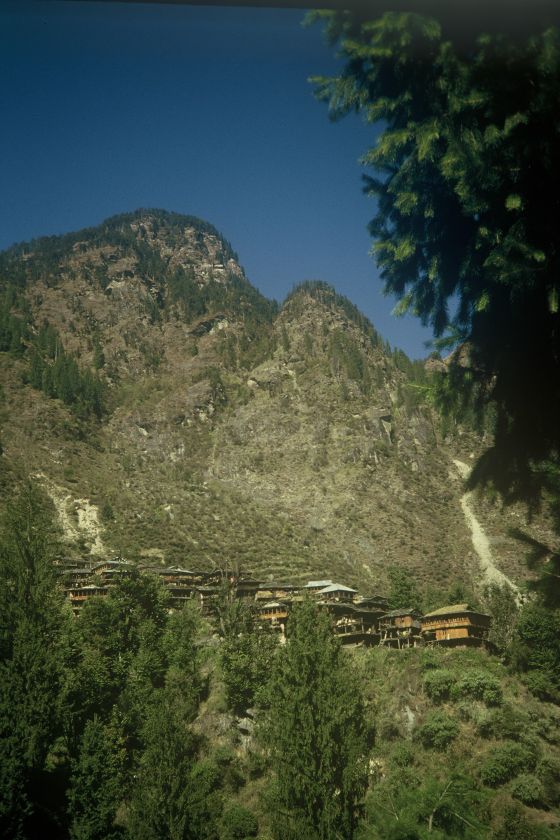 Once i staied in Jari for some days on the way with my mountain bike. From here you can move the way to
Malana
pic
, this village is well known for its fine Charas (Malana Cream), as well for it s old democratic system and people say from Malana that it has its origin in Alexander the Great, the people speak another language, not related to the local ones, and also look a bid different. Houses are made of wood and stone here and have a special look. The last years the houses got covered with metall roofs, instead of stone plates, which got possible by the big incomes with Charas. Today a small road leads into the valley to the newly built Hydro power station, from where you have a steep climb up to the village, about 2 hours hike. The area is good for trekking (Chanderkhani Pass the way to
Nagar
) and everywhere in the surrounding you find the Charas fields. For some the ideal location but also the landscape is very attracting. In the village itself it s not allowed for foreigners to touch the houses or the locals, and in case you pass each other on the newly paved paths children jump aside in kind of panic which does the village a strange atmosphere, and robs it a bid of its beauty. You can feel as a real stranger and taking pictures is not allowed as well, in case you get cought by doing so a high fine is asked to be paied, so take care (
offsite Malana infos
)
From Jari you get further to
Kasol
, a village which changed a lot during the last 15 years, from a sleepy small place to a busy tourist destination wher you meet travellers, packbackers, hippies, freaks and the more. You find cyber caffees here many guest houses, some of them can be rented at whole, and restaurants.
Little kilometers from Kasol you find
Manikaran
, a village famouse for its hot springs, a pilgrimage place for Hindus with temples and small shops, restaurants and some hotels and alsong the river a public bath with hot pools, once the entrance was for free, but that could have changed. The street was paved just up to Manikaran but for the Hydro power projects they did upvalley it got paved till the hight of
Pulga
, which lays on the other side of the valley, not far by foot.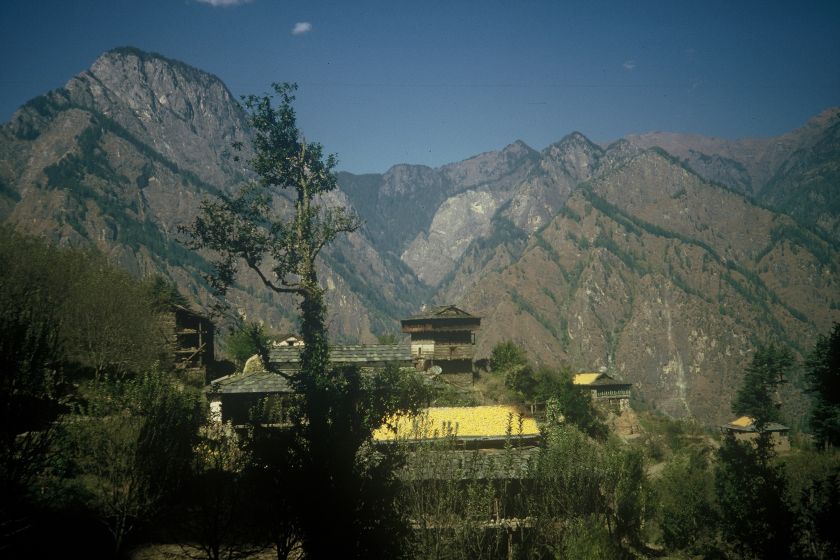 Pulga is a small village which gets supplied by an iron cage over the river. Here you meet freaks, packbackers, hippies, locals and others. Its even possible to watch the Hoopoe, a magnificant bird, and also small parrots. Not far from Pulga the next village is Kalga, where they had a damm under construction and it is still unfinished ... Usually stay in Kalga which is placed on a small plateau on top of the construction site.
From here or Tosh you can leave for
Keerganga
, hot baths close to the rain shadow regions of Spiti, which takes about half a day hiking. Men and women can take a bath in seperate pools, what is a pleasure after a long hike. Some shags for food are not very stilish, under plastic planes, some more craetive done, i liked the place for its natural surrounding, the cosy fire places, rare plant locations and the hot pools. The locals use mainly mules to have the stuff carried up there.
From Keerganga some trek the way up to Pin Parvati pass (Kulu Khango) and into the
Pin valley
(Spiti), what takes some days, i just went up to Kheerganga, in case you want to hike further dont do without a guide. You re entering the land of the Snow Leopard and Ibex till you reach the glacier regions, Mantalai, the Pin parvati pass, Kulu Khango and further into Spiti which is set allready on the Tibetan plateau via Pin valley.
PV gallery
PV map
India
stories
by locations
Spiti - Rangrik - Key gompa S p i t i - 2006
The same year of the Trishul trekk, 2006, I met by chance Mrs Wangmo in Keylong, they had a eeting there in a restaurant. She came to me and we had a short talk, after she introduced me to Lama Tashi. The next day we left for Rangrik, also named Munselling by Lama Tashi wo is, in Munselling, on way between Key Gompa and
Kaza
, the head of the local schools and more projects regarded. I got a big room, near the Lama, nice huge windows to see the rocky nd vast valley. we had some nice talks and i told him to put a Beamer in the Auditorium max. which was under construction (2006) at that time. He took me to Kaza and
Key Gompa
in his Jeep, passing through the rock desert valley at the tibetan plateau more than 4000m altitude.
I was roaming down to the riverbed the days along the fantastic sand and stone formations. , collected some prayer stones at the nearby walls in the fields, some of them i took to the room (free). Once i discovered some small fish in the flat river bed, trout zone, check
drawing here
. It was nice and strong days at more than 4000m alt.
Munselling-Rangrik can be reached from Manali side by Jeep via Rhotang La (opens end of march), a day journy or from Shimla Rekong-Peo side via district capital Kaza in the east. From Shimla with break in Rekong Peo (Kalp nearby) in 2 days up the Satluj river to Rekong Peo where you can see the tree line dissapearing, in the rain shadow, around the curve from up there in the steep rising vallies in changing rockdesert faces.
We got to Munselling via
Khunzum La
the highest pass of the region, which we reached at midnight ! Fantastic szenerie, preyer flags in the icecold midnight winds, the Stupa with candles. Later we reached the village in the night about 1,5 hrs later, not yet morning. Tired I got into a big room with bed, of which I got very surprised by its standard the next day.
Next days during some of my walks, at that altitude over 4000 m quite breathtaking with much lesss oxigen, in the river beds Akelei and Orchids (Knabenkraeuter) flowering at that time, june, of the year. The Spiti river bed was the only green part of the total valley, with willow trees and bushes close to the river, the rest vast, mostly in red color shining, rock, gravel and sand formations, fantastic. Allready at that time I discovered a small fish, in shallow shorewaters, somehow moving like a mudjumper near the clear cold underwater springs there. The way to the capitel Kaza you can sometimes see, during summers, some tourist campsites not far from the rive, which has deep basins with trouts and nice parts for swim there.
In the rocks in backside over Rangrik-Munselling there is a med sized Buddha statue in gold overlooking the schools and sport courts. I did a book with some drawings, ideas and plans which i left to the Lama, also with a glass house at southfront of on eof the schools where there was some place for plants allready. Rangrik has some nice stupas and is interesting for roaming the river bed and biotops regarding.
map of the region
at this page
,
India by locations
rang (hindi) - color
Trishul trekking
2006 i trekked along the foothills of the Trishul range which is one of Indias highest ranges in the Himalyas. On the way by bus there i staied some days in Chaukori, a small hillstation with excellent view on the Shivaliks with Nanda Devi, 7820m.
From there i took a Jeeptaxi further to Loharket, which takes about 2 hrs.
Loharketh
is a small village along the Satluj river placed near Trishul. Here i started my trek. The first day i went over tha path to
Dakhuri
2680m. The pass was in the woods and before some many zigzag wayies up the relatively steep ravine, where at the morning set some Himalayan griffons, vultures, who waited for the noon thermics there.The path was well to be followed yet. Dakhuri itself is a small group of food shags and a house in nice stile with inside fire place at the room where people could sleep on the floor, set at an alpine meadow. Along the way to one of the more famouse glaciers the Pindari glacier. My plan was to cross the comingdown streams from Trishul and get to Joshimat from east to west along the range.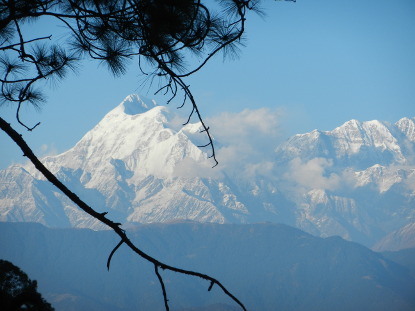 Joshimath the main big hillstation deep in the Gharwal himal not far from the chinese border, so to say a one day ride by pushbike up to Badrinath, takes about 4hrs. The next nights i spent in Sorang and Semdagarh which are small villages set in the Trishul foothills, after passing paddy fields, djunglelike woods, passes and streams. In one village i got into a group of old village men after the day.
The houses were made of wood and stone, partly nice colored and with balkonies even, wild childwren fooling around, some curiouse about this rare packpacker, and some cattle. After the day, reaching the village with the elders they gave me tea and showed me the room for guests in the village. Other villages were also in that stile and on way before reaching one during monsoon time i made myself a chickensoup in a templelike looking little shag with cooking stove. One night i spent under a cavestile rock close to the bridge crossing
Kali ganga
where i also had a chicken soup after the day of trekking.
Before the highest pass
Dunidhar
, which was over the treeline, maybe 3500, the only passage where i took a porter, up only, with whom i had breakfast in the morning at their house not far from Bedni Bugial. On top i gave him the agreed sum and proceeded alone on some winding ways broad enough as used by goat and people for years. But in case of a wrong step it was quite a way down if you start rolling maybe 1km. I got out to the open fields again where there were some heyhuts. For short I intended to make a fire, but as afternoon was long enough i proceeded downwards after a short break to the next village.
In the village i got into main square where some men were shouting around. Houses partly painted in blue and i got into the quite big school there for the night, close to walnut trees and paddy fields. As the wayies where often not too well marked to be followed i decided to move down to
Dewal
which was a long day trekk, about 25km along Kali Ganga2 downriver to Dewal where allready a nice and maybe freshly married couple did a walk. The same day at morning i got invited by 3 teachers for breakfast in their house which was fantastic, math, arts and bio, they had everything there, water, woods and the village but I had to leave finally.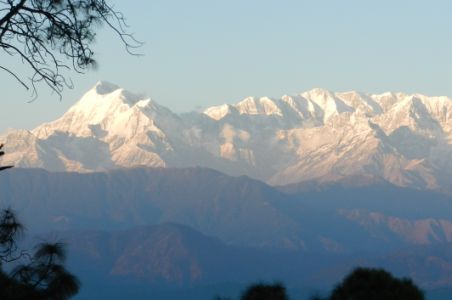 I rolled down the kilometers along the narrow valley and late afternoon i reached Dewal. Took a jeeptaxi along the Pindar river which had highwater at that time and around each single biger rock the powerfull waves and currents not be underestimated, quite deadly and of highest gear so to say. In the short breaks i jumped off the jeep and took some electrolites and vit. tubs, finally we reached Karanprayag where i spent the night.
map of trekk
I knew the region of years before when i did a cycle trip up to Badrinath at the millenium change. Coming doen then i went the route on cycle from Karanprayag to Kumaon with its fantastic Kosi valley, Corbett national park and the region around Almora and Kausani. Allready at that time i felt in love with The Koshi river and as on a cycle you don t miss too much and some love is forever.
The next day at Karanprayag I took a few jeeptaxies down the way to Rishikesh where I got a marble room for 100 paise by chance on the way, with balcony and sight on the powerfull Ganga. I was back. (july 2006)
Peak love
,
Gallery of the region
,
2x India
,
By locations
,
maps of India
,
National parks
updated may.o18