India
I have been to India many times from 1995 to 2015, i stopped counting, maybe 15 times,
last 2013-14, all togather maybe 6 years, 2006 i staied there for one year. So enjoy my stories travelling India -
winter 09-010
,
by cycle
(onpage),
Trishul trekk
(offpage) and
by locations
(offpage)
deutsch
My trip in India winter 2009/2010 gallery
Route
: Delhi -
Pushkar
-
Om Beach
-
Hampi
-
Goa
- Mumbai
I arrived in
Delhi
start of Dezember, staied there in the
famous Main Bazar also named
Pahar Ganj
(
map
), you can find what you need there, countless shops, hotels, guest houses, restaurants and food stores. It can be shocking for newcomers because of the dirt, you can still see cows roaming around in the streets of Pahgar Ganj, but is well known and wanted for its atmosphere by travellers, hippies and freaks. For me it s always enough to stay there for some days for acclimatising, during winter the climate gets moderate during days and in the night it can get quite fresh, during january it can get down to freezing point during the nights.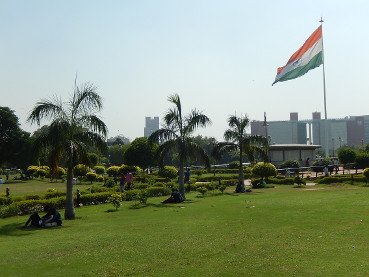 Not too far from Pahar Ganj/main bazar you can find the big
Jama Masjid
, the big Mosque, worth a vist, it gets closed for tourists during prayer times, this was the standard some years ago and maybe that changed till then. Also worth a visit is the area around the Parliament, India gate and the parks around parade road, as well as the famouse
Counnaught place
which is a huge round about placed around a park similar area and lawns for resting in the center, underground you find a market place for all kind of articles, digital equipment and the more. Around Counnaught place you find areas for shopping, bazars and markets.
After some days I left Delhi by train to
Pushkar
(
pic
) which is a good overnight trip, Pushkar is placed not far from Ajmer, a big city, in northeastern Rajasthan. Pushkar is famouse for the holy lake around which the village is placed, the temple dedicated to Brahma in India if not the only one, you can watch monkeys jumping around the bazar, cows, countless pigeons, even some pigs, camels, and kingfishers at the lakeside.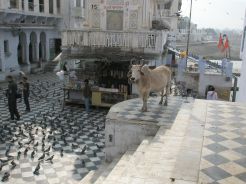 Sadly the lake was dried out during winter 2009/10 and it should be still in this condition, you only find some small lakes at the ghats reserved for the pilgrims, Pushkar is a Vegetarian only (veg only) place and usually you dont get alcoholics there as well, only at some special places you get it. During October the famouse Pushkar fair takes place, which i never attanded because of my fear of the hundred thousands of people, if not milliones. It is Indias largest camel fair and during that time prices for accomodation rise sharply.
You find nearly everything in the Bazar, from the veg marcet to Internet places, souvenirs, arts, restaurants, camal renting, even a small italian coffee shop and the more. After 2 weeks I left Pushkar and spent 2 days on bus and train heading to the south.
Om beach
(
pic
) was the destination, a good stretch of nice beach which is diparted by a small section of cliffs in the middle, all togather is formed as the Om sign, during season it s crowded now and you have to be lucky to find a place to stay, usually the more you walk on the beach away from the parking spot you get more lucky finding accomodation. early mornings the beach is nearly empty and during days you can hire boats to reach for Paradise and Half Moon beach further to the south. You can also hike there, it may take about 1 hour to the furthest place, Paradise beach, from Om beach. Om beach is an excellent area for watching kingfishers, i counted 3 different species some years ago, last time it was just the Pied kingfisher (
pic
) (Grauer Eisvogel in german), who you can see flieing out to the end of the cliffs even in pairs, or see them hunting near the rocks, standing in the sky waiting for the catch, quite impressing birds. For
Gokarna
hop down
Next station was
Hampi
where we got by bus, starting early in the morning from Gokarna, a pilgrim city, in walking distance from Om beach. Hampi was once a flurishing city and the capital of southern India at its time, inhabiting 500 000 people in the 16th century, now you find many old and magnificant temples spread around a few square kilometers, you can walk the area or do some sectiones by bicycle, you can find the old queens bath, the Elephant stables - quite impressiing; the old public bath also a very interesting structure, countless city and palace walls, temples on the hills surrounding the area, old Bazars, and huge temple areas worth a good visit. During the days it gets very hot and youd better not forget to take some liquids with you, the elephant stables are only possible to see with a ticket 500 rupees worth, once the stables were for free, but as the times changed you have to pay 500 now, as for the Taj Mahal, temples in Kajhurao and others. At some sights you get drinks and coconuts for refreshing. The village of Hampi where its possible to stay, placed within the ruins and temples, is small but nice and has its own atmosphere with monkeys, goats, cows etc roaming around.
Dont buy any food during sunset time on the hills from some locals as cookies or the more, police is up there during sunset and is watching for wired guys and activities, people are asked to leave the hills after sunset, which is usually impressing and shouldn t be missed.
Downstream you can have good walks, climbing around the rocks and find some temples here and there, even some stone carvings in the granite. If you are lucky you can watch the Hoopoe in the area of the ruins and hills,
Hoopoe
(nature obs. Wiedehopf), a very colourful bird with big crest.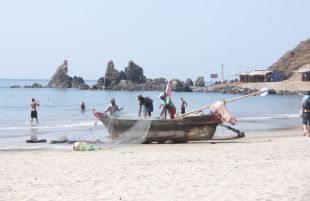 After about 2 weeks in Hampi which is a good time, we left by train for north
Goa
(
special infos
), not far from the main town in the north Mapsa (also Mapusa) from where you get to the famouse beaches Anjuna, Vagator, and the less famouse ones Morjim, Mandrem, Asvem and in the north Arambol, all worth a visit as well as the parties in Goa. Here I met old friends and visited my hidden spots and locationes which get less and less hidden over the years.
Chapora
a small village, one of the main meeting and freak places during the season and worth a short visit (only for most). During Monsoon season there are usually no foreign tourists there, the Monsoon very strong and by its own a special experience. The old Portugese Fort Chapora (
pic
) is also worth a visit for the view you get from there, what is left of the Fort is just the outer walls which are also good to climb on.
On the hills, if you re lucky, you can see the beautiful Indian Monarch butterfly, red with white stripe, around monsoon and even before rarely.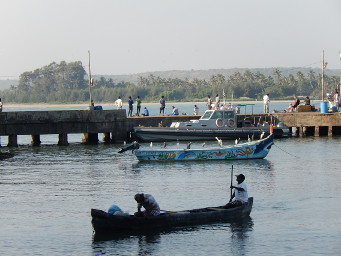 What is sad about the
parties
is that they end playing at 10.00 pm since a couple of years, once they played till morning and sometimes over 2 days .... Yet good party locationes are named Hilltop, sometimes one at Magic Forest, and rarely parties at White rock, Disco valley, Dragon house and the more. You get the infos about the parties mainly by fliers the day before and chatting with people on it. Motto - Open ears, open eyes !
The
birds
of prey you commonly see in Goa are usually Kites, Black kite, Brahmin kite and the more, you can watch kingfishers at Chapora bay, twice I ve seen an Osprey which more rarely check the Laguna for catch. Seagulls, Woodpeckers, wild Peacocks around the hills, Grey Hornbills roaming in small groups during monsoon, the more Oriols (Pirol) and the Ultimate Skymaster the Whitebellied Seaeagle, check links at end of chapter. Snake encounters of Goa can be found at science research page.
Got stuck in Goa for more than one month and left by Mumbai, where you can take daily trains and buses to from Goa (Pernem, Thivim, Karmali, Margao rlwy stations), buses from Mapusa and trains from Thivim station. If you stay in Arambol you can take the train from Pernem station.
more infos
Seaeagle
Indian maps
Goa freak
North India on cycle 1999-2000
Route
: Delhi - Mc Leod Ganj - Manali - Parvati valley - Haridwar - Rishikesh - Badrinath - Gwaldam - Kausani - Almora - Corbett - Delhi // Varanasi - Bodh Gaya - Delhi - Goa
Equipment: my sweet mountain bike (
pic
), not the most expansive one but a good one, sleeping bag, small tent, spare parts for the cycle, water bottle, first aid, cloths.
I started in Delhi and went from there by bus, the cycle was on the roof of the bus, to
Mc Leod Ganj
, (
map
, a very nice hill station at the slopes of the Himalayas, from where you can do trekks, i never did one from there, just hiking in the woods surrounding
Mac Leod Ganj
. Mac Leod Ganj is well known for the tibetan community which is located there, since their flight from Tibet, and the surrounding areas and villages. His holiness the
Dalai Lama
, as head of the Tibetan community , is as well living there. You find the main monastery there with praying wheels and greatly decorated buddhist halls.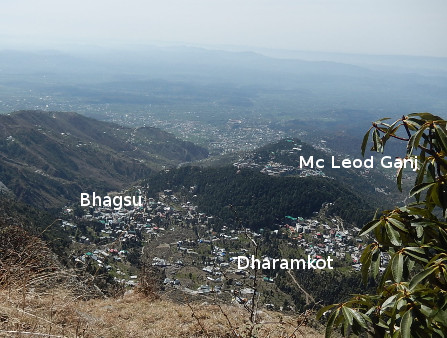 On the other side in the woods up the slope from Mc Leod Ganj you find the Vipassana center and Tushitas place, a buddhist teaching place with stupas and a library, Mc Leod -
streetmap
.
The area around you find other nice villages, once very calm and easy going, nowadays more busy of foreign and indian tourists, as
Dharamkot
and Bhagsu, both in walking distance from Mc Leod Ganj, the woods around the villages are of Deodar, the holy Himalaya cedar and Rhododendron trees, you can even find buddhist places of worship and prayer within the woods at some exponated points and rocks with prayer flags.
In Bhagsu you find a traditional public bath (is gone since 016) and further backside the way to the river you get to the waterfall. The area is beautiful to hike and even trekk up the peaks with guides and mule to carry your luggage.
I took the cycle on the bus for that part from Mc Leod Ganj to
Manali
in upper Kulu vally from where i started my trip. The next day on cycle down the valley to Bunthar, along the old street, sooo beautiful on left side of Beas river downvalley, and up from Bunthar into the famouse Parvati valley, (more infos in
german
or
english
, Parvaty valley
-map
) all togather the way from Manali to the top end of the street, Birshani village, in the Parvati valley where you pass Kasol, which became a freak and Israeli hangout, after Kasol along the street you rach
Manikaran
the hot spring village, which is a pilgrimage spot for Hindus, it takes about two days only, not much but good enough for a start in the Himalayas by cycle.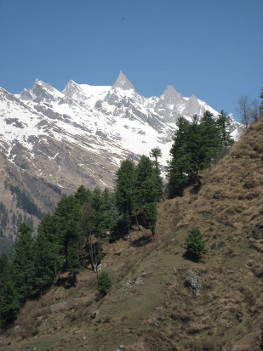 Relaxed places in the upper
Parvati valley
are Pulga (freak hangout), Kalga, Keerganga (hot springs) and
Malana
(
pic
,
map
) which you reach from Jari, mid valley. Once the street up from Manikaran was not paved and a good trip with the mountain bike, now its less adventurouse, the street got paved and some Hydro power projects (
new map
) as on the way to Malana (Malana power project) and at Kalga (Nakthan dam,) do the valley a strange effect. Last time - 2006, the project at Jari was nearly finished and the dam near Nakthan under construction.
Some people say the Parvati valley is dangerouse, from my experience I can say that it s not dangerouse as long as you do not engage with wired people and do trekking without guides, or take drugs at the wrong place, at the wrong time with the wrong people. Many travel the Parvati valley to get a good puff of Charas
infos
, what is easily possible, many locals sell it during harvest season which is during September- October, in the south of India you get Ganja what is identic with weed or Marihuana.
Parvaty gallery
I left by bus for Haridwar, "the gate to the gods" with a fascinatig area along the river -the ghats which is usually very crowded during the day, early mornings are nice there, from where I started my cycle trip, about 25km up to
Rishikesh
(
map
) where the river Ganga is coming out of the Himalayas and is doing his first smooth moves, it s also possible to raft on the Ganga and camp on its banks upriver.
Rishikesh is a well known place of worship for Hindus and tourists who participate in all kind of teachings, yoga, meditation, you find some ashrams there and it s a good place to observe the indian traditiones and worshippers, you can see Sadhus, the indian holy men, maybe you find your guru there as the Beatles did. I like it for its atmosphere along the river, you can even swim in the Ganga but should respect the indian traditiones, some few hundred meters up the river there is a sand bank where it s possible to swim in the river, on the right side when you look up the river. Monkeys are as well climbing around at the bridge called Laxman jhula (revisited 013- 017)
After some days in Rishikesh i started moving closer to the high peaks by cycle
map
, the trip along the river Ganga which gets named Yatra in hindi, means travel or pilgrimage, which is done by many Hindus and Sadhus. The region upriver in the high altitude peaks and river sources is named
Dev Bumi
- "the land of the gods". So I started moving into the land of the gods, what is not an exaggeration, it s the best i ve done in my life till now.
Up from Rishikesh you can reach the Panch Kedars (5 Kedars), each place is set with temples and shrines, sometimes a small village nearby and each located at the sources of the holy Ganga. Famouse pilgrim locations for Hindus and also hardcore Sadhus who exercise along the chilling streams and snow. I chose
Badrinath
as my final uphill destination at over 3000 meters. So i was starting to cycle only uphill for days.....a strong exercise.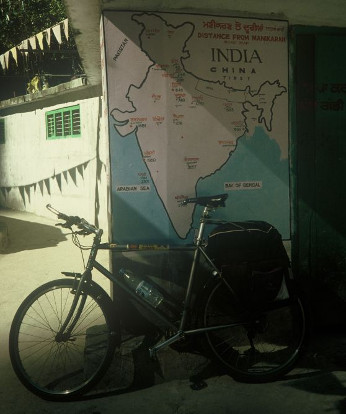 Following are the places where i staied overnight, always a good day trip in between, chronologically - Devaprayag, Rudraprayag, Karnaprayag, Pipalkoti, Joshimat (
pic
from top of Joshimat, cablecar), Badrinath
pic
(3096m), guest houses along way are partly run by government for the yatris (pilgrims), by the name "Garhwal Mandal Vikas Nigam" (GMVN), I was there off season in November, so it was cheaper and I was often the only one in the big dormitories, sometimes with 20 beds all in white. During peak season its more costly. On the way up from Srinagar to Rudraprayag I was able to watch Bearded vultures,
Skymaster
page, along way which is quite impressing, the huge black shadow moving over the steep ravines and then you spot the Bearded one, on the other side of the valley and also seen years before at Mc Leod Ganj from the reste veranda sometimes (00-06).
I reached Badrinath from Joshimat, 25 km very uphill, staied there overnight near the hot springs and left the next day back to Joshimat. The following days I was cycling downhill only, very easy, and later followed the way up to Gwaldam with a good view on the higest peakin India the great Nanda Devi (
pic
7820m) further to
Kausani
from where you have a great view on the Trishul range
pic
(
map of trekk
close to Trishul 2006). The next places in the
Kumaon
region were Almora, a nice city as a hill station with a University, Raniketh (1829m), Ramnagar not far from Corbett National park and from the mountains back to Delhi which I wanted to do in 3 days, what was no problem on cycle I liked the welcome
sign
before Delhi from the police at the highway.
gallery
total-route-map
more places out of story
(alphabetically)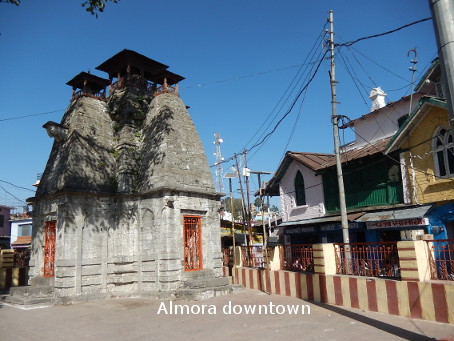 Almora:
revisited the city apr.017, the surrounding locations and hills are of enchanting grace and some places special to watch Tawny eagles, only for bilogists who know their needs, Eagle Owls more close to the Kosi, you can do nice hikes and trekks and maybe a swim not far from the porcupine quills on close hills, check for a mayby saken grave or old overgrown stupa n bewteen Kosi dam and the city.
vicinity map
here
Bimbhetka:
world heritage monument, rock shelters with cave paintings which date back the
oldest ones 15 000 years, differing by color in black, white and red, showing animals, hunters and symbols. Some one or two hours by bus from Bhopal.
Bhopal:
The capitel of Madya Pradesh, a huge city spread around the hills of central north India, set around 2 big lakes, with the old town, new city, university campuses, parks and lakesides. Also one of Asias largest Jama Masjids there, but not as busy as the one in Delhi.
Bodh Gaya:
The place where Buddha got enlightened. I was there during the Dalai Lamas teaching over the milleniums change 99/00, a very intense and impressing time, the teachings got translated into many languages and people could follow by listening to walky talkies, we all sat under a huge bamboo tent, chai /tea got served and the techings and ceremonies were very special. Usually every winter many exile Tibetans travel there during winter and listen to the
Dalai Lamas
teachings. Bodh Gaya is not a big place just a small village with the temple complex, hostels and hotels and the water tank and park. Mahabodhi temple gets circumambulated clockwise during special hours of the day by many Buddhists and pilgrims, nearby is a water tank with the Buddha statue in the center waterlilies and fish inside, a good place to rest. There are many guest houses for the different nationalities from around the world to house the visitors, Buddhists and prayers. I stayed at the Burmese vihar one of the well known ones, with rooms and dorms.
Mahabodhi Temple
picture
Bunthar:
find with
Manali below
Chandigarh:
A huge city set in the north of Delhi, a quite untypical indian city with big streets, cycle and pedestrian zones, squares and roundabouts, planned in 60s. Hot and organised like somewhere between Monza and Marseille, many of its parts along streets have yet much space for building. It has one of the worlds bigest busstations by numbers of busses and platforms, but heading to Dharamsala HP and further you need to take the busses from new bus stand, which is just 20 min away. In the city you find Picadilly, shops and Bird park, I had once a laptop repaired there. It got planned during the 60s and worth a visit either here, there or for the Bird park. In reach by car or bus are big cities like Ambala and Saharanpur.
Chaukori
:on my way for Trekking at Mount Trishul i stayed some days at Chaukori, met a nice big indian family there, had breakfast togather and i found a wonderful old Tea-estate, kind of farmhouse with
great view
on the Nandas (Shivaliks all over 5000m)
Dwarahat:
A beautifull nice med sized village in the dry enchanting hills between Kausani, Raniketh Almora in Uttarkhand. It has astonishing well maintained Temples in good shape between more younger houses around. One of its temples is the court which is impressing some 10 min from center up. The main temple named Gurj Devi is done with attractive and very inspiring temple figures, not too big but a bid reminding to Kajuraho, hot sharp and sexy dating back to 12 th century. But not set in djunglelike habitat as Kajuraho far more south. Dwarahat is at 1600m alt and streets are winding up there passing pine woods and Leopard country. You can find flowers like Agaves, Opuntia cacti, Ipomea, Hemp, Bananas, Grapes, Citrus fruits etc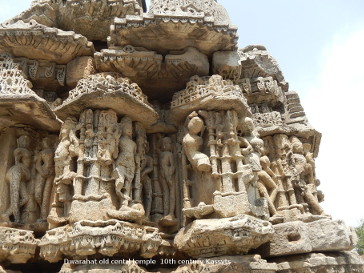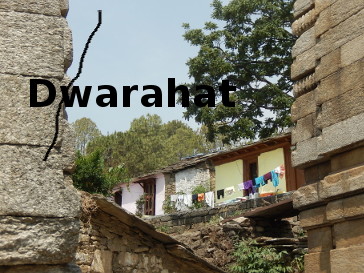 Ellora:
world heritage monument, the famouse caves not far from the city Aurangabad some 350 hundred kilometers northeast of Mumbay, huge temple caves carved out of the mountain, fantastic structures, some are of hindu less of buddhist origin. Cave Nr 32- 34 are also interesting, also worlds biggest Monolithe is there. Ellora
bird infos
and
gallery
Gokarna:
A big quite interesting village set along the coast south of Goa. It has an interesting mix of old houses and temples, partly renovated, a water tank a bid hidden off the villages center, some small shops and restaurants and is the main hub to Om beach, Kutli, Half Moon, Paradise and Gokarna beach itself, some surfers there. About 15min to Om and Kutli beach by car or rikshaw from the village. Gokarna can be reached from Panjim (Goa capital) via Ankola by bus (3hrs) or by train from Margao to Karwar (1hrs) or Margao to Gokarna road by local train, or from far south Ernakulam-Cochin by train (8-11hrs)
Jaipur:
also called "the Pink City" after the many blue painted houses, the capital of Rajasthan and one of the worlds main places for cutting and trading gems.
Jaisalmer:
very interesting medium sized city in the desert close to Pakistan, with huge fort on top, there palace stile posh guest houses, narrow shade spending roads, nice painted desert houses in periphery of the city, wonderful water tank with palace stile small towers
Mahabalipuram:
world heritage monument, the
five pagodas
, placed some 2 or 3 hours bus drive south of Chennai (former Madras) in Tamil Nadu. Mahabalipuram became quite a big and crowded village over the last 15 years. In the rock hills, smooth granite rocks you find caves, temples and carvings all worth a visit and little bid further south of the village you find the famouse five pagodas, of which it is saied thet they are prototypes of Indian temple stile in southern India.
Manali - Bunthar:
the best of locations for honey moon, groovie movie, hikes and drives, swims in Beas river are chilling and bath not allowed, take care, Beas is good for rafting, take security with full helmet and life jacket. Meet a Kali for modern laundring or fun in the sun. Some beaches like as Kalga beach in Parvati valley are not too big but nothing can happen if want to take sun near that beach of a stretch. Got revisited o17 and its of enchanting with breathtaking views, alt at 1700m.
Bunthar is on way from Mandi to Manali, a nice small town along the Beas. From there you get into the Parvaty valley, it has also an aerport. During season buses leave at evenings the way to Delhi and Chandigar. It has a small nice marcet and bazar, on other side crossing the suspension bridge for pedestrians you can find narrow roads and nice gardens with privae houses. As the town has an aerport in soem hotels service tax needs t be paied, which changed o17, as some newspapers told, now you do not need to pay it any more. Fruits get sold along Kullu valley main street like apricoats, cherries and others during warm season, deliciouse. Once arriving with mum midnight in Bunthars dark streets after a long ride in gov. bus coming from Chandigar on way from Rishikesh, both of us very tired but still fit, it was nice next day to enter Parvati valley and having breakfast in Kasol. Between Bunthar and Manali you find the district capitel Kullu, a spread around and busy town with bus stand, marcet and more, not so famouse as Manali or Bunthar.

View north the way to Spiti over Rothang la from Manali
Mumbai :
The huge well known metropoli along Indias westcoast. Big streets, busses, cars trucks and all what you can imagine streets can take, also Dabba wallas on cycles. The long Marine drive and pear to relax in the brise along the sea, not far from banking, stocks, headquarters, hotels and more. In downtown two main train stations, taking a few milion poeple every day, Chatrapatty Shivaji and Central station (once Victoria and Churchgate), but many more. To aerport calculate about 1 hrs depending on daytime and traffic, which can be heavy.
It has many different quarters of diverse charcter and even a National park with Leopards, the worlds only nat. park in a metropoly alike. Many meet at India gate and surrounding areas which are nice for walks also, In center are huge maidans, open fields where they play cricket during people rest in shade aside. Mum and me can strongly recomend sugarcane juice, also for Goa which is about 10 hrs south by train or bus. A huge megacity and not unfriendly, interesting and not dangerouse, here and there by traffic, bargaining is part of business as usual, the city is an adventure nicely calculated and its diversity and many faces inviting. Got visited many times.
Munnar:
A busy small touristic town set in the Nilgiris at 1600m surrounded with partly djungle covered hills but mostly tea plantations. Mid of december is peak flowering season, so short before peak tourist time over xmas and newyear myriads of flowers, also lemongrass on some hills, are blossoming. Munnar has big hotels of the uppar category, many shops for getting spices,also local coffe, variouse sorts of tea from local tea plantations, also chocolate in many shops and Eukalyptus oil. In Munnar you can book tours for trekking or to national parks of the region like Eravikulam (Nilgiri Thar) and tourist spot trips like to djungle flower garden, Madupetty dam, Tea museum (20min by foot) and Top slip, also old Munnar should be worth a visit. Madupetty lake (30min by car, bus from Munnar) is great, set in tea hills and partly with secondary djungle, I saw a Muntjac, Flameback, big colorful Woodpecker and more in variouse moods and great changes of color and light. From Munnar you can do nice walks in the hills around. The hillcity of the Nilgiris can be reached from Thekkady in Kerala by buses or jeep in roughly 2 hours or from Tamil Nadu side either Madurai or a closer town in about 4-6 hrs on partly high up winding hillsnake road in tea hills (dec 015).
gallery
Mysore:
A medium sized city in southwest Karnataka, once the seat of Tipu Sultan, hated by the British during colonial times. Well organized with streets in squares, a very nice big vegetable and fruit marcet, big Post office, and all kind of shops from small to big and modern, also selling digital equipment. Mysore has a well organized big bus stand with small retstaurants and food selling shops. Mysore can be reached from Bangalore (2hrs by car, bus; Bangaluru) or from Kalpetta in Kerala (approx. 6hrs by car, bus, partly steep winding road) through Bandipur Nat. park (Tigers) on Karnataka side (end 015
gallery
)
Orcha:
nice village sat in middle of a nice river, little touritstic with fantastic huge old temples and an old Maharaj Palace (wall paintings, fortified gate ...)
Parvati valley:
infos in
german
or
english
Sanchi:
world heritage monument, a special place of architecture and worship of buddhist origin. Set on a small hill, specially formed and carved Stupas with partly big gates, also carved, on the hill, The Stupas in all sizes from small to big, also Buddhas in stone near the ruins of the monastary with water tank not far, all on top of the hill, good for nice walks. To be found somewhere out there in the heat some 10 hrs by train northeast of Mumbay the way to Bhopal not too far (1-2 hrs), Madya pradesh.
Spiti:
is a border region to China allready on the Tibetan plateau, you can reach Spiti from Manali (
map
)in the Kulu Valley via Rothang La (Rothang pass)-3955m and Kunzom La, or from Shimla and Rekong Peo/Kalpa in the south of Spiti. The capital of Spite is Kaza (Kaja) a small town with a partly Tibetan market. Before i came to Spiti i stayed for some days at Keylong, a nice village at the slopes of the Himalayes allready in the rain shadow, where i met a Lama who took me with him in his Jeep to Spiti the name of the place is Rangrik, also called
Munselling
by the locals, some kilometers before Kaza from the north. A nice small village with a high school area, dormitories for the kids, exercise place and the more. The valley is some kilometers wide where i had nice walks along the fields, found nice
prayer stones
on the walls there and on way down to the river
i "discovered" a
small fish
.
In
Rangarik
(also Munselling), a small village with new school area (primary secondary), Auditorium max and a golden Buddha sat on hilltop behind, i got the best guest room there by wonderful Lama Tashi who also took me to Ke Gompa for meal with the high Lamas.
Ke Gompa
where the Lama took me for a visit, a very interesting and impressing place set on top of a hill, where we had food togather with the Lamas, -very special. Spiti lays in the rain shadow so it s very deserted of plants and vegitation but the colours and rock formationes are very special, only along the river you find some green areas with interesting botanik (orchids, Akelei etc flowering in june).
Spiti Pin-vally map
Varanasi /Benares:
The great and famouse holy city (
gallery
) along the holy river Ganges, it is one of the oldest cities on earth permanently populated for some 3000 years, along the river you can walk the Ghats (the stairways down to the river), each with an own name painted on the old walls. On two ghats the dead get burned, where it s not allowed to make pictures, i was never interested to do so. Other ghats are for doing Puja as the main ghats, others are washing places and for praying, some for the laundry drying some with buffaloes, soem ghats for the small boats, all togather a very impressing picture and nice for walking days long. Indide from the ghats you find the old town with narrow streets, marcets and shops, for gems, incense, parfume, jewels, souvenirs, spicies, food etc the further you move inside the more it gets modern and also very busy, all is moving on the streets.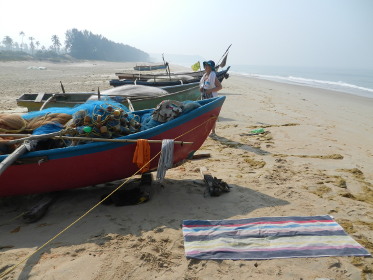 Vengurla:
north of Goa, about 2 hrs by scooter from Goan northern territories (Laguna), is the beautifull big village Vengurla, set at the enchanting sea with big waves, take a rest in shade of the fisher boats, a evening walk along the harbour region and hills can be proof special in case the whitebellied does his moves around there with a snake catch, interesting houses with my good friends, who are some of them specialised in snake antipoisen.
---
Savety:
India is in general a save country in respect to your physical health, nobody will touch you, it is also called "state of mind", but it can be that
women
are a special attraction to some men and they will get touched if not dressed properely. Be aware of your belongings in
trains
, thiefs are a problem on some routes so between Delhi and Varanasi, and Delhi and Agra, chain your luggage to the train with a padlock. Agra is a problem city by itself and maybe the only one, i got some stories by the news about people who got poisened there.
Locals do good bargaining and have a good taset of whom is newcomer, greenhorn or Gringo and who is not, thats how they get their profits, it is mostly very important to bargain with the tourists ... or learn hindi !!
Regiones where you ve to be carefull are Kashmir some seperatists here nd there and Bihar one of the more simple states compared to HP or Goa, (not to mention central suthern alpine ranges in some small land) Robbery can happen maybe still in Bihar in a bigger city at night sometimes only, Naxalites are not too dangerouse, beauty pills do not get sold !!
Traffic savety is usually no problem, keep your eyes open as a maybe tourist or foreigner. Food savety check below, web savety check onsite here nd there or the mouse pads in some stations. Reality-TV is a Nogo in India but vector grafiks in hotel TVs, dont mix with teleprompters or some interfaces with background acceleration programs running as on PCs.
Health:
Health can become a problem in some regiones and it depends where you are, what you eat and on your attitude. Streetsellers do also good cooking and many women, aslo and specialy in Pushkar like it ..... Sugarcane juice along streets like in Goa or Mumbay also in the outback are of excellent refilling and power option ... as well coconuts and Malai Kofta ...
I never got any desease or infection of any kind, and i travelled the country for some years only allready. bad shit can happen more or less rarely if you are in robust and solid state .... ... In general do not drink water from the tab, buy mineral water, softdrinks is not too much my thing it produces gulping and oxi-eruptions ..... filter your water, at some places you get it filtered like at fancy full supply hotels or organic food hotels like in a place in Delhi Pahar Ganj !!!
Usually they do not compromise with food policy but ready made instant chicken or instant frozen food can contain chlor chicken, usually rarely, maybe in Goa.
Climate:
all climates from moderate in the Himalayas, cold winters-warm summers, desert climate, over subtropical to tropical in the far south. Monsoon is dominating from June to September. last rains can happen in the Himalayas till october. .... During monsoon it can rain very heavily and floods can happen in some regiones during that time of the year. If you wanna trekk from october to december (in HP and Uttarkhand) are good months to do it. The more you move into the rain shadow in the Himalayas about 80 to 120 km from the lowlands north the less you will find vegetation in the mountains and on the Tibetan plateau. In the subtropical regiones nights can get fresh to cold depending on altitude, coldest weeks are during mid december to mid february in northern half of beloved subcontinent during nights.
all places
Trishul trekk
winter 013-14
Indian maps