Cuba 2009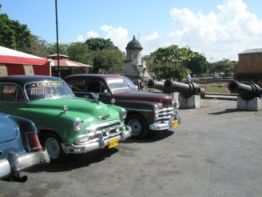 Route:
Varadero - Matanzas - Cienfuegos - Trinidad - Sancti Spiritus - Santiago de Cuba - Baracoa - Santa Clara - Havana - Varadero
Cuba-Dom.rep map
,
gallery
Savety:
Cuba is a very save and friendly country, nothing will happen to you as long as you dont provocate trouble. Some guest house owner even left his doors unlocked and i got puzzled about that, but never got some problems.
Health:
Cuba has good health standards, everybody gets free health service, infant mortality rate is lower than in the US. i can t really say how it works with foreigners, if they get free health service as well, sorry, dont know it and never had some health problem in Cuba so i didn t experience that part. Use good sun protection.
Climate:
subtropical
Dominican Republic 1994
1994 i travelled to the Caribe, from the Dominican Republic to Costa Rica
Route:
Punta Cana - Santo Domingo - Panama City - Costa rica
I arrived to
Punta Cana
, somewhen in the 90s, what seems to be just an airport in the nowhere of the island, had a nice welcome there with drums and locals singing....met some people from germany on the plane with whom i staied some days on a beach north east of the island, think it was
El Macao
, am not sure about the name, the beach was a long stretch of sand very cosy with huge waves and coconut trees, there i got my first and only sun stroke being the first time in the subtropical regiones.
After some days i left for another beach area east of
Santo Domingo
, the capital. South along the coast were the hotels and beach bungalows placed and north across the other side of the road were the huts and little houses of the blacks, all togather a little bid strange the devide between the two sides of the street, between the rich tourists and the poor at the other streetside. Later i moved on to Santo Domingo which is quite a city with a very special center, the old town which has houses from the times of
Cristopher Kolumbus
, yes he himself was residing in some of the old residences. The area is surrounded by huge walls and some canons along, quite impressing.
Cuba-Dom.rep map
Savety:
In the main tourist destinationes savety is not at risk, but you always have a look after your belongings, there are many poor people in the Dom-Rep and they may like a bid of your stuff, in Santo Domingo there are some children begging and the police is taking its share of that begging, so a sad picture, but people are very warm and friendly in general. I remember a taxi ride which was very fast and wild on gravel road and over chickens, so better check the taxi driver and vehicle before.
Health:
Can t say much about the health standards in the Dom-Rep, had no bad or good experience in respect of health, only the sun stroke with head ache, which went away after some hours, protect yourself against the sun as everywhere in the Karib.
Climate:
subtropical
Panama
I left the Dom-Rep by plane to
Panama City
, from where i visited the
Panama canal
which is an impressing structure when you see the big ships moving through.
Panama city has a very nice old center with a good atmosphere, which spreads along the coast, where i did some nice walks, passing children playing on the streets and having a look into the open living rooms of the old houses, all togather a very cosy picture. Panama city is quite a big and very diverse city, old town and new town.
I didn t stay for long in Panama and moved on by bus to Costa Rica, a long ride, border controls from Panama to Costa Rica were rigid.
Costa Rica
Route:
- San Jose - Puntarenas - Mal Pais - Porto Limon - Cahuita - Porto Limon
I was on the way to find my brother, who i knew was somewhere along the Pazific coast, close to a National park and a half island, with his friends. I tried to find them and so i moved by bus from the capital -
San Jose
to the west coast -
Puntarenas
from where you get a ship to the
Nicoya half island
. finally i foundmy brother and his friends at a place called
Malpais
at the Nicoya half island, we spent some days there, getting pushed hard by the waves of the Pacific ocean, had some nice walks and enjoyed our time close to the djungle.
We headed on to
Cahuita
on the Atlantic side (caribic side) a kind of hippie and rastafari village, got to know some new people there and the sea was much more smooth than on the pacific side.
i also visited the port town
Porto Limon
, got to know "Blue the barber" there, we spent some nice days togather there and he showed my some nice places as the rail into the djungle, his girlfiends place there in the woods, and the night life of Porto Limon. i tried to hire on a cargo ship for the passage back to Europe, but had no luck, the banana ships had all rigid regulations about taking passangers on board, but one captain invited me on board for breakfast, on a Belgium ship i also got invited for a meal, but the take over was not possible, very bad, so my parents sent me some money for the flight back home finally.
Costa Rica map
Savety:
Costa Rica is one of the savest countries in Latin America, not much will happen to you as long as you dont provocate troubles. Dont engage with wired looking guys who may offer you drugs or other deals, or may invite you to their hotel to go for the deal there.
Health:
The land is also called "Swisserland of Central America", health standards seem to be good, and didn t hear of any bad spreading deseases there.
Climate:
It depends on the altitude, from tropical to subtropical, they have mountains and volcanos where it gets cold the higher you move during nights.
...IS IN WORK